News
Sea Change for Santa Barbara Marine Mammal Rescues
Channel Islands Marine & Wildlife Institute Steps Up After Peter Howorth Loses His License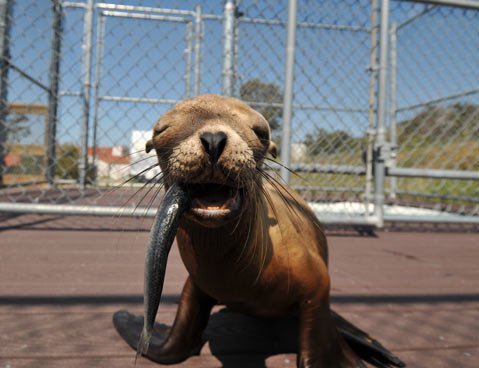 After 40 years of toiling to save Santa Barbara's sick and injured marine mammals, Peter Howorth has passed the baton to the next generation of rescuers.
For many of those years, Howorth ran the Santa Barbara Marine Mammal Center and its rehab facilities out of his San Roque home. He lost his license to rehabilitate animals there in 2013 after NOAA's National Marine Fisheries Service tightened its regulations and found Howorth's backyard setup inadequate. Howorth was still permitted to rescue seals, sea lions, dolphins, and whales but had to then transport them to vet centers in Morro Bay and Sausalito for treatment.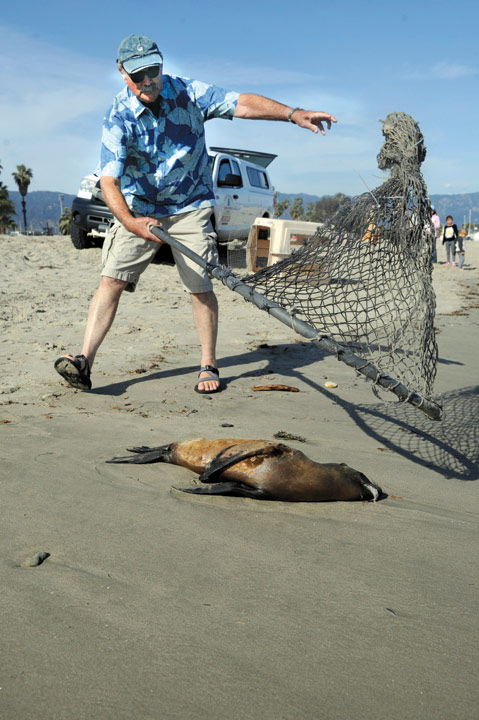 On May 29 of this year, 10 days after the Refugio Oil Spill that injured and killed hundreds of ocean birds and marine mammals, NOAA indefinitely suspended Howorth's rescue license once officials discovered he was carrying out unauthorized rehabs out of a residence on Santa Barbara's Westside. On June 26, Howorth — a fiercely committed but polarizing figure in the local environmental community who sometimes thumbed his nose at NOAA's authority — gave up his rescue permit and has made no effort to reclaim it. He was not reachable for comment.
Justin Viezbicke, California Stranding Network coordinator with the National Marine Fisheries Service, said Howorth has been an integral part of the Central Coast network for decades. "He really helped lay a foundation not only in Santa Barbara but throughout the entire state," Viezbicke said. Howorth will remain in the loop in an advisory role and is still part of an all-volunteer Whale Entanglement Team.
Temporarily filling in for Howorth with NOAA's blessing is the Channel Islands Marine & Wildlife Institute (CIMWI), based out of the old Vista del Mar school on the Gaviota Coast. Operated by former SeaWorld veterinarian Sam Dover and his wife, Ruth, CIMWI is only licensed to carry out rescues and rehabs in Ventura County but has applied to permanently take over for Santa Barbara County, as well.
In the meantime, CIMWI is partnering with Sausalito's Marine Mammal Center to share the load; 2015 has been a record-shattering year for strandings. California has only seven designated marine mammal rehab centers, and they're all scrambling to handle a skyrocketing number of intakes. By absorbing all of Santa Barbara's rescues, the organization has essentially tripled its workload.
But CIMWI is up to the challenge, said Dover, and has plans to soon double its capacity of 32 animals. The facility, which opened in 2006, already boasts a fully equipped surgical center, inside holding pens, warming bath, and outdoor pool. "It's going to be a heavy transition, and we know we have big shoes to fill, but we're going to do our best and keep looking for support," Dover said.
The Dovers supervise a team of 90 volunteers and have an architect, quote, and plan lined up for their expansion; they're waiting on grant funding. In July, the GMC dealership in Oxnard donated two new pickup trucks. CIMWI and the animals in its care, Dover explained, will also benefit from the positive working relationships it enjoys with the Santa Barbara Waterfront Department, the Santa Barbara Zoo, California Fish & Wildlife, NOAA National Marine Sanctuaries, State Parks, SeaWorld, and so on.
"We're trying really, really hard to work with everybody," Dover said. "And so far we've gotten nothing but a positive reception. … We are local, and we're not going anywhere." Viezbicke said it will take another month or so for NOAA to finish vetting CIMWI's licensing application. Because of the large number of stranding calls that are still coming in this year, and in order to best coordinate rescues, the Marine Mammal Center in Sausalito is handling CIMWI's dispatches. If you come across a stranded animal in Santa Barbara, dial (415) 289-7350 to report it.