Digby is a very sweet, affectionate and playful one year old white Miniature Poodle, just a little over nine lbs. Digby was abandoned in a county stray shelter and then rescued out of the shelter by K-9 PALS. At the time he was rescued he was in very poor health, but K-9 PALS has taken care of all his medical issues and now he is very healthy and ready for adoption. Digby is very social with people including children. He is playful, loves taking walks, and he also loves car rides. He loves to curl up on a lap or next to a person, and loves being held and petted. Digby is crate trained and housetrained. He really likes to play with other dogs but would be great as a single dog in the home because the company of people is what he loves most of all. Digby is neutered and current on all his vaccinations. For information about Digby, please call 805-570-0415 or email us at info@k-9pals.org.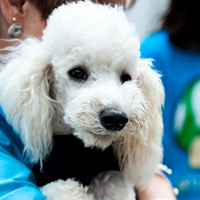 To view more photos and information on other dogs available for adoption, go to the K-9 PALS website: K9PALS. K-9 PALS provides free dog behavior training sessions for people who have adopted a dog from any local shelter, rescue organization or humane society.
K-9 PALS – K-9 Placement and Assistance League, Inc.- is the all-volunteer, no-kill, non-profit 501C3 organization dedicated to providing humane care, forever homes and advocacy for homeless and abandoned dogs in Santa Barbara County and beyond. All donations to K-9 PALS go directly to benefit homeless and abandoned dogs of our community in order to save lives, and find forever homes for them. Information on K-9 PALS is available at K9PALS, or 805-570-0415, or info@k-9pals.org or at K-9 PALS, P.O. Box 60755 Santa Barbara, CA 93160-0755.