Living
Nithya Shanti's Innate Wisdom
Onetime Buddhist Monk Comes to Trinity Church to Advocate Living in the Moment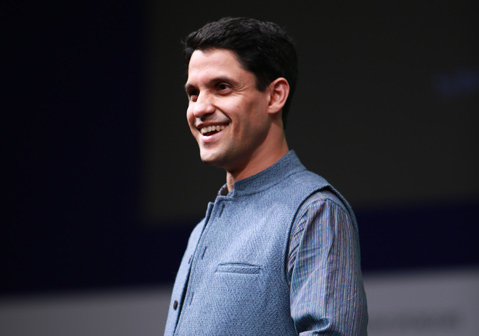 Not rooted in any one belief system, Nithya Shanti teaches the importance of witnessing and questioning our own thinking, and how this can help us cultivate higher quality thoughts — of wishing well for others, of wanting to share, of bringing out the best in any situation. He quotes Aristotle to illustrate the philosophy he developed after spending seven years as a Buddhist monk: "It is the mark of an educated mind to be able to entertain a thought without accepting it."
The internationally respected spiritual teacher comes to Trinity Church for a two-day mindfulness and meditation retreat on Friday-Saturday, September 4-5. Called Resting in Our Innate Wisdom and Wellbeing, the weekend will focus on ways people can find the wisdom that is already within them.
"We have within us a wellspring of wisdom, a wellspring of wellbeing that's always accessible if we just turn around and look, if we just learn the art of pausing and reconnecting," explained Shanti. "This is what I discovered when I was 16 years old, that there was a happiness there which I never even noticed."
That was the age he attended his first meditation course, where he started to feel more naturally peaceful by finding happiness from within. He uses the analogy of an old beggar sitting on a wooden crate for 20 years. When a man approaches the beggar and asks what's in the crate, the beggar simply says he does not care. When they finally open the crate, the beggar is shocked to find that there were gold coins inside the entire time.
Shanti advocates living in the present, a particular challenge in our fast-paced, goal-oriented society. But instead of trying to make more time, Shanti urges us to question the way we think of the present moment, believing that "the moment" is separate from time.
"The moment is so big, the entire universe fits in it," he recalled an old teacher telling him. "So we have to think of the present not as a miniscule amount of time [that] we're trying to force ourselves into. You see the moment as so large that everything that ever was is in the moment, including all your ideas of past and future, and even your ideas about what you want to do about the present. All of that is included in the moment… So when we understand that, then we see [the moment] not as something that is interfering with our life purpose or our life goal."
4•1•1
Nithya Shanti's two-day retreat at Trinity Church (1500 State St.) is Friday, September 4, 7-8:30 p.m., and Saturday, September 5, 9 a.m.-1 p.m. Call (805) 965-7419 or see trinitysb.org for details.