Film & TV
'The Martian' Takes Place on Never-Dull Planes
Matt Damon Stars in Thought-Provoking Space Drama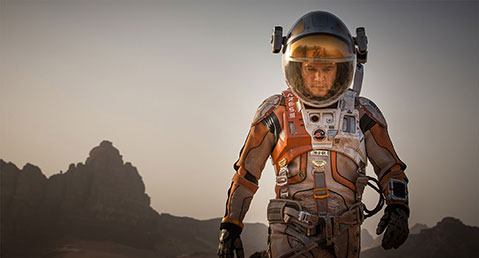 You wait for The Martian to get gripping: The plot moves deliberately at first despite the action, and then zooms to the end with narrative jumps and fast-forwards. But suspense isn't really the point. Unlike Gravity, 2013's unrelenting stuck-in-space drama, The Martian feels more like a NASA procedural, more like Apollo 13, and it takes place on a number of never-dull planes at once, some of them astral and the others cosmically bureaucratic. In it, Matt Damon, who was a creepy space loner in Interstellar, plays accidentally marooned Mark Watney as a noble science-guy survivor with stalwart heavy breathing and knowing jokes spoken into a recording camera that can't talk to Earth. He's often riveting (pun intended).
Meanwhile back on Earth, Space Administration honchos struggle awkwardly between a pseudo-military self-image of commands and missions, boyish idealism about scientific exploration, and the political need to be funding-transparent in a media age. Jeff Daniels has a little too much starch in his acting chops but is nicely counterbalanced by the ubiquitous Kristen Wiig. The camera keeps consulting her after every big-boy argument.
But the real fun happens on Hermes, the aptly named spacecraft with a chiseled, good-looking crew helmed by Jessica Chastain, who keeps mulling and insisting on responsibility.
The film isn't deep or groundbreaking in either storyline or look. If anything, Ridley Scott has rolled back his mannerisms. But it is thought-provoking; my family talked all the way home about what the same movie made in the 1950s might have been (a monkey in the cast, maybe a creature), the 1970s (gratuitous death, insisting on the ultimate futility of space), or the 1990s (evil corporate character). The Martian is a movie built for our times, our idea of the present day projected forward. Today's Earth, we feel, would step up and save lonely victims despite all the politicians holding us back with secrets and lies. And by the end, we feel good about where we are going, even if we never get there.