Voices
Refugee Catch-22
EU Directive Makes It Less Costly to Deny Syrians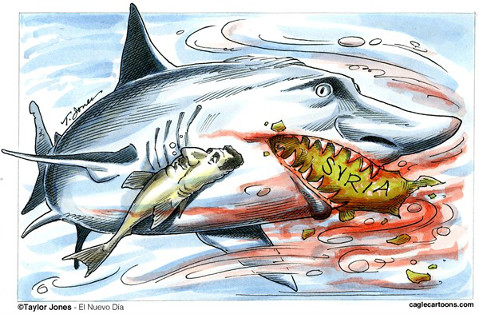 As a community college current events instructor, I succumb too often to the illusion that I have prepared for any reasonable question posed by a student. Such was the case in a class discussion on the European refugee crisis until I was stumped by a simple common-sense question: If many Syrian refugees have enough money to pay smugglers thousands of dollars, why can't they simply purchase a plane ticket to a European Union (EU) country and avoid the perils of a journey that has cost more than 2,500 lives this year alone? None of the numerous articles I had read on the subject offered a clue as to the answer.
Subsequent research yielded the disturbing answer. While EU nations such as Germany and Sweden welcome asylum applicants, an EU policy dating to 2001 effectively bars safe air passage for them and forces them into the arms of smugglers. European Council directive 2001/51/EC states that if an air carrier gives transit to a passenger whose application for asylum is subsequently rejected, the carrier is subject to a fine of between $3,000-$5,000 to cover the costs of deporting that person. The directive stresses that carrier liability should not undermine the right of a refugee to flee persecution, but, in classic Catch-22 fashion, it does exactly that. This directive privatizes the process of screening applicants. Its practical consequence is to delegate to carriers the role of gatekeepers and give them a powerful financial incentive to keep the gate closed. Airlines are risk averse, and the safe bet is for them to turn down all asylum seekers.
Because the directive denies refugees safe passage on commercial airlines, Refugee Air, a Swedish group, recently announced that it was raising money to charter flights to bring Syrian refugees from camps in Turkey, Lebanon, and Jordan. The group will prescreen applicants in the camps and will have funds to pay fines for those whose asylum requests are later denied. Hopefully other private groups will follow Refugee Air's example. In addition, Prime Minister David Cameron recently announced the U.K. would admit 20,000 Syrian refugees over the next four years but will select them from Mideast camps. Presumably British officials will vet applicants in the camps, determine which ones have the strongest claims for asylum, and fly them to the U.K.
The above efforts are commendable but ask the question, why has there apparently been no debate within the EU about a temporary suspension of the directive? As the Los Angeles Times noted in a recent article, 95 percent of Syrian applicants were granted asylum in 2014, as were high percentages of applicants from Iraq, Afghanistan, and Eritrea. Why not at least suspend the directive for these nationalities and allow screened refugees to fly to an EU country? Allowing refugee flights would not be a panacea for the refugee crisis. But it would allow for an orderly, managed flow of refugees to the EU and alleviate the chaotic mass movement of refugees and migrants now occurring in Eastern Europe. Most importantly, it could reduce the frequency of tragic deaths by giving families an alternative to the gauntlet they must now run to reach a safe haven.