News
Invasive, Aggressive Mosquitoes Circling Santa Barbara
Asian Tiger and Yellow Fever Species Known to Transmit Infectious Diseases
Two disease-carrying species of invasive and especially aggressive mosquitoes are circling Santa Barbara County, with health and safety officials preparing for what seems like their inevitable arrival. "It is a priority," said Mosquito and Vector Management District boss David Chang of his office's ongoing surveys and conversations with the Public Health Department. "These species have been spreading fairly rapidly."
The Asian tiger mosquito (Aedes albopictus) and the yellow fever mosquito (Aedes aegypti) were detected for the first time this September in San Bernardino, Riverside, Kern, and San Diego counties, and they have recently expanded through Los Angeles. Neither species is native to California, and while they've shown up here before, they haven't stuck around as long. They have also been spotted in Imperial, Orange, Alameda, and Tulare counties.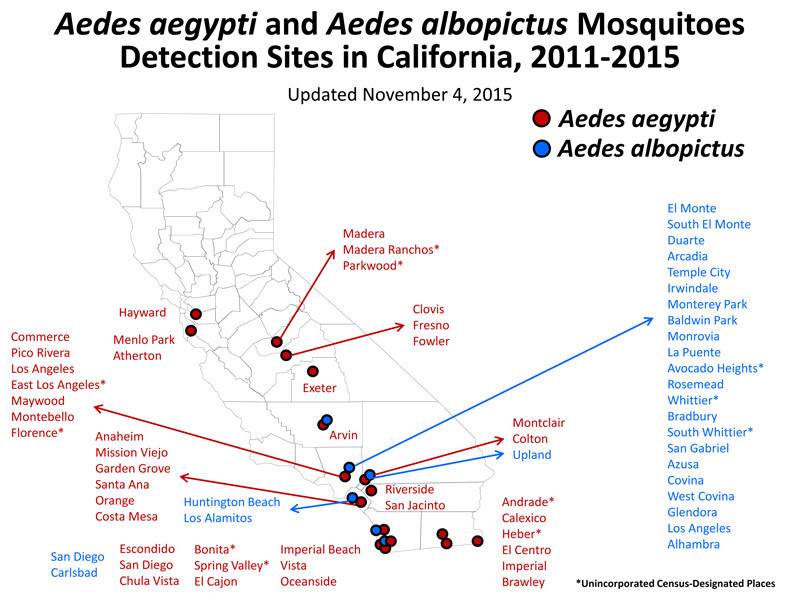 Biologists believe the current infestation began in 2011 in El Monte after the mosquitoes were transported from Southeast Asia in shipments of bamboo plants. They typically prefer warmer, more humid environments.
The insects are known to transmit infectious diseases, such as dengue fever, chikungunya, and yellow fever, which kill tens of thousands of people across the globe every year. So far, the bugs haven't infected anyone in California, but health officials across the state are nevertheless keeping close tabs on their movement. "While the risk is still low in California, infected travelers coming back to California can transmit these viruses to mosquitoes that bite them," said State Public Health Officer Dr. Karen Smith. "This can lead to additional people becoming infected if they are then bitten by those mosquitoes."
So far this year, the state has seen 129 cases of chikungunya and 73 of dengue, all involving people who were infected abroad and diagnosed back home in California. There is no vaccine or treatment for chikungunya or dengue fever, which cause fever, headaches, and joint pain. Both diseases can be fatal. Yellow fever, for which there is a vaccine, causes fever, headache, chills, back pain, fatigue, loss of appetite, muscle pain, nausea, and vomiting. It can also be fatal.
Both Asian tiger and yellow fever mosquitoes are recognizable by their black-and-white stripes. If you're into bugs, explained Chang, they're considered "handsome." They're also smaller and notorious for biting people during the day, compared to the more familiar Culex mosquitos that usually only bite at dusk and dawn. "These guys will bite you all day long and all night long," said Chang of the invaders, which are also known to more readily enter and breed in buildings.
Chang said his department does regular surveys throughout Santa Barbara County that look specifically for the two species. So far, none have been detected. But, he warned, "If people find themselves bitten by strikingly colored mosquitoes during the day, give us a call." The Mosquito and Vector Management District's phone number is (805) 969-5050.
Yellow fever mosquitoes can lay eggs in containers holding as little as a teaspoon of water, Chang also noted, and the eggs, which are laid just above the water line, can survive dry conditions for months. That's why it's important to dump, drain, or eliminate sources of standing water around your home and scrub containers to dislodge eggs, Chang said.