Briefs
The Paris Project: Day 2
Negotiations Begin in Earnest as Conference Shifts into Work Mode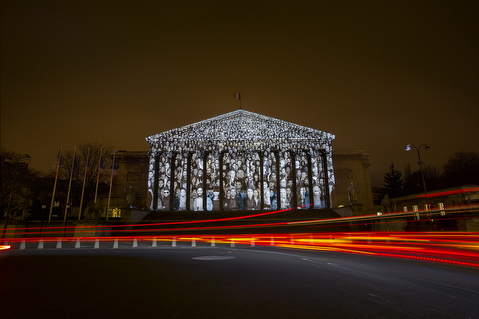 The real work is now underway. The sun has set on Day 2 of the United Nations Climate Change Conference here in Paris, the glitz and glam of yesterday's headline-grabbing opening ceremony fading as sure as the daylight was gobbled up by a darkening late-fall evening.
The lion's share of world leaders and prime ministers have departed, leaving behind teams of negotiators to handle the heavy lifting of brokering a deal. It would be wrong to say that hope has left the building along with the heads of state, but it sure feels like reality just showed up in the hallways and meeting rooms of Le Bourget in a way that was palatably absent just 24 hours ago.
As one official observer told me today, the task at hand is "basically the most insane puzzle you could imagine, and then some." Consider the core logistics of achieving a compromise by the final whistle on December 10: The current working draft of an agreement is nearly 100 pages long and memorializes the wants and wishes of nearly 200 commenting countries. These are broken down into 1,622 brackets with 230 related "options." The goal is to posture and talk and negotiate and trade and acquiesce until there are zero brackets and zero options remaining to be haggled over, a process that requires scores of translators and go-between staffers.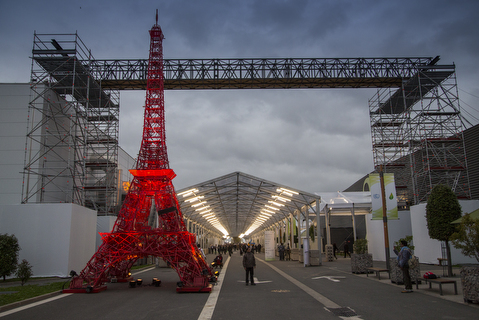 What will remain is a singular, binding document that 197 countries will have to approve before it becomes a reality. When you consider the monstrous — and divergent — spectrum of desires and demands from countries as oppositely motivated as, say, India and the soon-to-be-underwater-thanks-to-sea-level-rise tiny island nation of Tuvalu, the true difficulty of the job starts to rear its head. In short, the complexity of the process itself begins to kill a deal even when positive momentum is winning the day.
It is with this reality hanging over them that representatives from around the world retreated to private spaces today, rolling up their sleeves and getting dirty in a variety of multinational focus groups. Several scheduled press conferences with assorted delegations were cancelled as teams worked overtime behind closed doors. The metaphorical smoke from this steady and heavy grind served as a sobering counterpunch to yesterday's hope fest.
Occasionally, closed circuit televisions would show real time line-edits happening, the view a powerful reminder of the supremely tedious nature of brokering a deal. As the dust settled on Day 2 of this two-week eco-groovy rodeo, the number of brackets to be resolved was actually higher than before the talks began.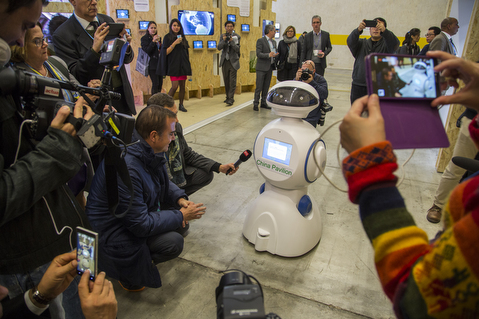 Only adding to the tension was a report released Tuesday about plans in place all over the world to build thousands of new coal-fueled power plants. Prepared and presented by the Climate Action Tracker group (a collective of four independent research organizations), the report concludes that existing coal factories alone would emit enough C02 to exceed the stated goal of keeping global temperature rise at 2 degrees Celsius by some 150 percent.
Even more concerning was the report's speculation that, should the 2,440 coal plants in the pipes be built by 2030, that 2-degree threshold would be blown out of the water by some 400 percent. This information becomes even more sinister to a potential deal when considering the stated desires of mega-polluting and still-growing nations like India and China to strike any language from an accord that would require taking planned coal plants off the table.
Oh, but hope, as fickle as she is, can also be a deeply steadfast thing in the darkest of times. Markus Hagemann of NewClimate Institute (one of the think tanks in the Climate Action Tracker group) personified this truth when he offered during the very announcement of the study, "It is unlikely that all of these planned coal plants are going to be built, especially when low-carbon alternatives are reaching price parity. If renewables take off as fast as is currently expected, many of these planned coal plants could be stranded investments or would have to operate under difficult financial circumstances."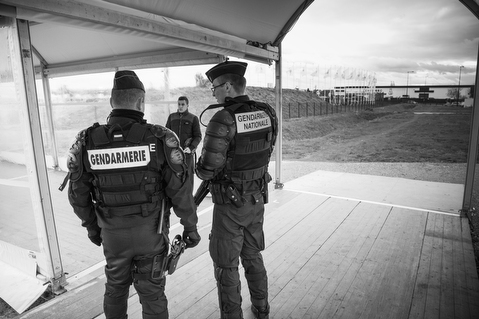 Even more, quality-of-life benefits — and related trickle-down fiscal benefits — for residents of China and India, should their leaders opt to act in concert with the planet's health needs rather than their respective economic wants, are important to not overlook in the big-picture view.
The fun continues bright and early Wednesday, the tempo certain to only increase in the days ahead as people work overtime to get a final draft ready before the arrival of foreign ministers later next week. Onward we go, deeper into the depths of The Paris Project.