Briefs
First Responders Rescue Hiker and Dog
The Pair Was Stranded in Rough Terrain of the Los Padres National Forest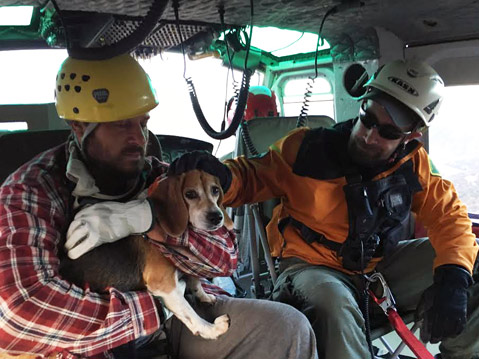 The Santa Barbara County Search and Rescue (SBCSAR) Team and county's Air Support Unit guided a Vermont resident and his beagle, Bunny, to safety from steep ground in the Los Padres National Forest on Thursday morning.
According to a Sheriff's Office press release, the man was staying at the Rancho Oso RV Park Resort and Campground off of Paradise Road when Bunny disappeared. The man was able to find his beagle, but the two became stuck in rough terrain in the process. He and Bunny made their way to a flat area near a power-line pole, where the man began to yell for help.
Around 2:15 p.m., campers heard his cries and dialed 9-1-1. Sheriff's deputies, as well as a Santa Barbara County Air Support Unit helicopter, quickly responded. The Air Support crew, unable to land safely after locating the pair in steep topography, called for help from the SBCSAR Team.
At approximately 4:30 p.m., SBCSAR Team members made their way to the pair on foot and escorted them to the helicopter, which carried them to safety. American Medical Response (AMR) paramedics arrived at the scene and found that, other than mild dehydration, both Bunny and his owner showed no signs of injury or sickness.