Briefs
San Miguel Island Close to Reopening?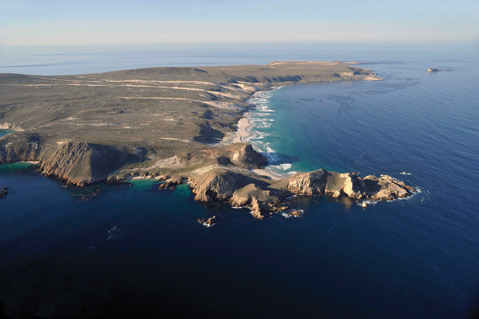 San Miguel Island may soon reopen after its hard closure in April 2014 while the Navy searched for unexploded bombs left over from the island's days as a military test range.
During sweeps last spring along 18 miles of trails and in camping areas, the Navy removed 125 pounds of bomb fragments, fuses, and shards, many of which were located "just under the surface" of the terrain, military officials said.
"Public safety is our number one concern," said Captain Larry Vasquez at the time. "Closing the island to the public was a difficult decision, but these results show it was the right decision." Military officials also noted, however, that "unexploded ordnance may still exist anywhere on the island, where soft sand and dense vegetation may hide its presence." The springtime surveys — the only safety sweeps carried out during the closure — covered less than one percent of the 14-square-mile island.
Russell Galipeau, Channel Islands National Park superintendent, said the Park Service and the Navy are hammering out the final details of a reopening and management agreement that could get visitors back on the island as soon as the beginning of 2016. "We're getting very close," he said. (The Navy owns the land as part of its Pacific Test Range, but the Park Service manages and supervises public visits.)
Galipeau and others — including Congressmember Lois Capps, Senator Barbara Boxer, and Marla Daily with the Santa Cruz Island Foundation — were curious and skeptical about the military's decision to close the island, expressing concern with the lack of transparency around the abrupt shutdown. They wondered why, after decades of ranchers, rangers, scientists, and hikers tromping around the archipelago without incident, the Navy suddenly became so nervous about public safety and why Vasquez wouldn't elaborate on the "grave concerns" he obliquely referred to in his letter announcing the closure.
"It is a pleasure to share [the island] and its history with America, and we are very disappointed that a more collaborative approach was not taken with this closure," Galipeau wrote to Vasquez last summer.
But whatever governmental tension was generated back then seems to have largely dissipated, helped in part by Vasquez and his oversight of the island being replaced by the leadership of Captain Chris Janke at Naval Base Ventura County. "We're back to where we were," said Galipeau of relations between the Navy and National Park Service. "Captain Janke has been great to work with."
Before last year's closure, Galipeau had petitioned the Navy on more than one occasion to transfer ownership of San Miguel Island to the National Park Service. Those talks petered out with the announcement of the shutdown, but Galipeau didn't rule out the possibility that they'd restart sometime soon.
"Even if the transfer happens," Galipeau explained, "we would of course still work with the military if national security needs arise."