News
The Paris Project: Day 10
A New Draft and Some Old Problems Bring COP21 to the Brink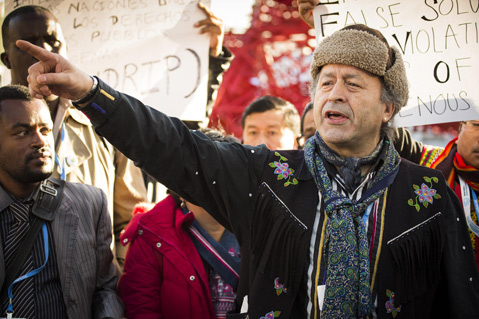 The heat is officially rising at Le Bourget. As promised by COP21 President and French Foreign Minister Laurent Fabius earlier in the week, Wednesday afternoon saw the release of yet another new draft agreement, a markedly slimmer document than what negotiators were dealing with just a few days ago. Even better, the still-forming accord, thanks to the efforts of Fabius and his uniquely composed facilitating team, was minus more than 60 percent of the disagreements it had when things started just ten days ago. However, this "progress" may have come at a price. A potentially deal-destroying price.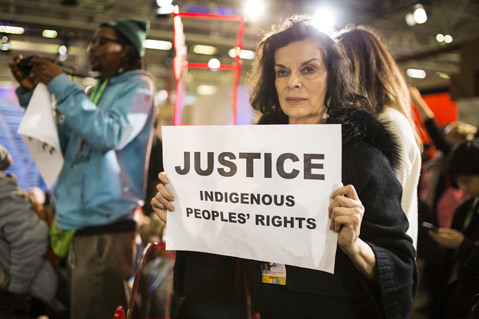 The day began with high and anxious hopes at Le Bourget. Delegates from around the world, official observers, and the throngs of NGO lobbying groups waited with baited breath for the new draft to be released. Wednesday's version marked the first time that various options and "brackets" and language disputes proposed by negotiators would be massaged and potentially reworked by Fabius and his team and the insights provided by his recently appointed Comité de Paris. This is a crucial step in the process if a deal is to get done by the conference's scheduled close Friday evening but also a dangerous one, as too heavy of a hand by the French team would have the potential to set off any number of angry reactions by the many different nations and civil society groups with skin in the game and widely diverging viewpoints.
The new deal dropped for public consumption at 3 p.m. Paris time, and before the doors were closed in Plenary Room 1 for the night some eight hours later, one thing was clear; people were pissed. The draft was certainly a more streamlined document, just 29-pages long and carrying only 366 "brackets" of diverging viewpoints on language and policy. The latter tally is worlds away from the more than 1,000 brackets that existed last week. Add this to the fact that one of the four major cross-cutting issues that Fabius dispatched his Comité de Paris to deal with— adaptation— was all but completely devoid of brackets and, at least in a simple metrics sense, progress had once again been made. Unfortunately, the devil is, as always, in the details, and in this case, those details — at least as they currently sit — are some major fighting words across familiar battle lines between countries and civil society advocacy groups.
As predicted, the problems center around the classic clash of wants and wishes between the world's haves and have nots and the always sticky topic of financing. At the risk of being overly reductive, the big trouble boils down to a small and interconnected handful of things.
First, are the 186 so-called Intended Nationally Determined Contributions (INDCs) that virtually all the countries submitted at the start of the conference detailing their various pledges of carbon cuts. Unfortunately, when taken in concert, at least according to the assorted teams of scientists and analysts closely eye-balling this process, these INDCPs would not adequately prevent the planet's average temperature from rising 2 degrees Celsius from pre-Industrial Revolution levels by the end of the century. The 2-degree mark has long been the bare minimum number that science has said a potential Paris Agreement would have to aspire to in order to stave off world-changing sea level rise and associated climate chaos.
More to the point, the vast majority of countries at the negotiating table, as well as the civil society and eco-minded lobby groups, are now saying a 1.5 degrees Celsius uptick has to be the new maximum number allowed if there is to be any long-term hope for many low-lying and island nations.
The disparity between these two views and its related controversy is only flamed higher by the new draft's failure to outline how exactly these INDCPs would be monitored and enforced once a Paris deal goes live in 2020. Some countries, like the United States and a coalition of island nations, want these plans closely monitored and verified by a third party while also having a mechanism in place for revisiting and revising them every five years so that they can best reflect the unfolding realities of a planet in flux. Others, however, like India and China, have no desire to be forced to possibly change their pledges on a regular basis in the years ahead, as they fear they may not be able to do so. And still others think that any sort of monitoring or transparency protocol has to go further than what the U.S. and its "High-Ambition Coalition" are advocating for and have some real teeth put in place that would fiscally punish offending nations should they fail to hit their pledge targets.
And then there is the issue of money. The countries most vulnerable to the perils of climate change (think the Caribbean, the South Pacific, and northern Africa), believe the current language of the draft does not go far enough in holding the big-money, big-polluting nations— like the U.S., China, and those of the European Union — responsible for their role in creating the climate change situation we currently find ourselves in. More accurately, they feel the draft needs specific language that guarantees them funding and support to both mitigate climate-caused impacts, as well as adapt to potential new ways of life and energy needs. All this, of course, requires money. Lots and lots of money on an annual basis, and the new draft does not necessarily nail down where that money would come from.
Lastly, there are issues and upsets with language. Things like special concern for or mention of indigenous populations, health issues, and gender equality have now been stricken from the text, a move that had many NGOs up in arms. In fact, motivated by this and the big overarching blow to "climate justice" that all the above areas of friction have created in the draft, a couple hundred of these Civil Society Organization members gathered just outside of Plenary Room 1 (where all the big-ticket, multi-national assemblies happen) in what was the conference's first real protest.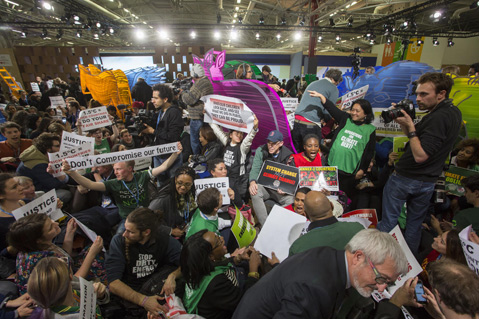 Sitting down among a colorful menagerie of animal art installations, the eclectic mix of activists used Occupy broadcasting tactics of one person speaking loudly and the rest of the group then repeating that statement even louder. Passionate, respectful, and loud, this group kept at it for nearly an hour, calling out specific articles of the text that need to be changed and chanting in rhythm words like, "1.5! We might survive!" and, "We are unstoppable! Another world is possible!" Joined by high-profile Earth advocates like 350.org's Bill McKibben and philanthropist and activist Bianca Jagger, the group eventually turned up the volume even higher, stomping their feet and whooping wildly, their voices and energy no doubt heard by negotiators at the other end of the hall. "Too much of the meaningful and powerful language that could equal real change has been removed," one of the protesters — a woman from the Philippines — told me. "Some very important words are gone. We are here to fight and have them put back in before it is too late."
The day concluded with a session back in Plenary 1 with Fabius and his Comité de Paris. Representatives from across the world queued up to either praise or blast the next draft, most of them coming from the latter group. Their testimony wore on into the night and it was clear that the progress and hope train that had been steamrolling since day one of COP21 was in real threat of being derailed. That being said, nobody walked out in pure revolt, and perhaps most telling, many of those who rallied against today's text developments also went out of their way to praise aspects of the document and the work of Fabius and his team.
When the late-hour session finally ended, it was clear that, at least for negotiators, there would be no sleep on this night. Formal, albeit behind closed doors, talks were scheduled to reconvene at midnight Paris time. History was waiting, and Fabius was determined to see this process get there. "As you can see, there is still a lot of work to do," said the COP21 President at the close of the meeting. "But the goal is still to present a new draft tomorrow afternoon, as close as possible to the final agreement of Friday."
To anyone who had been paying attention for the past twelve hours, Fabius' comments sure seemed like wishful thinking. Rumors are flying around Le Bourget that delegations are being told to extend their travel plans and stick around through the weekend. Still other rumors claim that the contract with the bus company that provides transport to and from COP21 has been extended until next Monday. And then there is the massive mobilization being planned for Saturday at the Eiffel Tower. A large-scale protest that was taken off the table after the terror attacks now seems to be very much back on. Like I said at the outset of this story, the heat is officially rising here in Paris.