Cover Story
Community Arts Workshop Gets Gates
Artist David Shelton Creates Elaborate Iron Entrances
David Shelton's eyes shine when he talks about the gates. He's animated and articulate like a cool art history professor on a roll as he excitedly describes the form and content of two wrought-iron 20-foot-high structures, unpacking mythic meanings dating back to Ancient Greece and Syuhtun's (Santa Barbara's) Chumash, meanings both suggested and obvious, astrological and scientific in the figured fence. They are connections that clearly excite him and that he wants you to appreciate. It's almost a rapper's flow, minus the rhymes.
There are a couple of differences though: Shelton is talking about the gates that he designed but don't yet exist. One day they will, though, and rule the corner of Ortega and Garden streets as the portals to the new Community Arts Workshop (CAW). For now, however, they live only in drawings and as models in Shelton's corrugated tin-roofed studio on Fig Avenue. His impromptu lecture, delivered in ornamental detail, elaborately delineates the difference between the two gates: the winter side (on Ortega St.) for the year-round people who will use the CAW for myriad purposes such as workshops, crafty lairs, theater rehearsals, and maybe space for rock bands, and the summer side (on Garden St.) that will serve as Summer Solstice's permanent home.
In 2008, he was asked if he could spice up the Garden Street entrance to underscore the compound's upbeat mission as a dedicated community arts space. "The [CAW] buildings there are sort of nondescript," says Shelton, who also designed the corn emblems that decorate the iron fences on lower Milpas Street. Leon Olson, an architect, developer, and arts activist, and Claudia Bratton, the longtime Summer Solstice director, who retired this year, both wanted Shelton to try his hand at creating a memorable entryway. "[They] came to me back when they were still stumbling toward a permanent home, and they approached me to see if I was interested in designing something that would call attention to the spot. Of course I was glad to do it," Shelton says.
Shelton's first model was a simple rolling gate that could be made for a relatively modest amount of money, and, surprisingly, it sailed through all the city zoning and the notoriously stiff-necked Historic Landmarks Commission. But then the economy collapsed, and the city found contaminants at the site. (Some say parties attempted to bushwhack the thing via excessive safety restrictions). And then something worse happened: "The money was supposed to come from Redevelopment Agency [of S.B.]; the funds were marked," said Olson. "And then the governor shut [down] all redevelopment agencies [in the state], and those funds no longer existed." It looked like curtains for the gate.
Two years ago, however, the problems seemed to fix themselves. Controversies dispersed; the bad economy improved; the hazmat issues of the building — once a community recycling center, though pollution issues stemmed from its WWII-era carpool days — were rectified; and residency questions were resolved in a binding lease in which the city rents the big brick shells for $1 a year to the people who had been doing business as the Santa Barbara Arts Collaborative, now morphed into CAW. "I'd almost forgotten about the gates," said Shelton, whose genius ideas included the suggestion that CAW use a crow as their logo. And suddenly the original gate grew in dimension and a second gate was added to the proposal, partly because "they now had to allow big trucks in on the Ortega side," Shelton said, referring to an entrance problem associated with the water-processing tanks next to CAW. That necessitated a bigger project and allowed Shelton to swing for the fence, so to speak.
Stargates
"I decided they ought to have a mythological basis, so I just started researching, and one thing led to another for the next three months. I learned stuff I never heard in high school," Shelton laughed. He conceived of a massive hydra ​— ​a multi­headed dragon-like creature Hercules fought during his 12 labors ​— ​and his new idea came into being, the one that elicited his joyful expository explications. Like his first design, round two also miraculously sailed though approvals by all the allegedly touchy agencies that control the look of downtown Santa Barbara. He built the hydra and furiously drew the rest of the motifs that will appear on the Summer Solstice Gate on Garden Street. Other images will include astrological-mythological-historical representations such as Cancer the crab, Taurus the bull, and a rendering of the myth of the crow and the water snake, in which, as Shelton explained it, "Apollo cursed [the crow's] song, turned his feathers black, and immortalized him as a constellation on the back of a water snake."
The Winter Solstice Gate on Ortega Street has Capricorn the sea-goat, Typhon the volcano, and the Chumash Burning Bark Torch tale. "The sun's light, which came from a burning torch of rolled bark," wrote Shelton in a project explanation, "was extinguished at night, casting its sparks across the heavens as the Milky Way." All will be rendered in iron representing seasonal mythological skies like ornate gate versions of Stonehenge's astronomy.
Among all this epic glory, Shelton stands in his little shop (from which he sadly moved last month), a modest, funny guy who happens to hail from a family of dazzling talent. Call it the Shelton Factor. Shelton's oldest brother, Ron, is the acclaimed screenwriter and director who made Bull Durham and Cobb; his next youngest brother, Steve, is an artist and beloved teacher at Santa Barbara Junior High. Jeff Shelton is a well-known architect responsible for a number of high-profile Santa Barbara buildings (including the Ablitt House just off lower State St.) in which he takes the idea of red tile and white stucco and puts it through a Spanish Magical Realist machine. It's George Washington Smith via Gaudí and Dalí.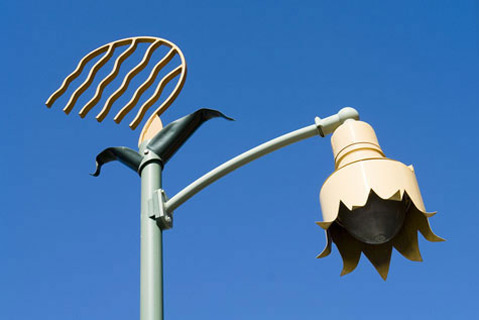 Though born in Whittier, California, David and his brothers spent most of their lives in the charmed and wooded surroundings of Westmont College, where his dad, Rath Shelton, was also a kind of celeb. Dad Shelton began life as a jazz musician and managed to land a chair in the Ray Ellis Big Band during World War II, playing for GIs in England. He loved sports and eventually found employment at the newish liberal Christian campus, and he became known as a man devoted to his students, a man who believed in "discussions, discussions, discussions" with the Westmont kids who always found his door open and kitchen free for rap sessions, as Shelton remembers it. "He loved talking so much that he would take the opposite side in any conversation, just to keep it going."
But what Rath liked best was Santa Barbara. "The first time [Dad] came here, down from his home in Taft, he told us he had gone to paradise," laughed Shelton, who also loves his adopted hometown, Montecito. "There's this 50-acre tract of land where I grew up when it was a prep school for boys. Like Jean-Jacques Rousseau — who said, 'Don't read a book, sit in the forest' — I did, and I built tree houses in every tree up there."
Shelton attended Santa Barbara High School, then Westmont, and then narrowly avoided going to Vietnam after attending art grad school at the University of Montana at Missoula, where he studied with influential professors such as the poet Richard Hugo. "My interest moved from painting to sculpture there," said Shelton, who credits an eclectic array of visiting professors such as Robert ("Spiral Jetty") Smithson, who hung out at Missoula. He went on to grad school, married, and had children but came back to Santa Barbara, where he kept an art studio yet needed a job; he found one in a Goleta welding firm. After he made some money, Shelton gave back to the woodlands that inspired him by helping to physically build the Westmont art department when there was only one art professor, John Carlander. "It makes me feel really good," he said, "that I did something for an art department up there."
Unironic Ironworks
David Shelton works in sculpture and ironworks that augment architecture, both restorations and new works. Like his brother Jeff, he has been busy in the city, too ​— ​he worked on the train station project, Trinity Episcopal Church, and, of course, the beautiful though controversial corn motifs decorating Milpas Street's streetlamps and freeway overpass. However, he may be best known for adorning his brother's high-profile projects such as El Jardin and El Andaluz buildings on the lower end of Chapala Street.
Shelton loved getting lost in the process of designing the gates, especially haunting research libraries. He's equally eager to commit to the task of building out the vision, which he admitted might change as realities and inspirations impinge on the construction phase. Money still needs to be raised, and fundraisers are in the offing. Olson, who is a good friend to many city art embellishments, seems optimistic, though. CAW has raised $75,000 toward the completion of the gates. "And every penny of it goes directly to David and his workshop," said Olson. "Our work is inspired by the enthusiasm these gates create in our donors. The next phase of fundraising began this summer, and the construction of the Ortega Street Gates will begin this year," he promised.
Meanwhile, unsuspecting Santa Barbarans got an impromptu preview of the gates last June. The occasion was the Solstice Parade, and Shelton, whose studio is in the heart of the warm-up area, was urged by his friends at Solstice to incorporate the element he has built ​— ​his massive hydra ​— ​into the parade. In the prospectus for the CAW gates, Shelton reveals himself a man of paradoxes. "While his sculpture tends to be minimal and spare, his architectural ironwork is usually playful," read the proposal. This creature with its nine heads had to be loaded by crane onto a metal cart with casters strong enough to roll it out. It is neither minimal nor playful, though it is dramatic fun. What was more entertaining, though, was watching Shelton, family, and crew roll the behemoth up the street behind a group of scantily clad dancers. It took eight sets of arms and legs. They pushed the giant up the street laboriously; most Solstice floats only look heavy, with papier-mâché foam and cardboard as the materials of choice. Coming right behind the dancers, the sweating pushers with their gigantic mythic monster made a lot of people scratch their heads. "And one kid pointed up and said, 'Look at the hydra,'" Shelton said. It left him happy and speechless.