Voices
Serious Role-Playing
Youth & Government Adds Early Legislative Experience for Students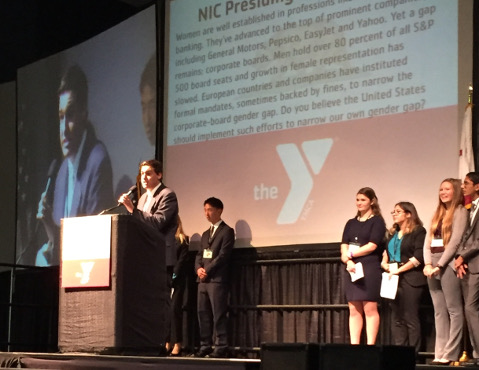 The Youth & Government program offered at YMCAs — including the Santa Barbara, Stuart C. Gildred, and Ventura branches of the Channel Islands YMCA — give students a chance to learn about California's legislative and judicial processes by writing bills, preparing briefs, and governmental role-play (lobbying, running for office, debating bills, voting on legislation). The following is by a high school student delegate from Santa Barbara, who was elected to Youth & Government's National Issues Commission after giving a speech that received a standing ovation.
Being elected to the Youth and Government National Issues Commission at the first conference of the year is an experience I will never forget. I learned from the election process that if you can touch someone's soul, they will vote for you. But touching someone's soul lasts long after the election process and helps you become a leader beyond the job description.
This has implications for all elected leaders — they must always remember that their first obligation is to the people that they represent, the souls they've touched.
Unfortunately, one of the realities acknowledged by Youth & Government (Y&G) participants is that our simulated political process is so much more honest than what happens in the real world. In Y&G, votes must be earned through debate and platforms instead of being bought by industries such as the oil and hydraulic fracturing companies, as happened in Santa Barbara in November 2014.
Most political issues either have to do with humans hurting other humans or hurting the environment. We need to get money out of politics altogether so this doesn't continue to happen simply for profit and cheap political gain.
Fortunately, Y&G has also taught me that despite the fallacies with our current system of government, there are always people who genuinely care. What most struck me at the conference was how much people at Youth and Government care about important issues affecting our state, our nation, and our world. If the outside world as a whole cared a quarter of the amount the majority of the participants in Youth and Government cares, then the world would be a much, much, better place.
I encourage fellow youth to join this program if they want their world lighted up by human connection and the power of their own inner voice. I also encourage fellow Santa Barbarans, Californians, Americans, and citizens of the world to speak boldly for the causes and concerns you care about. I've realized my voice not only matters but can actually make an impact on people, and I can start changing the world right here, right now. You can, too.
Youth and Government is a six-month program offered by YMCAs across the nation that provides students the opportunity to experience government first-hand and learn how to solve community problems through the democratic process as well as debate and discuss issues with their peers. In California, the experience culminates with Model Legislature & Court in Sacramento in February.