Briefs
Santa Barbara Rallies for Cecil the Lion
Event Protests Vegas Trophy Hunting Convention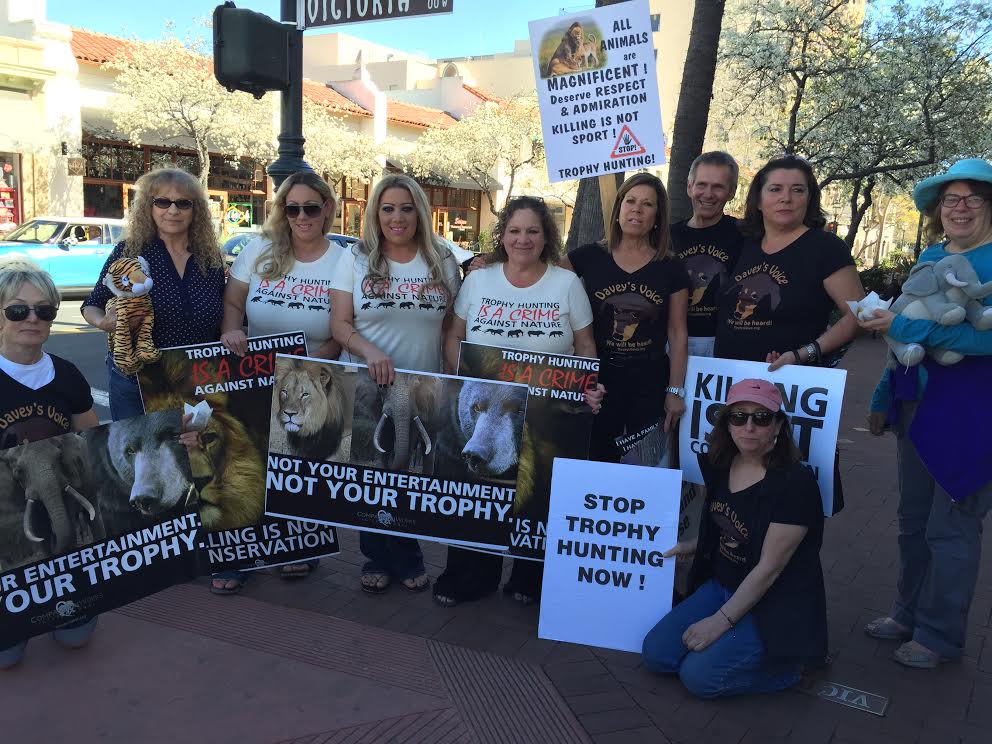 Animal rights activists gathered midday Saturday at the corner of State and Victoria to honor Cecil the lion and to rally the public against trophy hunting, the killing of wild animals to display their bodies as "trophies." In support of a Las Vegas protest against the Safari Club International's annual hunting convention at Mandalay Bay, the Worldwide Rally For Cecil spanned six countries and more than 30 American cities. Nevada-based nonprofit Compassion Works International (CWI) and local nonprofit Go Vegan Santa Barbara coordinated Saturday's peaceful demonstration.
"We believe it is important to expose the truth about what trophy hunting is," said CWI Executive Director Carrie LeBlanc in a February 2 press release. In July 2015, a 13-year-old male lion named Cecil was lured from Zimbabwe's Hwange National Park, brutally killed, and decapitated for game by an American trophy hunter, activists allege.
"The senseless killing of wildlife with the intent to cut off their heads or other body parts for exhibition as 'trophies' or to 'gain points' on some sadistic scorecard is NOT a sport," charged LeBlanc. "It is the pointless and selfish killing of another being, including endangered species, for entertainment and vanity."
Intending to educate passersby, the group held signs reading, "Killing Isn't Conservation" and "Not Your Entertainment. Not Your Trophy." The anti-trophy hunting campaign belongs to a movement committed to ending hunters' ability to import their kills into the United States via commercial airlines, read CWI's release. The national nonprofit and the rally for Cecil support the CECIL (Conserving Ecosystems by Ceasing the Importation of Large Animals Trophies) Act, which would strengthen the Endangered Species Act's to prohibit the import and export of all animals proposed as threatened and endangered.