Arts & Entertainment
Q&A with David Courtenay
Sailing Singer-Songwriter Talks New Album 'Godspeed'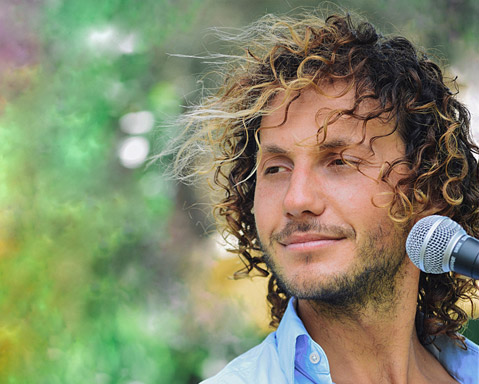 From his love of sailing and the outdoors to his daily yoga practice, there are few singer-songwriters as tapped into the natural-spiritual energies of Santa Barbara as David Courtenay. On his new album Godspeed, the S.L.O.-born, S.B.-raised performer touches on themes of divine love, Earth energies, and the joys of being on the high seas. I spoke with him in an email interview about his recent record release show, his yoga practice, and being in a band with fellow sailors.
How did the show go? I feel it went really well and I'm really grateful that it did go well. That had been a full day for me… we had been asked to go on the air on KCSB and had to get there at 9 a.m. and set up. I got up super early to do my yoga and voice warm up, and before afternoon came up I was feeling beat and out of gas, but I got a second wind and my voice came through for the show. I was really glad to see my fan base and community come out in full force. They were super supportive. I'm really thankful for my band and they continue to amaze me. It seems every time we do a big show they get better.
How was the music video shoot for "Godspeed"? It went really well. Everybody came up and crowded the stage in full force. Everyone wanted to be a part of it, which was cool to see. I had a fun time, everybody was singing along… The audiences at our shows and the community built around it are very enthusiastic. They inspire us with their enthusiasm, and I wanted to include that authenticity in a video.
Where did the title "Godspeed" come from? In the spring of 2014, I became friends with a guy who was the captain of a boat at the harbor. It's like an 80 ft. sailing boat, a super sweet sailing boat that has sailed all around the world. The name of the boat is Godspeed, and that's such a cool name. I thought, for a sailboat, that's a fantastic name. The captain happened to be a huge music lover and amateur singer-songwriter hobbyist. He had seen me perform at a venue by the harbor and he invited the whole band to come jam on the boat. For a few months we would jam there on almost a weekly basis.
Around that time this new melody had come into my head one day when I was walking around the Farmers Market. At one of these jams, I showed them the foundation of the song, though I hadn't written a chorus yet. And lo and behold, we're just jamming on the melody of the chorus, and that lyric came out of me, "Godspeed your love speed to me…" The Righteous Brothers have a song where they sing, "Godspeed your love to me," and I thought it was such a fitting line. That's where the name came from. Interestingly enough at that time there was someone in my life (who had moved to the east coast to do an internship) whom I was really missing and hoping she could move back to California. The lyrics were apropos for that.
How is it being in a band with fellow sailors? They definitely pick up on the nuances of the song and what it's about. We have this song called "Bring It On Home," which is a sailing song that I wrote when I was out at sea. I was sailing back on my own from the Channel Islands. I had this mandolin and this song just came out, this feeling of just absolutely being carried by the wind and learning how to ride the different channels of life, instead of having to fight things and fight to go upstream, to learn where the current is going and keep the wind at your back. When I introduced that to the band, they got the feeling that this is a song about being carried, about flowing, about sailing, a feeling like flying, like you're cruising … We caught onto that feeling and they enhanced it with their playing. They're able to tune into the essence of the song and amplify it with their own energy. They bring more color to the sound. They see the seedling that's there and help to sprout the song.
What is one of the craziest or most memorable sailing experiences you've had recently? I sailed to Santa Rosa Island a year and a half ago on my boat, Moonshadow. It was kind of crazy for me to do that, I had just bought the boat a month before and I didn't know it that well, but I had some friends who were gonna help me to anchor the boat. They were super experienced sailors.
I went out to this part called Windy Lane, the super windy corridor between Santa Cruz and Santa Rosa. I just get blown around in probably 30 knot winds, and there's this major wind swell and waves are crashing over the boat. What's funny is I was writing a song in my mind while I was going through this and I was thinking to myself, "Good Lord, this might be the last song I ever write." I thought, this is rough, this could snap my mass, it could destroy my rigging and I could drift away to sea. It was one of those adventures where I felt, I'm gonna keep on pushing on, or as long as I've got sunlight, even though I had been sailing for six hours.
I kept just trudging on and was quietly praying in my mind to get through this, and lo and behold, I finally made it to Santa Rosa. Up until the point I anchored the boat, the wind was just howling in my face. It was just whipping, and if I had not had the help once I got there, I would have been totally screwed. It was a total act of faith. Faith is something you gotta exercise, just knowing even though it's scary as hell, that it's gonna work out. That's the only way to succeed in music. There's no guarantee. You can be the best band in the world and have best team behind youm but there are no guarantees. You gotta have faith in yourself and muster up courage in your heart and go for it.
Tell me about your yoga practice. Well I do it every day, I have a rigorous routine of yoga and pranayama. Yoga is what has allowed me to continue and to progress this far in my creative journey. Without it I would have been lost and blown around and blown away a long time ago. The creative world, in a way it's so ethereal, and it's hard to really root down and feel anything happening. Yoga has really grounded me. If I want to branch out in the world as a creative person, as a songwriter, as a performer, if I want to reach a lot of people and reach around the world, first what's required is to really expand my roots where I am and kind of expand my interconnection to myself and to life. Yoga taught me that essentially whatever my internal state is what my external world is gonna be like. I observed as my whole music world changed. I became a more authentic person — it stripped away some of the facades and identities I was holding onto before, and all of a sudden people were responding to me and the music differently.
Your music really evokes a sense of the spirit of Santa Barbara. Definitely, the spirit of S.B., the energy that's here, greatly inspired the songs that are on the new album, most of which were written in Santa Barbara. Santa Barbara has a special place in my heart. I went through adolescence in S.B., my family moved here right before the start of freshman year of high school, so my last portion of "growing up" was spent here. I begged my parents to move here from S.L.O. where we were living before. At that young age, I felt strong energy about S.B. and the nature and mountains really spoke to me. Interestingly enough, that was right at the age when I really started writing music — I was just so creatively turned on at that age, music was just pouring out of me, and S.B. was really where I started writing music.
I lived in L.A. for four years to get a BFA in acting. I wanted to experience the big city and didn't think I'd return to S.B. Quite honestly, it called me back so, so strongly. After spending four years in Chicago, some family events had happened that were really pulling me back home. I was thinking I'd be here temporarily, but it ended up being the greatest blessing in disguise. It was the environment I was meant to thrive in. Once I started putting down roots, the community started responding so enthusiastically it became abundantly clear that this place responds creatively to me… It was around that time I started getting into sailing and actually started paragliding.
This album definitely has a huge Pacific Ocean and mountains component. I tell you, it's so funny, I didn't plan it that way, but three things — surfing, sailing, and flying — were a manifestation of a dream I had when I was young but that I kind of realized later in life. The sky, the sea, and the mountains have really inspired me and inspired the songs on the album. I really feel once I moved back here everything finally settled into place. I really felt at home.
Tell me about the song "Hummingbird." Hummingbirds have a special meaning in our family as a sign from my mom, who passed away a couple years ago. It's interesting you mention your mom. That's exactly what the essence of the song is about. The lyrics were inspired by a close friend whose older sister had died when she was like 18 or 19. My friend said that the sister was always described as a hummingbird, the mom called her hummingbird when she was a baby in her womb; when she felt the kicking, she said, "The hummingbird is fluttering its wings." My friend who got a beautiful tattoo of a hummingbird. She was visited by hummingbirds… and every time she saw them she had been thinking about her sister. It was so clear it was the spirit of her sister. That's what I wrote the song about.
To me hummingbirds are messengers from another dimension, messengers from beyond, divine messengers. I've had a few experiences when I was meditating, when they flew right in front of my forehead with my eyes closed. It was like this powerful "om" resonating right into my forehead. I feel they are in the same class of beings as dolphins, they have a very unique and special energy, and the lyrics of the song speak about this hummingbird, she had come for just a moment to remind me of the splendor of a love that is divine… They carry divine love, they're not afraid to come up near you and come into your orbit, and they'll just stay for a moment, just long enough for you to say, "Woah, this is incredible, this little flying fairy," and then just take off … but they're there just long enough to remind you that we live in a magical world, and that life is so much grander than the little dramas in our minds.