Bottles & Barrels
Byron Winery's Single-Vineyard Shift
Winemaker Jonathan Nagy Oversees Refocusing of Historic Santa Maria Valley Brand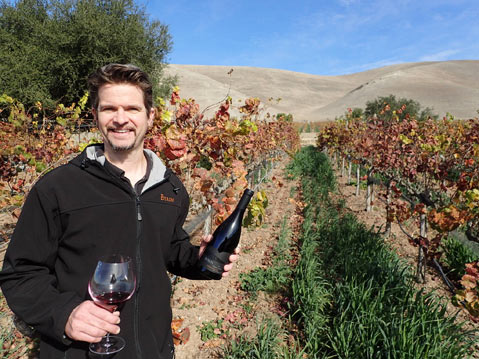 Thanks to the magical confluence of geology, geography, and botany, wines made from the genetically identical grapes grown the same way but in different places will, to the discerning palate, taste distinctly different. Few grapes on the planet express this more clearly than pinot noir, which, thanks to typically softer tannins and higher acidity levels, expresses fruit, earth, and spice flavors like no other. That's why hundreds are coming to the Bacara Resort & Spa this weekend for the World of Pinot Noir, a two-day affair of grand tastings, seminars, and special dinners showcasing pinots made in every imaginable style from the nearest and deepest corners of the globe.
Attendees would be wise to stop at the table of Byron Winery, where the geeky but delicious study of vineyard, clone, and barrel is taking center stage. Founded with a commitment to high-quality bottlings by regional pioneer Ken Brown in 1984, the Santa Maria Valley winery earned an even stronger reputation for affordable pinot noir in recent years, as widely available appellation blends expanded under the ownership of Jackson Family Wines, which purchased Byron in 2006 as part of a $97 million, multi-property deal.
But starting this year, Byron is returning to its original goal: producing single-vineyard pinot noir and chardonnays that reflect the unique places where they're grown, from both the Santa Maria Valley (specifically, Bien Nacido, Nielson, Julia's, and Sierra Madre vineyards) and the Sta. Rita Hills (Rita's Crown, La Encantada, and John Sebastiano). "This is a statement that Byron is going back to its roots, which are vineyard designates," said winemaker Jonathan Nagy, who has been with the brand since 2001, became a winemaker in 2003, and will celebrate his 20th career harvest this year. "Since 1984, we've had a history of being a premium winery. We felt that was getting diluted with the Santa Barbara County and Santa Maria Valley blends."
Thankfully, those appellation blends — which are, dollar for dollar, some of the best California pinot and chardonnay in the marketplace today — aren't going away: They'll just be labeled Nielson (and in small letters: "by Byron") from now on. That's a nod to the Nielson Vineyard, which is located right next to the winery and was planted by Uriel Nielson in 1964, making it the first commercial vineyard in Santa Barbara County. Byron, under Brown, purchased the historic property in 1989, and it's been a major source of fruit for the brand ever since.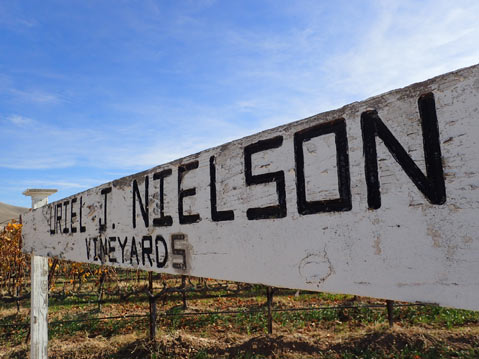 "I'm glad the appellation wines did not go away, because that's an important part of our story," said Nagy, who's overseen steady, sometimes experimental replantings of many of Nielson's old, dying vines with variations of clone and rootstock to see what works best. "There's over 23 clone and rootstock variations in one block," said Nagy, referring to one section of the vineyard. "It drives the vineyard manager crazy."
The exploratory spirit extends to the cellar, where Nagy ferments nearly 200 different lots of pinot noir, the heartiest of which will continue going into the brand's brooding, top-tier Monument blend. He then pairs those lots with very specific barrels, varying the toast levels, cooperages, and even the corners of the French forests where the oak is grown. "Particular parts of the forest have their own sense of place, so we're trying to dial that in," said Nagy. "It's a big thing to dwell on."
That ability to specify barrels down to the forest level is a testament to the global power of Jackson Family Wines, whose portfolio includes nearly 30 California wineries as well as properties in Oregon, Chile, Australia, France, Italy, and South Africa. But unlike some other big winery conglomerates where turnover, turmoil, and internal politics are rife, Jackson Family employees, such as Nagy, appear quite happy to work for an international company. The family, it seems, allows each property to pursue its own vision without much micromanagement. "That's the secret to Jackson Family Wines' success," said Nagy. "They don't make wine by committee."
Nagy is also quite enthused about this brand shift. "I'm pretty stoked that I get to make grand crus from the best vineyards in the area," said Nagy, who explained that the other vineyard owners were not surprised when he started knocking on their doors to buy fruit. "It was more like, 'What took so long?'"
4•1•1
Bryon Winery's tasting room is at 2367 Alamo Pintado Avenue in Los Olivos. Call (805) 938-7365 or see byronwines.com and nielsonwines.com. World of Pinot Noir runs March 4-5 at Bacara Resort & Spa. Tickets are still available for the cheese and chocolate panels on Saturday morning, as well as for the dinners on Saturday night, among other events. See wopn.com.