Wedding
Getting Married at El Capitan Canyon Resort
A Refined Outdoor Wedding Experience
When I was a girl, my family would spend summer nights pitching a tent at El Capitan campground overflow, which is now known as El Capitan Canyon Resort. Our drive took us 20 minutes north of Goleta, and we were greeted by a glorious grove of oak and sycamore that still stand there today. In 2001, Chuck Blitz and Roger Himovitz reopened this area of the campground into a refined outdoor experience, offering a cushy night in a cedar cabin, safari tent, or yurt. Camping has come a long way from a day at the beach with a night in a sleeping bag to a botanical hike followed by a tri-tip French dip and live bluegrass around the campfire. El Capitan Canyon Resort's director of sales and marketing, Kendra Summers, agreed to answer some basic questions about tying the knot at the beautiful property.
Who's getting married at the Canyon, couples from S.B. or out of town? Both. Of course it's great for people coming from out of town, but because all guests must stay overnight, it becomes a wonderful staycation or escape for Santa Barbarans, and it's right in their own backyard.
What is your typical wedding season? November through March, which is perfect for those who have always dreamed of a fall or winter celebration.
Do guests have to stay for a minimum amount of time? Most weddings require a two-night stay. This allows our couples to enjoy a full weekend of celebration and special events with their loved ones.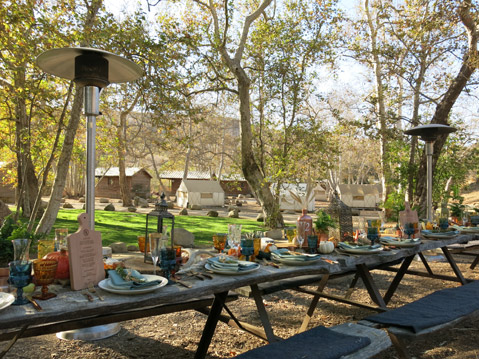 What size weddings do you accommodate? Weddings here have ranged from 75 to 300 guests and everything in between. We could also accommodate a wedding for as few as 30 people. There are guidelines for things like music or any amplification, such as a buyout of at least the 25 accommodations. It is even possible for a full buyout of the property that would include all 160 accommodations.
So what are some of the costs at this nature paradise? The ceremony sites range from $1,500 to $4,000; reception sites range from $2,500 to $10,000; and accommodations ​— ​yurts, tents, and cabins ​— ​range from $145 to $795. Catering and banquet services are billed separately, and we have a preferred vendor list for rentals, lighting, music, and bakery. There are so many variables that come into play on how this could be the perfect venue and destination for your unique vision.
Besides the actual ceremony and reception, what activities are there for the bridal party at and around the resort? Besides creating a dream wedding, we allow the possibility of a full weekend of activities and events on our property, such as privately guided hikes, llama and goat feedings, high-ropes course, stargazing with our archeo-astronomer, yoga sessions, field games, bonfires, and s'mores competitions. Off the property there is wine tasting in Santa Ynez Valley or Santa Barbara, whale watching, surfing, and kayaking ​— ​anything that the Valley or S.B. has to offer.
Would you consider this type of wedding "glamping"? When we first opened, we offered up the term "nature lodging." Since the Housewives of Orange County stayed here, the term glamping has really taken off, so we'll take it.
What makes having a wedding at El Capitan Canyon Resort so special? A wedding at the Canyon allows our couples the opportunity to provide a full weekend of activities with their family and friends in the great outdoors. I'll be the first to tell any prospective couple, if they are looking for a traditional ballroom, this isn't the place. With Mother Nature all around, no television to distract anyone, and endless opportunities for real quality time, getting married here will be an experience no one will ever forget, especially the bridal couple.
For more information on El Capitan Canyon Resort, visit elcapitancanyon.com.