Briefs
Two Crashes Close Highway 101 Northbound
Semi-Truck, Three-Car Accidents Slow Morning Commute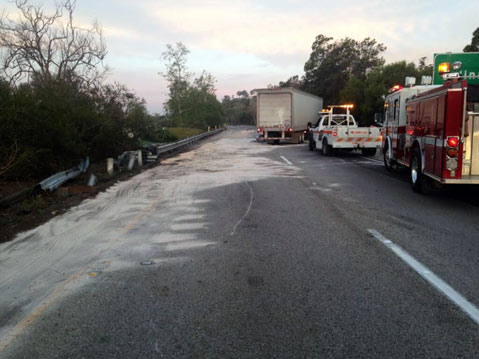 A semi-truck carrying a load of produce was involved in an accident on Highway 101 northbound at 4:26 a.m. Friday, prior to a three-car crash on the same freeway near Cabrillo Boulevard.
Frank Diaz, a semi-truck driver from Visalia, veered to the left and collided into the guardrail in the center divider, steering to the right and blocking the left two lanes near the Hermosillo Road exit. While California Highway Patrol (CHP) officers were rerouting traffic, the second accident closed all northbound lanes until approximately 7:30 a.m. All lanes of traffic were opened by approximately 8:14 a.m.
A fuel tank on the semi-truck was ruptured during the first accident, but firefighters from the South Coast Hazardous Material (Hazmat) Team carried away 70-80 gallons of diesel while Santa Barbara City Fire cleaned the area. According to city fire spokesperson Rich Griguoli, no diesel entered environmentally sensitive areas.
The truck driver suffered minor injuries, but there were no injuries reported from the three-car accident. CHP officers are on scene investigating the cause of the accident.