Drink
Brews Gone Wild at SOhO
First Annual Wild Brew Fest Brought Sours, Ciders, and More to Santa Barbara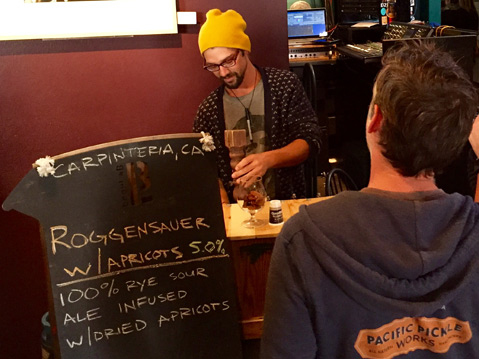 The first annual Wild Brew Fest kicked off this Sunday, March 6, at SOhO Restaurant & Music Club on something of a sour note. And for those who turned out to have their lips puckered and minds expanded, that was a good thing.
Branded as an education-forward alcohol event, this spin-off of the Santa Barbara Fermentation Festival featured a diverse sampling of local sour and wild ales. In addition to these wild-fermented wonders, the fest also boasted fermentation-focused cocktails, ciders, mead, sake, kombucha ale, passed appetizers and food stations, and informational talks and booths, including Pacific Pickle Works' DIY pickle station.
From sours to ciders, there were plenty of interest-piquing and palate-pleasing libations to try at this first iteration of the Wild Brew Fest. Here are six, in no particular order, that I went wild for:
• brewLAB's Roggensauer w/ Apricots: Crafted by Carpinteria's wild-brew wunderkinds, this apricot-infused rye sour ale fills your nose with its fruity aroma right before it puckers your lips with its über-tart flavor.
• Telegraph Brewing Company's Reserve Wheat Ale: This Santa Barbara–made sour Berlin-style wheat beer will leave you saying, "Ich bin ein Berliner."
• Rincon Brewery's Jellybowl #2: This approachable offering from Carpinteria's Rincon Brewery is the result of introducing a wild Brettanomyces strain and Montmorency cherries to their house blonde ale. It pours a light pink and tastes more tart than sour, making it a good gateway beer for those looking to take a sip on the wild side.
• 101 Cider House's India Pale Cider: These new cider experimenters out of Westlake Village were pouring some seriously strange samples (black cider, anyone?). But this near-translucent happy hybrid of cider and IPA — created by dry-hopping wild-fermented apple cider — was a revelation on a par with the cronut.
• See Canyon Hard Cider's Premium Dry: Though not as likely to raise eyebrows, this San Luis Obispo cider maker's offerings, particularly this bottle-conditioned dry cider, do raise the bar.
• Best Life Brews' Rosemary Sage Pale Ale: This unique pale ale, which gets its appealing aroma from being dry-"hopped" with rosemary and sage, was a welcome respite after sipping on sours all afternoon and, surprisingly, the product of home brewers.