Sports
Erica Schroeder Eyes State Record
San Marcos High Runner Aims for 2:03 800-Meter; Plus More Track-and-Field News
Erica Schroeder won the girls 800-meter final at the 2015 State Track and Field Championships, but the San Marcos High junior has put the gold medal away as she begins a new season.
"You can have a title, and it doesn't mean anything the next time you run," she said. "Each race, you have to prove yourself. [The title] makes you want to work harder. I've set my goals even higher."
Her goal for the two-lap race last year was 2:09, but she surpassed it at the state meet. Running at an even tempo of 63-plus seconds per lap, she surged past nine girls on the second go-around and hit the finish line in a stunning 2:07.08.
That triumph prompted a big "Wow," as does Schroeder's goal for this year. "I definitely want to run around 2:03," she said last week. "That's what I'm shooting for." Not only would that come close to the state record (2:02.04), but 2:03.0 is the qualifying standard for the women's 800 at this summer's U.S. Olympic Trials.
Schroeder said her drive to excel is partly a family thing: her father, Richard, was a gold-medal-winning swimmer in two Olympic relay races; her mother, Dawn, also was an outstanding swimmer at UCSB; and older brother, Grant, is a triathlete at UC Berkeley, and also a product of the San Marcos track-and-field program. "We have a ton of coaches," she said. "Our team each year seems to be working harder and harder. Everybody seems to get better. The environment is awesome."
Ventura High also has a distinguished program, and in a dual meet against the Cougars last week, Schroeder did quadruple duty. She won the 800 (2:14.70), 1600 (5:25), and 3200 (11:12), and ran the last lap on the winning 4×400 relay. She alone had instructions to "keep it slow" from her coaches, Anthony Garibay and Tyler Hansen. "I had to be cautious with so many races to run," she said. Two days later, she reluctantly took a break during the Royal Classic at San Marcos.
"She wanted to run the 200, she wanted to high jump, but we shut her down," Garibay said. "That's her — push, push, push. She has a different level of aspiration."
Schroeder will compete next month in two invitationals that will attract some of the nation's top prep runners: Stanford (Apr. 1-2) and Arcadia (Apr. 8-9). "I might do both the 800 and mile [1600]," said Schroeder. Then she'll work on sharpening her speed before defending her 800 titles at the CIF section and state meets in late May and early June.
EASTER RELAYS: Wear hats, shades, and sunscreen if you plan to spend some time watching athletes run, jump, and throw against the backdrop of Leadbetter Beach and the Pacific Ocean at La Playa Stadium this weekend. SBCC will host the college events of the 78th annual Santa Barbara Easter Relays beginning at 11 a.m. on Friday, March 25. High school teams will compete at 9 a.m. Saturday.
The relay races, from once around the track (4×100 meters) to 10 times (distance medley), will favor the teams with the most depth and those who can pass the baton most efficiently.
SAM ADAMS MEET: The Santa Barbara Track Club (SBTC) has big plans for the fifth Sam Adams Combined Events Invitational at Westmont College's Thorrington Athletic Field on April 1-2. Expected to train in select events are Ashton Eaton and Canada's Brianne Theisen-Eaton, the husband-and-wife duo who both triumphed last weekend at the World Indoor Championships in Portland, Oregon. Ashton, the Olympic decathlon champion, won the men's heptathlon for the third time, while Brianne claimed her first world title in the women's pentathlon.
Barbara Nwaba of the SBTC aided Theisen-Eaton in an exciting finish to the pentathlon. After four events, the Canadian was in third place behind a pair of Ukrainians, Alina Fodorova and Anastasiya Mokhnyuk. She needed to run 11 seconds faster in the 800 to overtake them. Nwaba set a fast pace, running the first 400 in 63 seconds, and Theisen-Eaton stayed right behind her, as the other 10 women struggled to keep up. Theisen-Eaton hit the finish line first in 2:09.99, pushing her to the top of the scoring table. Nwaba's time of 2:10.07 moved her up two places to fourth overall, her best showing in international competition. The former UCSB athlete, who won the U.S. heptathlon title last year, is striding strongly on the path to the Rio de Janeiro Olympics.
Other activities surrounding the multi-event meet will be a free youth track-and-field clinic on Wednesday, March 30, at Westmont; community races and youth competitions at the meet; and the Road to Rio Symposium — featuring Ashton Eaton, Brianne Theisen-Eaton, Nwaba, and former Olympic swimmer Jeff Farrell — a ticketed event at 5 p.m. on Sunday, April 3, at the Cabrillo Arts Pavilion. Visit santabarbaratc.com.
PRODIGY: Vashti Cunningham, an 18-year-old Las Vegas high school student and daughter of Santa Barbara High great Randall Cunningham, became the youngest winner of the high jump at the World Indoor Championships. A week after setting a world junior mark by jumping 6′6¼″ at the U.S. Championships, she was the only woman to clear 6′5″ on her first attempt at the world meet.
NINE TRAILS: The Santa Barbara Nine Trails 35-Mile Endurance Run is a round trip between two trail heads — Jesusita and Romero Canyon — with lots of jarring ups and downs along the way. Van Mccarty and Tyler Hansen, winners of the last two editions, will be trying to break six hours in the race, which starts at 6 a.m. this Saturday, March 26. n
S.B. ATHLETIC ROUND TABLE ATHLETES OF THE WEEK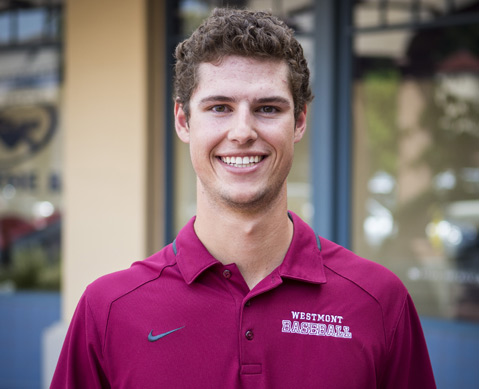 Daniel Butler, Westmont College baseball
The 6′6″ junior right-hander threw a no-hitter in a 6-0 victory over Arizona Christian. He faced the minimum 27 batters. A double play ended the first inning after he hit the lead-off batter.
Nova Sinskul, Dos Pueblos softball
The sophomore's walk-off grand slam in the eighth inning powered the Chargers to a 7-3 win over Alemany in the consolation final of the Suzanne Manlet Tournament in Simi Valley.