News
Crosby vs. Diablo
Musical Legend Pleases and Politicks
Just some guy we've seen at the Farmers Market.
That's what David Crosby imagined the packed house at the Granada thinking when he strolled onstage the other night.
And that's how it felt. There was no warm-up act; he just ambled out like it was his living room and started chatting and singing. Add a white suit, take away the guitars and 100 years, and it might have been Mark Twain. He also said he was enjoying himself — just playing some of his old and new songs on acoustic guitars for his hometown without having to compete with a band.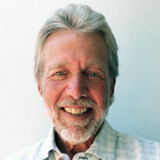 I don't think there's a category for much of Crosby's music. He's kind of a male Joni Mitchell, with a lot of haunting chords and haunted imagery. Or as he put it, "I write a lot of weird shit in weird tunings." He played only one song by another writer, and that happened to be Mitchell's "Real Good for Free," which fit the evening perfectly. Here's why:
Crosby donated all the proceeds from the show to the World Business Academy's campaign to close the Diablo Canyon nuclear plant and create Santa Barbara's own microgrid. His reasons echoed those of the Academy:
"The last remaining nuclear power plant in California is located near Avila Beach in San Luis Obispo County on the pristine central coast, just upwind of some of the best agricultural land in the world. It sits near 13 active earthquake fault lines in an historic tsunami zone and poses a risk for a Fukushima-style disaster. Our research suggests it may be sickening and killing residents who live in the surrounding area. It must be closed now."
An October 22, 2015, Santa Barbara Independent op-ed by Harvey Sherback reported that Pacific Gas & Electric chose Diablo after Bodega Bay and another site near the present nuke plant were rejected due to fault lines. Construction began in 1968. "Unknown at the time, the plants' two reactors were situated near undiscovered faults," Sherback wrote. "For more than 30 years, seismologists have argued that the utility companies have underestimated the seismic threat to their nuclear facilities, especially Diablo Canyon's redesigned structural supports. In 2011, the Nuclear Regulatory Commission ranked Diablo Canyon as the nation's nuclear plant most vulnerable to earthquakes."
He added, "Recognized only recently, the Diablo Cove Fault Line runs east to west directly under the Unit One Reactor and turbine building."
PG&E literature says Diablo meets the energy needs of "more than three million Northern and Central Californians (nearly 10% of California's energy portfolio and 20% of the power that PG&E provides throughout its service area … Built to withstand extreme natural disasters, including earthquakes, Diablo Canyon's design features state-of-the-art seismic supports."
Also noted: Diablo "helps to make PG&E the largest private employer in the area, with more than 1,500 workers and a payroll of more than $235 million." Diablo is also "the largest taxpayer in San Luis Obispo County — nearly $26 million for the fiscal year 2014/2015."
Crosby has been "working to close Diablo since it opened," said Matt Renner, executive director of the World Business Academy, a nonprofit think tank and action incubator that's based right here in Santa Barbara. "And he really loves the plan to replace all nuclear and fossil fuel plants with a locally generated renewable power microgrid. It would take advantage of solar and other smaller energy generation technology and essentially eliminate the need for a big macrogrid. He's all in on that."
The microgrid "is not going to happen this year," Renner said. "More like five years or more. But a lot of politicians are on board. We're building a groundswell, and it's going well."
Renner is delighted that David Crosby is another who's on board. And as a bonus, he thought the concert was great.
So did we, and we didn't even know about the Academy/Diablo connection until Crosby announced it. We were there (bragging alert) because the excellent Teen Star program arranged for its 2016 winner, my stepson Jackson Cocciolone, to meet one of Santa Barbara's greats. That he did, with big thanks to the irrepressible Lin Aubuchon of KTYD radio.
It was a memorable night, not just for the songs but also for the stories — about Joni, about getting thrown out of bands (for cause), about seeing the faces of a man's past lives during one lysergic episode, about harmonizing with Dylan, etc. and etc. And it was inspiring to hear somebody even older than I am get fired up about an issue.
Jeff Miller is a longtime New York newspaper writer and editor who now lives in Santa Barbara, writing books and songs.