Make Myself at Home
Make Myself at Home: Upper East Victorian Landmark
Make Myself at Home: Upper East Victorian Landmark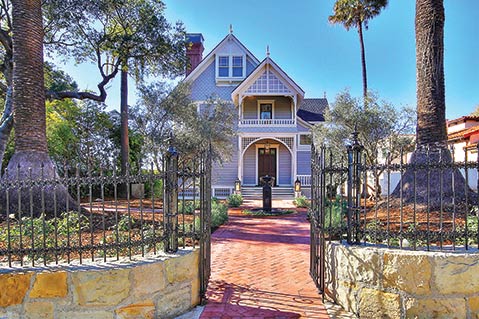 Address: 1721 Santa Barbara Street
Status: On the market
Price: $2,950,000
My little downtown cottage has beautiful hardwood floors, original to its 1920s pedigree. But if you put a marble on said floor, it will roll into the corner. Nothing is quite straight or flush or exactly level. The dual-paned sash windows have their original glass, but be careful when you try to open that particularly finicky one in the bedroom. You'll have to tug and jiggle it just so, and then when you've almost given up, it will likely fly all the way open.
Such are the quirks with many older houses. Along with the charming age-appropriate details come drawers that stick and stairs that creak in telltale spots. Forget closet space and modern conveniences such as air conditioning. These inconveniences are the trade-offs for having a house with character.
However, today I visited a home that has all of the original charm from its 1895 beginnings, plus updated systems, features, and amenities to rival any house built today. The house at 1721 Santa Barbara Street is located in the heart of Santa Barbara's Upper East, the area serving as the gateway to the Old Mission. Surrounded by stately homes in varying styles, it takes something really special to stand out in this neighborhood, and this home does.
This home just underwent a massive restoration, including a new and upgraded foundation, new plumbing, gas and electrical systems, a new roof, new and rebuilt windows, and new heating and air conditioning systems offering modern standards, including separate climate zones and energy efficiency. The house was enlarged to provide a larger, state-of-the art kitchen, a breakfast area and family room downstairs, and a huge master suite with a spacious balcony above.
In addition to modernizing and enlarging the house, the renovation team paid painstaking attention to the home's myriad period details, using old-world craftsmanship and quality. Every window in the house was taken apart and rebuilt with tempered glass, and all of the woodwork, including the floors, was restored and refinished. As just one example, the front foyer of the home has an intricately carved ceiling with separate panels and crossbeams. This took more than 160 hours of hand-sanding to restore its original beauty. The same room has pocket doors with gorgeous hardware and fittings that were completely refurbished by hand.
The design and construction, and all of this meticulous detail work, was conducted by area company Art and Elements. I'm told that the construction crew admires and adores Hugo Garcia, the CEO, general contractor, and leader of the project. If the care and attention to detail is any indicator, I can see why. The City of Santa Barbara also approved every step of the renovation and has designated this home as a city landmark.
The house is more than 3,100 square feet with five bedrooms and four baths, including two master bedrooms upstairs, both with bathrooms, porches, and fireplaces. Two additional bedrooms share a bathroom, plus there's a little office with a view and a laundry room in the middle. The entire upstairs flows well, leading from one room to the next.
The downstairs could be reconfigured any number of ways. The rooms are all large, bright, and connected, with a full bathroom in the center. As I was walking through the downstairs, admiring the layout and flow — there's even a little "Harry Potter" bedroom behind one room — I caught myself thinking that there is only one bathroom downstairs. I smiled at how quickly I had got caught up in the size and scale of this grand mansion. It lacks absolutely nothing.
The landscaping was meticulously designed by the same firm in a Victorian style, with gardens, pathways, and focal points. Drought-tolerant plants were incorporated into the existing trees and bushes. There are several porches and a veranda that wraps around almost the whole house which expand the living space outdoors and extend the character of the house beyond its walls. The upstairs back porch is one of my favorite "rooms" in the house. It offers a grand view of the neighborhood and surrounding houses, down to the Granada building beyond and all the way to the ocean.
Looking out over the backyard, I was reminded that this house is closer to its neighbors than a similarly priced home in Montecito would likely be. For many people, myself included, the friendly neighborhood feel, along with the walkability factor of this location, is a bonus. The ideal new owners of this classic home should be ready to be sociable with folks passing by who want to stop and admire this new/old Victorian beauty and hear the stories of how it was brought back to life.
1721 Santa Barbara Street is currently for sale in Santa Barbara, listed by Ashley Anderson and Paul Hurst of Berkshire Hathaway Luxury Collection International, and Francie Berezo of Prestigious Properties & Investments. Reach Ashley at 618-8747, Paul at 680-8216, or Francie at 705-2561, or visit www.1721SantaBarbara.com for a 3D tour and details.