Briefs
Proposed Tobacco Laws Get Mixed Response in I.V.
Businesses Weigh in on Impacts of 21 to Smoke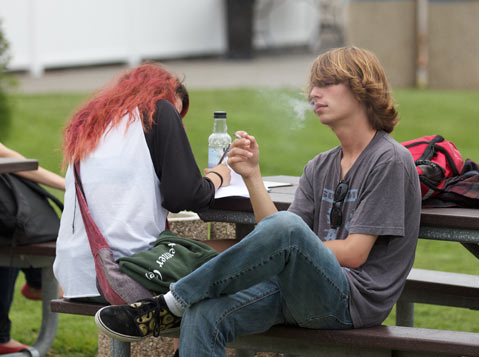 Last month, the California State Assembly approved a package of anti-tobacco bills, including measures to raise the legal smoking age from 18-21 and ban e-cigarettes in public places where cigarettes are already prohibited. The bills are backed by Save Lives California, a coalition whose members include the California Medical Association, the American Cancer Society, and the American Academy of Pediatrics.
Proponents of the bill cite tobacco-related health risks for young people and research claiming the legislation would mean 223,000 fewer premature deaths and 50,000 fewer deaths from lung cancer.
Opponents say taking away the choice to smoke at 18 is unfair. "Eighteen-year-old adults who can enlist in the military, serve, and have all the other privileges of adults can decide for themselves," said Assemblymember Adam Gray (D-Merced), as The L.A. Times reported.
Now, the bills will return to the State Senate, which must approve the Assembly's changes before they reach Gov. Jerry Brown's desk. Three other initiatives — widening the workplace smoking ban to include different kinds of workplaces, making charter and public school campuses tobacco-free, and raising the licensing and distribution fees for tobacco vendors and wholesale distributors — passed similarly out of the Assembly.
Local businesses in Isla Vista, home to students mostly ages 18-22, weighed in on the smoking age debate. Co-owner of Isla Vista Vapor Donavan Christianson primarily sells vapor products as substitutes for cigarettes. "This particular bill would greatly affect us here. Our demographic is that 18-21. Honestly, it would shut me down." But he is somewhat confident that the bill will not pass. "I think the big tobacco companies will probably block it from passing," he said.
Sako Abdulhai, owner at Aladdin Café in Isla Vista, serves hookah, beer, and Middle Eastern cuisine on Embarcadero Del Norte. Students 21 and younger frequent his café to eat, socialize, and smoke hookah on the balcony. "It's going to be so bad for business here," he says. "Regardless, people are still going to smoke before they're 21 if they want to." "In two words," he said, "totally unwanted and unnecessary." The local business reaction, evidently, largely depends on whether businesses rely on tobacco sales to stay open.
Tim Ward of Keg N Bottle, a business based mainly on alcohol, is a proponent of the bill. "I think it's great if they bump it to 21. We sell cigarettes, but we don't rely on them. I feel like too many kids are smoking here anyway. Who knows, it might help."
Last month, the Assembly voted down a measure that would've allowed counties to let voters decide if tobacco taxes may be used to care for those suffering from tobacco-related sicknesses. A bill to raise the tobacco tax by $2 a pack — a project of Save Lives California — didn't achieve the necessary two-thirds votes.