Living
My Life: Musings on Our Metropolis
Pondering Modern Life Against the Backdrop of Hippiedom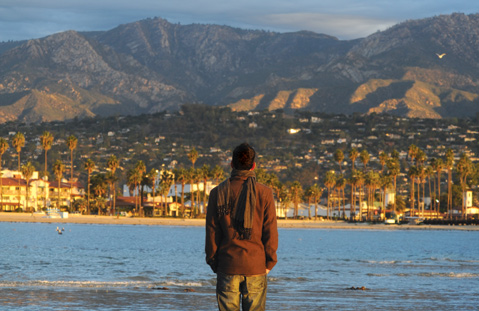 I saw a bald man on a new yellow bicycle. He rode down Milpas toward the ocean. His head and his bike were radiant in the sun at that hour.
A woman with an umbrella is having a long conversation with a schnauzer while they both get wet. Across the street at the Villa Santa Barbara, men in wheelchairs smoke under an awning.
At Jimmy's Oriental Gardens, now the Pickle Room, the bar is full of pensioners for happy hour and jammed with hipsters when the sun goes down. Their very good fried rice, with egg à la mode, becomes "awesome," "ridiculous," and "fantastic" when the twenty-somethings arrive with their porkpie hats, dolphin tattoos, and cell phones. They're talking football, college basketball, and Facebook. There are avocado egg rolls rising and falling from the invisible kitchen.
At the library on Anapamu and Anacapa, the dispossessed shuffle into the day, tidying their carts, plugging in makeshift solar panels to charge cell phones, lining up for the bathroom, and judging the temperature of the day and the lay of the land. There are shopping carts laden like too-small studio apartments, backpacks, dogs, and cigarettes. They're reading Tom Clancy and eating from The Habit bags. There will be many arguments before nightfall, when everything changes.
The most charming vista on the Eastside is best seen looking east from between the hooves of the metallic heifer statue on top of an apartment building or a home on Nopal, who is looking wistfully toward her concrete mother cow atop the old McConnell's ice cream factory on Milpas.
A midget passes me on State, but I have no time to think about that because overtaking me is a 6'7″ Rastafarian with dreadnoughts down to his ankles. All exposed flesh is inked. He's wearing very stylish shades. For some reason I follow him to Enterprise Fish House, but just before that, he takes a right. I stop in for some soup. He is very young. I fear banking or hedge fund management is very much in his future.
I remember my ponytails, beards, tie-dyed shirts, work boots, and the clunky melody the bangles and bells of hippiedom made. In that annus mirabilis that was 1968, many of us got "clean for Gene" (McCarthy that is) or for Bobby Kennedy, and we ended up with Nixon, disco, and, ultimately, creatures like Dick Cheney, Donald Trump, and Lawrence Welk. Already, rock and roll was beginning to die.
It was the Age of Aquarius, and I dressed for the occasion like an Elizabethan villain in a raucous London pub. It was our intent to shock, discomfort, and alert the previous generation that we had arrived and the times were about to fundamentally change. But that all went away, and we became bankers and stockbrokers and thoroughly befuddled soldiers in a vile and in-every-way-wrong war. We worked toward a BMW and away from whatever naïve dreams of Eden we had entertained or even cherished.
I was depressed over my lobster bisque. Not for the first time, I rued not following the midget.