Living
Santa Barbara's White House
Jacob Eisenberg's Long-Standing Men's Store
The White House, a men's clothing store, was a fixture on State Street for almost 100 years. It was the brainchild of Jacob Eisenberg, an enterprising immigrant who, from modest beginnings, became one of the outstanding retailing entrepreneurs in Santa Barbara.
Eisenberg was born in Germany in 1867. At the age of 10 he received a small bequest from his parents and took ship to England. He never saw his parents again. He then immigrated to the U.S. in 1880. He worked in the dry goods business in New York City before moving on to Dallas. Wanderlust continued to pull him westward and to Southern California at age 22, working in Needles and Los Angeles before landing here in 1898.
Southern California was in an economic slump due to a severe drought. Nonetheless, Eisenberg opened up a clothing store in the 600 block of State Street, somewhat of an unorthodox move for in those days, the business center of town was located farther down State Street, around Haley Street. According to one observer, Eisenberg "amazed the wiseacres of the day" by quickly putting his store on a sound financial footing.
Forced to move a year later, he selected the southwest corner of State and Ortega streets as the new site for his store. This ill-fated spot was popularly known as the "hoodoo corner" because a number of businesses there had previously failed. Eisenberg successfully defeated this "curse" and, over the next several years, expanded into adjoining spaces. He named his venture Eisenberg's White House.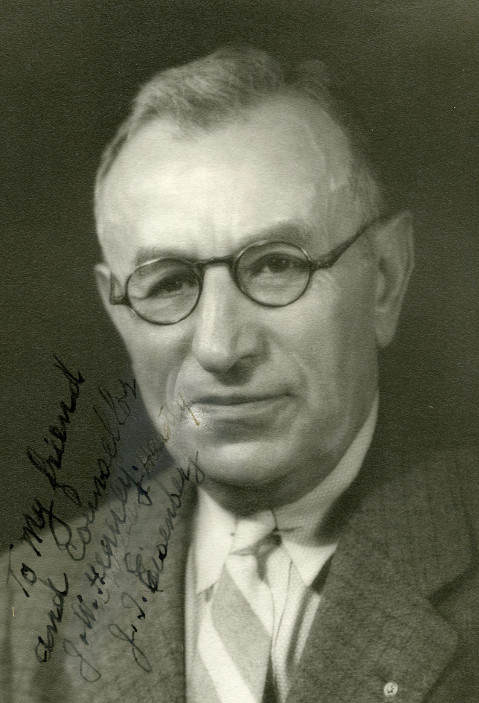 He then decided to open a second store "uptown" at the northwest corner of State and Carrillo streets. This store would cater to a wealthier clientele. He christened this new store Eisenberg's, Inc. Eisenberg launched a veritable media blitz, advertising in the newspapers much more heavily than his competitors. The latter were at first skeptical if not openly contemptuous of this approach, but they eventually followed suit. Both stores were successful, and, in 1923, the two incorporated with Eisenberg rewarding his employees with a profit-sharing plan. Many of Eisenberg's employees stayed on for decades. Eisenberg had come quite far from the days of his first store when he and one clerk ran the entire operation.
In 1926, Eisenberg closed the Carrillo store in the aftermath of the 1925 earthquake and concentrated on the store at 701-703 State Street. In 1932, Eisenberg sold the White House to the MacFarlane family, and two years later the business moved to 717 State Street. The MacFarlanes continued to own the store until it ceased operation in 1994, and under them the tradition of long-term employee tenure continued.
One of the most notable of these employees was Richard Arbagey. He began work at the store right out of high school in 1941 and retired as president of the store in 1988. He was selected Santa Barbara's Man of the Year in 1985 for his many contributions to the community, especially his decades of work with the Boy Scouts.
The closure of the White House marked the end of one of the great success stories in the business history of Santa Barbara. As illustrated in his approaches to advertising and profit-sharing, Jacob Eisenberg was one of the city's most forward-thinking entrepreneurs. It certainly paid off for him.
Michael Redmon, director of research at the Santa Barbara Historical Museum, will answer your questions about Santa Barbara's history. Write him c/o The Santa Barbara Independent, 122 West Figueroa Street, Santa Barbara, CA 93101.