Going Green
Green Your Crib: Our Ocean — from Dump to Salvation?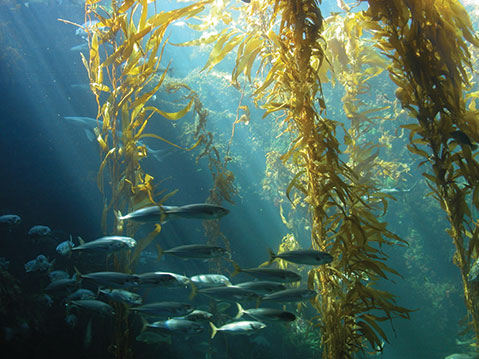 Oceans, lakes, and rivers have been the dumping grounds for our waste for centuries. The diversity and life-carrying capacity of these waters have been devastated — the blighted state of lakes and rivers appearing earlier because of their smaller size and greater vulnerability to being overwhelmed by waste and toxins. Our oceans have long been considered immune to these abuses, but the cumulative impact is now manifesting how inaccurate this notion is, as evidenced by depleted fisheries, large dead zones, marine bio-extinctions, trash gyres, and changing acidity.
Recently, I watched a TED talk by Bren Smith, a reformed fisherman, about three-dimensional ocean farming. He operates just such an innovative farm off the coast of New England. The basis of his system is kelp — the second fastest-growing plant on the planet, which also happens to capture five times more carbon than any terrestrial plant. The potential for carbon sequestration is enormous. Bren's farm is unlike any monoculture fish farm in that it uses zero inputs and builds resilience. The kelp can be harvested into nutritious food, used for soil fertilizer, or processed into biofuel for energy. To add diversity to his plot, he raises oysters and clams in cages on the ocean floor plus mussels and scallops in vertical tube-like structures. His kelp forest provides food and a protected nursery environment for 150 species of fish.
The three dimensionality and biodiversity of this type of aquatic farming provides an invaluable first line of defense against hurricanes and ocean storms. The plants and creatures may suffer damage, but they rebound rapidly. This buffering will be increasingly important as monster weather events linked to climate change become more frequent.
Degraded bays and barren coastal areas can be regenerated in short order when nurtured by Bren's type of productive, restorative farming. For example, each of the oysters he raises filters between 30-50 gallons of sea water each day — pulling in nitrogen that helps restore dead zones. Based on his yields, Bren calculates that farms like his totaling an area half the size of Maine could produce enough biofuel to replace all the petroleum consumed in the United States. Or if used for food, 3D aquatic farming on a scale equal to the area of Washington State could feed the entire world.
Although the research and experimentation taking place on these farms are in the early stages, the results to date are promising on many fronts. Such a venture is about to launch on a 25-acre plot just off shore near UCSB. Stay tuned, and in the meantime, take a look at Bren Smith's TED talk.