Make Myself at Home
Make Myself at Home: Starter Home in Hope Ranch
A Look Inside 210 Las Palmas Drive, a Serene, Sophisticated Ranch-Style Home
Address: 210 Las Palmas Drive
Status: On the market
Price: $2,295,000
I almost snickered when the home for sale at 210 Las Palmas Drive was described as a Hope Ranch starter home. I mean, isn't that like saying that a triathlon is a "starter fitness challenge" or that a chocolate soufflé is a "starter gourmet-baking project"? Shouldn't any house priced over two million dollars be prohibited from having the word starter anywhere near it?
Fortunately I stifled my guffaw, and turned it into a smile instead. My knowledge of Santa Barbara neighborhoods kicked in and reminded me that any residence located behind the gates of Hope Ranch is automatically in a special class. With its private beach, desirable school district, more than 30 miles of horse riding trails, and yet proximity to all of Santa Barbara's main attractions, Hope Ranch is an aspirational enclave. Situated just inside the landmark gates, this home offers all of the aforementioned amenities, at a fraction of the price tag of its neighbors.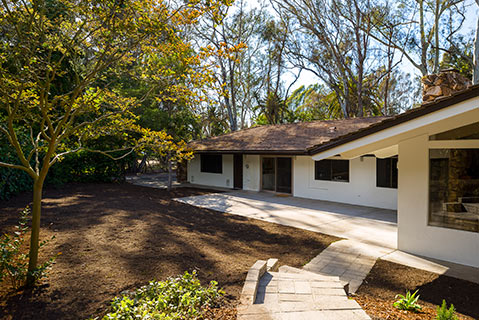 The house itself is a serene, sophisticated ranch-style home built in 1969, with a long, low profile that blends beautifully into its surroundings. The front door opens onto an entrance foyer, typical of this era and architectural style, and appropriate for the spacious feel of this home of over 3,300 square feet. There is room to spare, so pause and decide which direction you'd like to wander first.
Straight ahead is the large, bright living room, with a soaring beamed cathedral ceiling above, and walls of glass looking out onto the backyard and swimming pool beyond. The floor-to-ceiling natural rock fireplace against one wall is a stunning focal point, and its floating wooden mantel, suspended from the ceiling beams by rustic iron chains, is a unique conversation piece.
The right wing of this home contains its living areas: A formal dining room leads to a large kitchen dominated by an island breakfast bar. Thinking of my tiny cottage kitchen, it's possible that I may have exclaimed more than once about how nice and spacious this one is. Ditto my reaction when I saw the huge laundry room, a luxury that I haven't experienced since, well, since I was a teenager living in my parents' ranch style home. Tucked in the front of the house is a separate family room, still roomy, yet offering a cozier setting for solving jigsaw puzzles or watching movies than the expansive living room.
All four bedrooms lie down a long hall on the other side of the house. This floor plan lends itself well to both entertaining and a busy family lifestyle, putting a little distance between the center of the action and quiet rooms for naptime.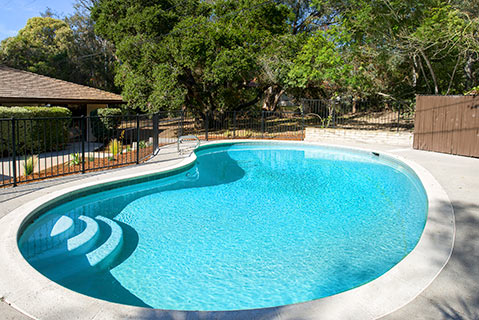 While all the bedrooms are large and well appointed, the master suite at the end of the hall is definitely the most striking. It sports a fireplace, large sliding glass doors out to the pool, and a huge bathroom with separate shower, bathtub, sink, vanity, and dressing areas.
Although we've called it a starter, don't think that this home is in any way a fixer-upper. It has very recently been updated with new cabinetry, floor coverings, and paint inside and out. The swimming pool has just been resurfaced, as well, leaving it sparkling like a pristine jewel in the backyard. The landscaping is minimal, leaving the spotlight on the mature eucalyptus trees out front, the hills behind, and the view out to the greens of the golf course beyond. The home's many large windows take advantage of this beautiful setting, and its own gated driveway provides additional privacy.
While maybe not as opulent as its neighbors, this home is gracious and stunning in its own right. Its new owners will be able to put their own stamp on this small slice of Hope Ranch, and enjoy all of the amenities associated with living in this coveted corner of the paradise that is Santa Barbara. If a two-plus-million-dollar starter home still sounds like an oxymoron, then you don't know Hope Ranch.
210 Las Palmas Drive is currently for sale in Hope Ranch, listed by Sandy Stahl & Associates of Sotheby's International Realty. Reach Sandy at (805) 689-1602 or sandy@sandystahlhomes.com.