News
Growing, Pedaling, and Legacies
The Commonalities of Eaglets and Cycling
As some of you know, over the last few months I've become an avid follower of the adventures of A-62 Isleno and A-63 Whisk. Okay, actually, addicted is more accurate. I've watched these two bald eagles on Santa Cruz Island grow from egg peckers to eaglets to fledglings.
Being an eaglet is tough. Many will die in the nest, succumbing to predators, nature, or sibling rivalry. Fledglings have a 50 percent mortality rate in their first year. They may drown as they try to fly the 26 miles to the mainland or perish because their hunting skills are primitive so they must scavenge food from other adult birds.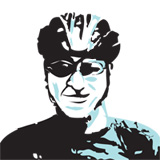 Mom and Dad (A-48 and A-40) have been incredible parents providing abundant food with the daily menu changing from fish to mice to live ducks and baby ravens. Nature isn't always pretty so don't watch while eating dinner. In 11 weeks they taught their eaglets the basic skills and knowledge they will need to survive. Now, as fledglings the eaglets will continue to fly with their parents for another four to five weeks as they master their flying skills and learn to scavenge for food.
Unlike many other bald eagles nests, this one is a mess. It's covered with bits of old fossilized bird wings, fur, fish heads, partially consumed carcasses, and random bits of branches and string brought to the nest by the parents. This garbage dump has been their learning playground where everything has a purpose. They've learned to tear flesh by pulling apart sticks, to de-feather birds by plucking at leftover wings, to scavenge all the morsels from a dried up bone, and to fly with prey in their talons by hopping around with a loon carcass.
As eagles should, they are loud rambunctious screechers, mantling protectively over a fish brought to them by Dad, but they'll also occasionally share food or preen each other. A-63, the younger brother, is filled with wanderlust. Or, as one online commenter brilliantly mistyped, wonderlust! After his first flight, Whisk wasn't able to fly high enough to reach the nest at the top of a 40-foot Monterey Cypress so he spent the night hopping up the tree from branch to branch. It wasn't until morning that he finally reached the nest after a short flight and crash landing. Now, he's the first to fly out each morning and usually the last to return.
So, what do bald eaglets have to do with cycling? Eagle parents have less than four months to teach their young everything they will need to survive in the world. That is their legacy. When we are young we think about our future, career, love, children, and family. As we get older thoughts turn to the legacy we leave behind when the bouncing dot turns into a straight line. I'm inspired by the legacies that others are leaving to our cycling community.
For example, Ralph Fertig left Santa Barbara cyclists a lasting legacy. Recently, the California Transportation Foundation awarded the Ventura/Santa Barbara US 101 HOV and Ralph Fertig Memorial Bike Path the Bicycle Pedestrian Project of the Year.
Thanks to Caltrans District 7, Ventura County, SBCAG, and the Coastal Commission cyclists don't have to ride on the 101 to get from Ventura to Santa Barbara. Completed in 2015, the bike path is a perfect example of how we can work together to build needed bikeway infrastructure to complete the coastal route and Connect Our Community.
Six years ago, Ventura County and Caltrans first met to plan the widening of 101 south of Rincon. The Santa Barbara Bicycle Coalition and its president emeritus, the late Ralph Fertig, saw an opportunity to close a long-standing gap in the California Coastal Route that forced cyclists to ride on the freeway shoulder. What was once three miles of terrifying cycling, with 18-wheelers whizzing by at 70 miles per hour, is now a beautiful ocean side bike path. The path benefits everyone. Separating cyclists and pedestrians from high-speed motorists has made this section of road safer for all users. SBCAG is applying for state grant funding to connect Rincon Beach County Park to Carpinteria Avenue. In the future other missing gaps in the California Coastal Trail constructed.
Whether you are a cyclist or not, we should all be united in the belief that our community is stronger when our roads are safer for all users. Many local leaders and organizations are working at leaving our roads safe and accessible as their lasting legacy. Any list would be long and run the risk of forgetting someone but here goes. Ed France and the SBBIKE team, Eva Inbar and COAST, the staff, schools and elected officials of Santa Barbara, Goleta, Carpinteria and Santa Maria, SBCAG, Kent Epperson and Traffic Solutions, UCSB, Community Environmental Council, Dons Net Café, the SB 100, CalBike, our local bike shops, Santa Barbara Car Free, Santa Barbara City College, and many others.
Take a moment to thank each of these individuals or organizations that are building on the legacy left by Ralph Fertig. If you are feeling generous; stop them on the street and say "thanks", make a donation, volunteer, join a Board or get involved.
July will be the fifth anniversary of Pedal On. After these years of writing the column with my inspirational coauthors, first Erika Lindemann and now Andie Bridges, I've decided to go get involved in some other ventures. Andie will be carrying on the Pedal On legacy. The real joy these past five years has been all the cyclists I have been privileged to meet and talk to about their passions.
Here's my final legacy challenge: young parents take a few minutes tonight when the house is quiet and think about what knowledge, values and skills you would want your baby or young child to learn from you, if you have only another 16 weeks with them before they fledge.
I will continue sharing my love for cycling and all the awesome people in Santa Barbara who are building day-by-day on Ralph Fertig's passion and legacy.
Pedal On!