Living
Seth Brayer "PyroCycles" Bottles at Carr Winery
Santa Barbara Glassblower to Give Live Demonstration with Ryan Carr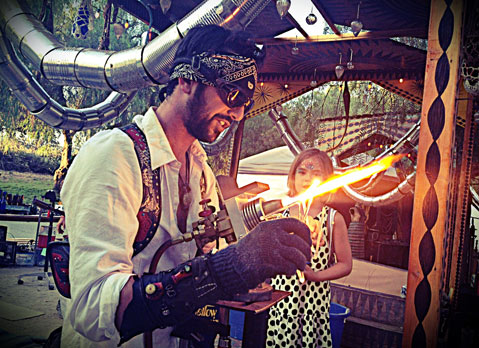 This Saturday, Carr Winery will come alive with the sizzling sight of wine bottles bent into entirely new and beautiful shapes when Santa Barbara glass artist Seth Brayer debuts PyroCycled, an exhibit of elegantly and intricately designed pieces and light fixtures that he's formed from recycled wine bottles. The event runs 6-9 p.m., and at 7:30 p.m., Brayer will show how he distorts the bottles into one-of-a-kind, kelp-like coils and spindles during a live demo.
Drawn to turning discarded objects into entirely new things, Brayer finds inspiration for his technique even in his personal life, such as Kitty City, the cat enclosure he built at his home out of recycled cardboard. "Through the power of the furnace and the heat of the fire, it gives me the opportunity to kind of free them from their constrained shape and turn them into something they were never intended to be," he said, explaining that the familiarity of wine bottles add to the potency of the art. "Everybody on the planet has held [one] in the hand and touched to their lips, and that's a very intimate connection with a body of work."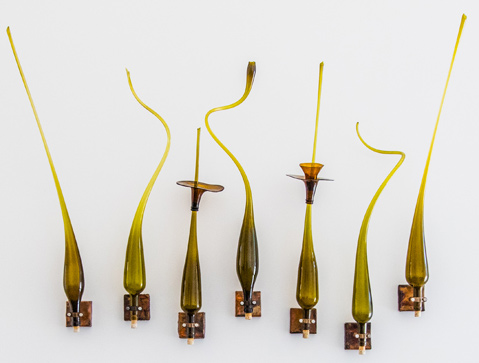 Brayer chose Carr bottles specifically for their labels printed with high-temp ceramic paint, which can be stretched into two-foot-long organic patterns with the help of a furnace inferno. Vintner Ryan Carr will also try his hand at reshaping bottles during the demo. Brayer also works with Telegraph Brewing bottles, distinctively shaped and thick from their making in Belgium.
So whether you enjoy your bottle as a vessel for your vines or as a repurposed décor, Brayer's demonstration and exhibition will show you a whole new way of seeing wine bottles.
4·1·1
Seth Brayer's PryoCycles at Carr Winery (414 N. Salsipuedes St.) is on Saturday, July 9, 6-9pm. Call (805) 965-7985. See carrwinery.com and sethbrayer.com.