Society Matters
Rescue Mission Holds Annual Fourth of July Carnival
300 Homeless Guests are Warmly Welcomed by Staff and Volunteers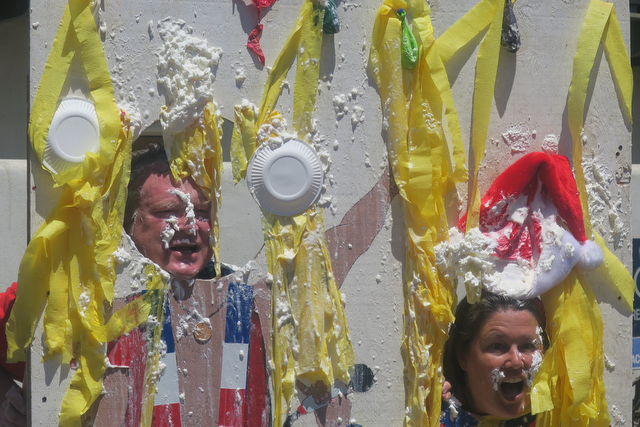 The Santa Barbara Rescue Mission held its 9th annual Fourth of July Carnival complete with a barbecue dinner for about 300 homeless guests. Its parking lot on East Yanonali Street was cleverly transformed into a festive and relaxing venue with shaded tables for dining, music, and a multitude of carnival games.
The Rescue Mission's president, Rolf Geyling, shared how the Mission wanted "to create a warm, welcoming homelike atmosphere" on this holiday. For a lot of people, the first step in transitioning out of homelessness is "just understanding that there is a place that cares for them where they can find help." Through events like these, the Mission "lets people know they are valued and a lot of times that it is an important part of the process that allows them to summon the confidence to seek change."
It was quite a collaborative effort, with many Women's Auxiliary members and men and women in the Mission's Residential Recovery Programs staffing carnival games and serving food. There was a deep, palpable sense of caring among all of those pitching in, and many very grateful homeless guests.
Especially popular was a pie-throwing event with two exceptionally good-natured staff persons, Alana Chessmar and Eddie Tyrrell, smiling throughout hours of intermittent pie-smashings in the face. The guests were also quite pleased with the all-you-can-eat buffet featuring classic American favorites like cheeseburgers with all the fixings, macaroni and cheese, and fruit pies.
Guests were given raffle tickets upon entering and earned more at the carnival games. Items were donated by the Women's Auxiliary itself and by many community members. Suitcases and backpacks were especially popular.
The Rescue Mission, which receives no government funding, is the only organization between Oxnard and Santa Maria that provides hot meals and accommodations to homeless guests 365 days of the year. It has space for 100 men and 24 women but is able to accommodate overflow in its chapel such that it rarely has to turn anyone away. The Mission also operates a men's and women's 12-month residential drug and alcohol program that has won national recognition for its extraordinary effectiveness. It takes a comprehensive approach, offering a full range of services to enable its graduates to reenter society as responsible, productive citizens.
A relatively new program at the Mission is its Drop-In Center operating from 2-4 p.m. on Tuesdays and Thursdays, where staff work one-on-one with the homeless. It is staffed with health-care and other professionals who tend to medical needs, deal with substance-abuse issues, and make referrals to other services. Food and the use of a phone and computer are also provided.
For more information about the Rescue Mission, click here.
---