Briefs
VIDEO: Man with Knife Fatally Shot by Santa Maria Police
Bystanders Criticize Lethal Force Used Against Javier Gaona, 31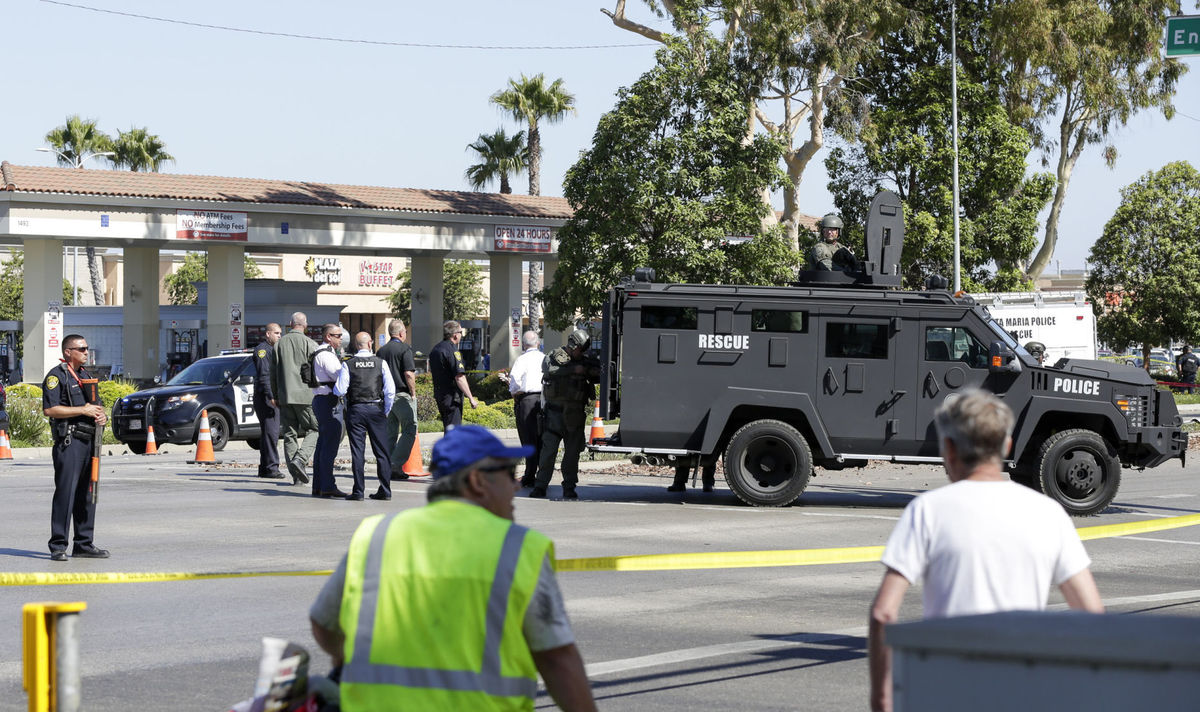 [Update, 4:45 p.m.]: Authorities have identified the man as 31-year-old Javier Gaona of Santa Maria.
[Original Report]: A man with a knife who was stabbing at himself and shouting obscenities Wednesday morning on a busy street corner in Santa Maria, was fatally shot by police after he lunged at officers.
The man, who was not identified, was transported to Marian Regional Medical Center. Officials confirmed Wednesday afternoon that he had died.
The incident brought the national debate about use of force to the local level, as some bystanders yelled and taunted officers and others defended them after the shooting.
The scene unfolded when officers responded to the 1400 block of S. Broadway and W. Enos Drive at 8:44 a.m. after the man reportedly entered a bank and then stood in front of FoodsCo near the intersection shouting obscenities and making cutting motions to his throat and chest.
S. Broadway between Battles and Stowell roads was closed for six hours after the shooting.
Footage taken by James Jepsen, and originally published by Oscar Flores with KEYT News.
Police Chief Ralph Martin said the man was holding a knife to his own throat and asking officers to kill him, which officers refused to do. An FBI-trained negotiator spoke with the man, but at some point "the man quit negotiating with us," Martin said.
"Officials deployed less-than-lethal weapons; we fired approximately 15 shots of 12-gauge beanbag shotgun rounds," Martin said.
After deploying the beanbag shotgun rounds, Martin said officers began shooting about four to five 40 millimeter tennis-ball sized rounds to knock the man down.
"He did go down, and then he reportedly got back up, then charged at the officers with a knife in his hand. Clearly, we knew we had someone who was intent on harming himself or the officers," Martin continued. "That was when three officers used their handguns and shot the man."
Martin added, "We deal with a lot of these incidents, where we want to use the least amount of force; we have the man on tape — he was screaming obscenities, he was clearly upset, had some mental illness and was talking about a lot of different political things."
"I'm upset about this," he continued. "I'm concerned about our officers, people who witnessed this, and it's a clear use of force, but I know we did everything we could. I hope the man survives, but officers also have a duty to protect themselves."
Martin said officers were familiar with the man and knew his name from prior incidents, but said he won't be identified pending notification of next of kin.
After the shooting a crowd of about 20 people gathered at the Vallarta Supermarket parking lot across the street, yelling at the officers and arguing with one another. Many bystanders were taking photos and videos of the scene.
The crowd was visibly divided in their opinions about the use of force, said Tina Sanchez, of Nipomo.
Sanchez said she was at the DMV when she heard about the incident, and raced over to the scene "since I knew police would need support, because the minute I came here, the public was saying it was a Mexican thing, a race thing and blaming officers," she said.
"I told them, no, it's not about race, what happened today wasn't about white people, Mexicans, blacks or Asians," said Sanchez. "The guy had a knife, lunging at officers, who tried to calm him down. The police then took it upon their hands to diffuse the situation, and that was it."
Sanchez said the crowd was quickly pointing fingers at the cops, yelling that the SMPD used misconduct.
"If the guy would've came towards me with a knife, I definitely would protect myself as well — the cops did shoot him with non-lethal beanbags, and yet he still stood back up and still ran towards the police," added Sanchez.
In contrast to the angry crowd, a small group of people led by Santa Maria resident Richard Chavier joined hands in a circle of prayer in the Vallarta parking lot.
"We pray for the man's family. We don't know who he is, but you know who he is, Lord, we need your peace, your forgiveness, your Holy Spirit at this time, that we do not walk in anger in this situation," Chavier prayed out loud.
Chavier said he did not witness the incident, but felt compelled to pray for the city, the police and the man who was shot.
"I'm just a child of God," he said. "I didn't see what actually happened, but saw the police and helicopters coming out, so I thought I'd come out here and say a prayer of peace; we forget the police are peace officers, and we forget that they aren't perfect."
Another witness, Rosie Torres, said she saw the entire incident unfold as she was standing on the other side of S. Broadway, across the street from the FoodsCo gas station.
Torres said she was on her way to the Santa Maria Workforce Resource Center at about 8:40 a.m., when she saw the standoff between officers and the man, who was holding a knife.
Clutching a bouquet of a half-dozen roses that she said she was going to place near the site of the incident, Torres was visibly shaken, and said she couldn't believe that the police didn't use a taser to subdue the man.
She said her frustrations "aren't about the race card, but rather, the use of police force."
"There's violence all over the world, and these cops have been receiving funding with the special force equipment, but not one of them pulled out a taser — why use the beanbags only? And they shot him straight in the chest," Torres said.
"These are the questions we'll never know and we'll never have the answers to.
Torres said she saw the man lunge towards officers after he was shot with the beanbags, and continue to hold onto the knife.
"I wish he dropped the knife at some point, but honestly, I don't think he would've been too much of a threat to the officers — he just had the knife to himself. He wasn't going to hurt anyone. The man had a right to take his own life, but the cops took that choice away from him and shot him," she said.
"I'm just speaking up for whoever he is, he has a family, he's someone's son and now he's gone," she said. "He was down and out, and we have to help each other as a community, get help for those people so that Santa Maria doesn't have to go through this."
Martin said that after an officer-involved shooting protocol is to place officers on administrative leave for a period of at least five days. They will then be asked to enter psychological counseling. He said a third party will assist in the investigation, along with help from the District Attorney's office and the Santa Barbara County Sheriff's Department.
"Nobody gets up and comes to work in the morning, hoping to get involved in a shooting," he said. "Nobody wants that, so I'll let the facts play out first before we start pointing fingers. We'll be as transparent as possible."
"We have a very good police force here, and I can't tell you how many times we used less than lethal force, but a lot of times. It doesn't make the news," Martin said.
Editor's Note: This story was originally published in the Santa Maria Times on Wednesday, July 20. Read it here.