Society Matters
Charity Auction and Luncheon Delights Wine Aficionados
Central Coast Wine Classic Event Raises Funds for Regional Nonprofits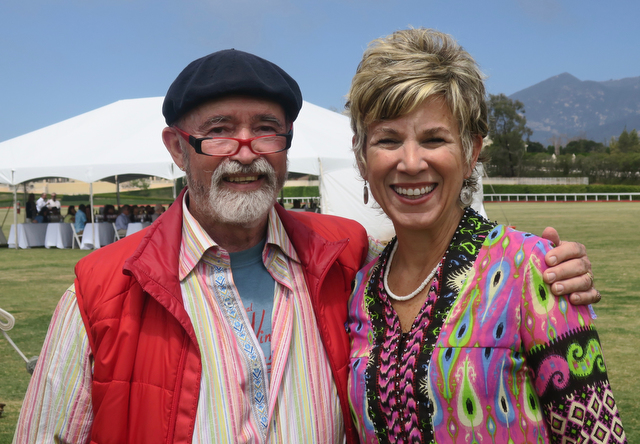 More than 300 wine aficionados gathered on the picturesque polo field at Pat Nesbitt's Bella Vista Ranch in Summerland on Saturday, August 13, for the Central Coast Wine Classic's (CCWC) Rare & Fine WIne & Lifestyle Charity Auction & Luncheon. Fifty-four lots garnered an astounding $787,500.
The CCWC was a five-day event that included Santa Barbara venues for the first time in its 31-year history. Archie McLaren, the event's founder and chair who recently moved to Santa Barbara, shared how he loves the spirit of "sharing, gratitude, and graciousness" that he finds among people here. There were barrel tastings, tours, symposiums, and dinners with legends of the wine world at spectacular locations including Hearst Castle, the Mural Room of the Santa Barbara Courthouse, the Santa Barbara Club, and aboard the Channel Cat.
The auction/luncheon is the signature event. For McLaren, the CCWC is not just about promoting the wine, culinary, and hospitality industries but also about raising funds for regional nonprofits. Since 2004, when the CCWC Foundation was created, more than $2.5 million has been granted to 125 organizations in the healing, performing, and studio arts in San Luis Obispo and Santa Barbara counties.
As the website beckoned, this was "a chance to eat, drink, be merry and make a difference." Success was had on all counts. The heavenly, gourmet four-course meal was prepared by Chef Rick Manson and Chef Frank Ostini and served with fine wines throughout the afternoon. The menu, with a description that was a full page in length, featured oak-grilled eggplant, tomato and basil po' boys, smoked-andouille-stuffed quail, and "super funky-extra chunky archiedoodles."
Ostini was performing double duty, running from the kitchen onto the stage and back a few times to introduce auction lots for dinners and wines that he was donating (Hitching Post Restaurant, Hartley Ostini Wines).
Other preeminent winery owners and winemakers from Napa, Sonoma, the Central Coast, and other wine regions in the U.S. and abroad, as well as artists and other donors, introduced their lots before auctioneer DawnMarie Kotsonis, "Gavel Girl," sought out the highest bidders. With fine wines, dinners, luxurious travel experiences, stunning artwork, and other enticing offerings following one upon the other, and eager bidders plentiful, excitement reigned throughout the afternoon.
An undercurrent running through the afternoon was a tribute to McLaren, who has indicated he will not be holding the CCWC next year so that he can heal after suffering a stroke last year and putting on this year's production. He has not decided on plans beyond that.
Among the four honorees was McLaren's Executive Assistant Beverly Aho, whom McLaren praised for all her assistance when he had the stroke. In accepting the award, Aho commented on how universally admired McLaren is, and, speaking humbly and from the heart, stated that "this is one of the most special people on the planet, and any of us would have stopped their lives to keep him comfortable, and that's all I did." Many others, before presenting their auction lots, expressed a similar level of respect and fondness for McLaren, an individual whose résumé in the wine world is a mile long.
Several donors traveled great distances for the event, including Karma Lotey, CEO of Yangphel, an adventure travel company in Bhutan. Lotey, who is known as the unofficial Minister of Tourism because of his company and the multitude of boards he has served on, donated a 10-day travel package to his country that garnered $27,000.
Lotey sees a double benefit from the event — supporting the regional charities and exposing the lucky bidders to Bhutan and its way of life. He is proud of his country's development philosophy of focusing on Gross National Happiness. Every development proposal is evaluated by its Ministry of Gross Happiness, and only those with a sufficient happiness component receive approval. It delights him to share his country and its development philosophy with Americans.
A special Fund-A-Need Auction lot benefited the Léni Fé Bland Performing Arts Fund. The Fund was established by Sara Miller McCune in honor of her good friend, Léni Fé Bland, who passed away in 2014. McCune passionately explained that children should be exposed to the performing arts so they don't drop out of school, so they believe that they can go to college, so they have more self-esteem, and so they can express themselves better. Her foundation has created a pilot program with the Santa Barbara Unified School District and 12 performing arts organizations under which every student in the 4th through 6th grades will attend a performance and receive pre- and post-performance classroom instruction. Her case was compelling; in a moment's time, $71,700 was raised.
Fund-A-Need Auction Lots were also held at other CCWC events, which raised $90,500 for the Hearst Castle Preservation Fund and the Friends of Hearst Castle and $20,000 for the Boys & Girls Club of Atascadero.
In the past, all net proceeds from the CCWC have been distributed to regional nonprofits. This year's amount and beneficiaries are not yet known, but given the event's history and the amount raised, it is likely to once again truly make a difference.
Archie McLaren can be seen on In Wine Country with Archie McLaren on KEYT on Sundays at 5 p.m.
For more information about the Central Coast Wine Classic, go to centralcoastwineclassic.org/index.php.
For more information about McLaren, see a recent story in The Santa Barbara Independent by Matt Kettmann: independent.com/news/2016/jul/27/archie-mclarens-indulgent-life.