News
Rey Fire Wrap-Up
Officials Struggle to Protect the Critical Santa Ynez Watershed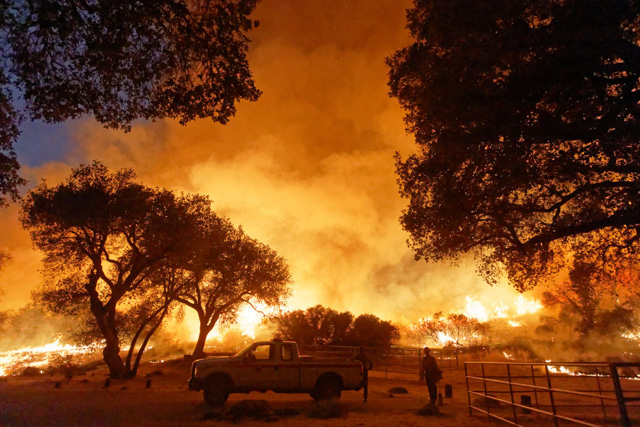 Since the inception of the Rey Fire on August 18, seasonal weather patterns ​— ​morning winds out of the east and southeast that reverse direction each hot afternoon ​— ​have blown up the blaze as it advances across Santa Barbara County's rugged backcountry, brittle from five years of historic drought. By the morning of August 24, the wildfire had consumed 31,255 acres, all of them north of the Santa Ynez River as it parallels Paradise Road. Containment is at 34 percent, and the number of personnel assigned to the fire has grown to more than 1,700. One injury ​— ​a case of dehydration ​— ​has been reported, and no structures have been damaged. The estimated suppression cost so far is $8.6 million.
Investigators with Los Padres National Forest have pinpointed White Rock picnic area as the fire's starting point. From there, the wind-driven blaze quickly spread into adjacent private property belonging to Rancho San Fernando Rey. Unconfirmed estimates hold that the fire has burned roughly a third of the ranch's 30,000 acres. Calls to ranch headquarters were not returned.
As bulldozers and hand crews work the chaparral, and aircraft drop water and retardant, firefighting efforts have held the western flank at Horse Canyon, just northwest of Lake Cachuma. The remaining uncontrolled line is burning deep in the backcountry northward across Old Man and Little Pine mountains, and to the east past Indian Creek. "They're hoping to hold the east flank at Mono Creek," said County Fire spokesperson Captain Dave Zaniboni. It's also closing in on Ogilvy Ranch, where, on Tuesday, a Santa Barbara County Fire Department crew wrapped the historic house and outbuildings with protective fire foil.
To the south, incident commanders aim to keep the blaze well away from the Santa Ynez River and Paradise Road, where more than 300 people from dozens of homes, campgrounds, recreation areas, and Los Prietos Boys Camp, a teen probation facility, have been evacuated. Paradise Road remains closed. On August 21, officials also closed East Camino Cielo Road to the general public as firefighting teams travel the narrow roadway to backcountry battle lines east of the fire.
"The priority is protecting the Santa Ynez watershed," Los Padres National Forest Supervisor Bob Baird said at an August 23 press conference, where he announced that a Type I federal management team would take the reins that evening, as the fire grows bigger and more complex. Tom Fayram, Santa Barbara County's deputy director of water resources, explained that come rainy season, mountainsides and canyons destabilized by wildfire will send considerable sediment loads into Cachuma, a critical source of drinking water for the South Coast. After the 2007 Zaca Fire ​— ​the state's fourth largest on record, at 375 square miles ​— ​sediment infill during wet winters drastically shrank the holding capacity of Gibraltar Reservoir ​— ​upstream from Cachuma ​— ​by "thousands of acre-feet," Fayram said. He added that ash-laden rain runoff is also more difficult for water-treatment facilities to process.
"In terms of priority statewide, we're number two right now," said Fire Information Officer Richard Hadley with the newly installed Type I team. Only the minimally contained Cedar Fire, which threatens eight communities in Kern County, is of greater concern, he added.
Across the state, according to CalFire reports, 10,000 personnel are battling six major wildfires, including the active Chimney Fire, which has charred 65 structures and more than 40,000 acres near Lake Nacimiento in San Luis Obispo County. On August 22, firefighters reached full containment of the Blue Cut Fire, which burned for seven days in San Bernardino County. Scorching 36,274 acres and destroying 321 structures, including 105 homes, the Blue Cut now ranks as the 20th most destructive wildfire in California history, at an estimated cost of $12.3 million, as of August 23.
Close to home, "This has been a very challenging fire season for Los Padres," Baird said. The Rey Fire is the fourth wildfire to ravage Los Padres lands this year, after Santa Barbara's Sherpa Fire (7,474 acres), Ojai's Pine Fire (2,304 acres), and Big Sur's ongoing Soberanes Fire, which has burned nearly 90,000 acres. With more hot and windy days in the forecast and firefighting resources at a premium, Los Padres officials have ramped up fire restrictions in the forest, prohibiting smoking, campfires, the discharge of a firearm, and the operation of any internal or external combustible engine without a spark arrestor.
Los Padres officials have not released the cause of the Rey Fire, but they did surround White Rock picnic area with bright yellow "Fire Origin" tape. Within, a large oak tree lay across power lines, and two power poles were down.