Make Myself at Home
Make Myself at Home: Stately Craftsman on Bath Street
Take a Look Inside 803 Bath Street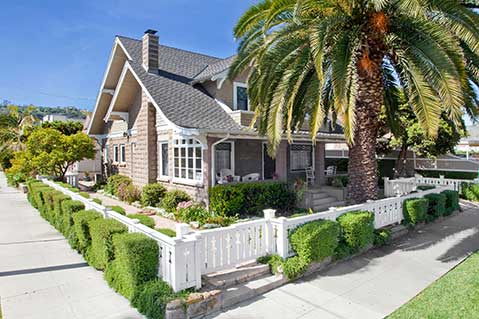 Address:  803 Bath Street
Status: On the market
Price: $1,675,000
Are you familiar with the lucky cat? The Japanese ceramic cat with one paw up in the air waving is called a maneki-neko, and it's one of my favorite lucky talismans. I also favor four-leafed clovers, full moons, and the number 13. I pay attention to lucky emblems and good luck charms, so when I saw a horseshoe hanging over the basement door at 803 Bath Street, I considered it a good sign. But the horseshoe wasn't the first detail that made me smile as I toured this house. It was chock-full of some of my favorite things. 
The home is a beautiful craftsman built in 1906. It sits on a prominent corner in downtown Santa Barbara at Bath and De la Guerra streets. I visited it once about a month ago, and then went back for a return visit last week. It's amazing how much more detail you see on a second look. 
The house has all of my favorite craftsman features, starting with an awesome, oversized covered front porch. On this second visit, I paused and sat on the porch rather than just admiring it as I walked by. I wanted to give it a true test drive. The porch is over 7 feet wide and 30 feet long, running the entire length of the front of the house. It's up a few steps and covered by the sweeping eaves of the roof. That bit of elevation plus the substance and size of this outdoor room combine to create a private, regal setting that feels high above the street. The porch is large enough for plenty of al fresco entertainment, and of course destined to be used year-round in our temperate climate. The front yard is shaded by a gorgeous palm tree that adds privacy as well as a tropical touch. I could've sat for hours enjoying the calm, cool grandeur of the porch, but I knew that even more treasures awaited me inside the house.  
The living room and dining room are at the front of the house, separated by a partial wall with hidden pocket doors sliding between them. These pocket doors, with their original hardware, are indicative of many of the details in this lovely home. They retain their period charm, but they've been refurbished so that they glide seamlessly and perform better than they did when they were brand-new. 
Both the living room and dining room also sport beautiful built-in cabinetry and matching window seats with built-in benches that provide functional, stylish storage. The original wood gleams with a "they don't make 'em like they used to" air. The floors in these two rooms are worth a special mention. Made of hardwood set in a concentric rectangular pattern, the floors are another subtle yet beautiful testament to the original craftsmanship of the era. 
 Additional details such as the wainscoting, the wavy glass, and the original handles and fittings caught my attention at every turn. The front door is a work of art in itself. 
 The kitchen is beyond the dining room, and one of the bedrooms and one bath rounds out the remainder of the downstairs. Up a steep wooden staircase lie the other three bedrooms and two baths, including a stunning master bathroom with both a claw-foot tub and a shower. My favorite feature upstairs is a huge balcony accessed by both front bedrooms. This veranda provides a bird's-eye view and a perfect lounging spot for morning or evening, and brings the outdoors in. 
 All of the rooms in this home are notably large, providing a spacious and comfortable feel. They also flow well from one area to the next; the space is functional and efficient. One of the most unique examples of the home's efficiency is the garage. It is a unique, L-shaped garage, with two electric doors accessed by two different driveways. As a later addition to the house, this layout maximizes the available space and provides off-street parking for up to five vehicles, which is a huge premium, especially downtown. 
The other unexpected bonus space in this home is the aforementioned basement with the lucky horseshoe-laden door. It's a real basement, not just a crawl space or storage room. The ceiling is only about six feet, so it won't let everyone stand up tall, but it's a surprisingly large room, with many options for its use. The basement offers another perk: It provides a peek at all of the renovation work that has been done. With labeled cables, pipes, and shutoff valves, the new plumbing and electrical systems are shown off nicely as one looks under the hood at the skeleton of the house. 
Walking back outside, and rubbing the horseshoe for luck, I walked around the perimeter of the house one more time. The construction of the exterior is a marvel, as well. While the top is typical wood construction, the entire bottom level is composed of individually formed concrete blocks. From a distance it looks like Santa Barbara sandstone, but up close, its true nature is revealed. Considering that all of the forming, shaping, and finishing work would have been done by hand in 1906, this gives one more reason to marvel at the details of this beautiful home. It has stood up well after these many years and appears to be in perfect condition. 
This home doesn't have a backyard, but with all of downtown Santa Barbara within walking distance, I think the new owner will have plenty of outdoor space to enjoy. With this gorgeous house, in this prime location, they will be lucky indeed. 
803 Bath Street is currently for sale in Santa Barbara, listed by Bruce and Gabe Venturelli of The Venturelli Group of Coldwell Banker Previews Properties. Reach Bruce at (805) 448-3644 or Gabe at (805) 680-5141 or visit venturelligroup.com.