Food & Drink
The Corazón Cocina Food Experience
Chef Ramón Velazquez Brings His Mexican Dreams to the S.B. Public Market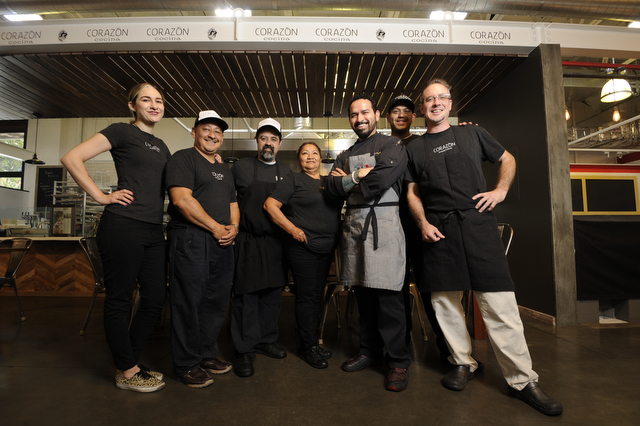 Every dish tells a story, and Chef Ramón Velazquez's Corazón Cocina in the S.B. Public Market proves it. Here you'll find flavors from all over Mexico: yellowtail ceviche with watermelon and hibiscus aguachile from the Yucatan, homemade chorizo and queso fundido from Chihuahua, seasonal fish with flavors from a food truck Velazquez once owned in Tijuana, and taco delicacies from all over.
This is what happens when a former sushi chef who grew up in old Guadalajara creates Mexican food that glorifies every region of his homeland, bringing to Santa Barbara the perfect high-end taco in a street-style café. "I want people to remember Ensenada in the Baja when they eat my crispy, beer-battered lingcod taco," said Velazquez. "And when you taste my mole con pollo made with black mole, the King of Moles, I want you to think of Oaxaca."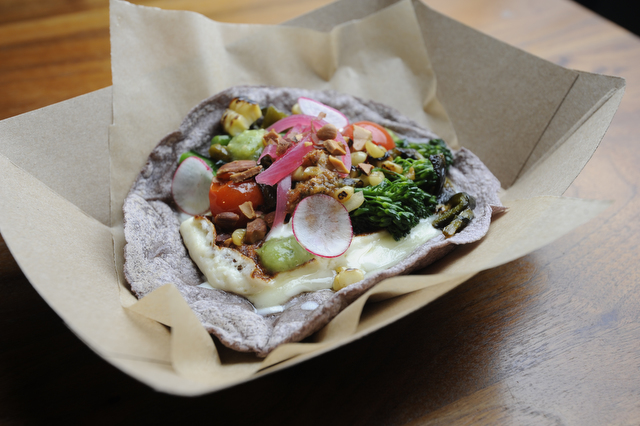 Everybody in Santa Barbara knows Ramón Velazquez from somewhere. He arrived here in 1989, the oldest of seven children from Guadalajara, where his mother ran a fonda, a hole-in-the-wall eatery. The young Velazquez's job was to take the corn to the mill every morning for tortillas. "I had to keep the mesquite going," he explained, "but in between I was off playing soccer."
With great art museums, murals, cathedrals, tequila, and exquisite food, farming, and fishing traditions, Guadalajara is the origin for many great Mexican cultural traditions. There, he worked at the famed Liberty Market, three massive floors of fresh and prepared food that still feels like Disneyland to Velazquez when he goes home to visit.
Once in Santa Barbara, he bussed and worked as a waiter, eventually landing at the original Arigato, which was much smaller than it is now. Only Japanese sushi chefs worked there in those days. After two months as a waiter, one sushi chef accidently cut his hand. "When the owner was faced with a sudden vacancy, he offered to teach me," remembered Velazquez. "He said I'd be the first Mexican, non-Japanese chef he'd ever hired, but he thought I could learn."
This was the perfect opportunity for an aspiring self-taught chef who harbored a touch of genius. It changed how Velazquez saw food. "I loved how instant sushi was," he said. "You make something, you serve it, and you get a smile from someone."
He translated that passion to upscale Mexican food as main chef of Cielito in La Arcada for three years. But in 2014, he needed a change.
"I felt like something was missing," he recalled. "I'm not making the food that I should be. I felt a responsibility to make the food that is not represented. I wanted to do something instant, more cutting-edge, fresher, cooler. I wanted it to be simpler. I wanted people of all kinds to experience it."
That's how the Corazón Cocina food experience was born, first as a pop-up in the Three Pickles Deli, where his food was sought out by fans every Sunday. It was crisp, delicious, and reverent in the farm-to-table style ​— ​Instagrammed photos of his taco creations went viral.
After sporadic rumors of a brick-and-mortar Corazón opening everywhere from Montecito to Haley Street, Velazquez found a home in the revitalized Public Market, right near the front door and across from the highly successful Empty Bowl Gourmet Noodle Bar. But he plans to keep the pop-up street-food spirit alive and is happy that the space functions much like a sushi bar, allowing an instant connection with customers. "Everyone knows the best restaurants are on the streets," he said. "I can serve something on a paper plate and give someone something delicious that is usually served in the chaos of the open-air markets and streets of Thailand, Brazil, or Mexico City."
Velazquez remembers advice once given to him by New York restaurant guru Adam Block, who said to keep it simple. "People have 30 seconds to figure out what it is you're doing, where to sit, how to order," he said. "In Corazón Cocina, you come in; you order; you get a pager; you sit and eat."
Judging by how flawlessly he's translated that pop-up energy into his new home, it's certain that Corazón will continue transporting aficionados to the Mexico he knows and loves. After all, Ramón Velazquez makes tacos as beautiful to look at and eat as the best sushi ​— ​instant, beautiful, luscious, and precise.
38 W. Victoria St., 845-0282, facebook.com/SBCorazonCocina