Living
Sea Glass Festival Returns This Weekend
2nd Annual Santa Barbara Sea Glass & Ocean Arts Festival Moves to Earl Warren Showgrounds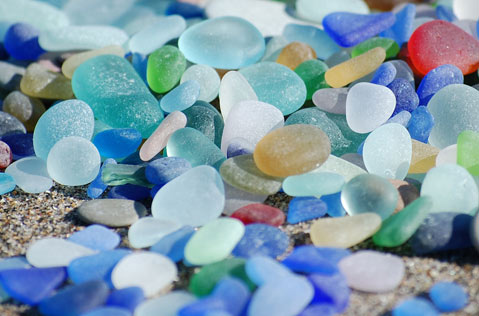 For many coastal families, the innocent discoveries of small, polished shards of glass washed up along the seashore have likely morphed into full-blown exploratory missions. Hunting for sea glass is fun, a step up from a typical beach stroll, with the treasures — from common clear glass to various shades of green and brown and even an occasional blue — displayed on fireplace mantels in one-quart mason jars.
Like any collector pursuit, the bigger world of sea glass has deep and very interesting histories — that triangle of polished red might be from the taillight of a 1939 Plymouth — with a dedicated fan base to boot. Now in its second year, the Santa Barbara Sea Glass & Ocean Arts Festival is one of the best West Coast events for up-close viewing of world-class sea glass collections and the various forms of arts and crafts that rely on materials sourced by scanning wet sand during low tide for hours on end.
The festival debuted last year in Carpinteria, drawing big crowds to a sweltering warehouse space on Linden Avenue. This year, more than 40 vendors, plus bands and food booths, will gather at Earl Warren Showgrounds. Contests, giveaways, and raffles will share the weekend with special guest Mary McCarthy, who will talk about sea marbles from seashores around the world. Raffle proceeds will benefit Explore Ecology, an environmental education program affiliated with Santa Barbara's seminal Art From Scrap.
"The whole weekend is such a blast," said Tabitha Bergerson, who will be selling her ocean-inspired jewelry at the festival, "everybody coming together for the love of sea glass."
Saturday-Sunday, September 10-11, 10 a.m.-5 p.m.; Earl Warren Showgrounds (3400 Calle Real); $5/day, $9/both days, $15/early-bird access; santabarbaraseaglassandoceanartsfestival.com