Living
Donna Dees Organizes Mother of All Gun-Violence Concerts
Happiness Is Not a 'Warm Gun'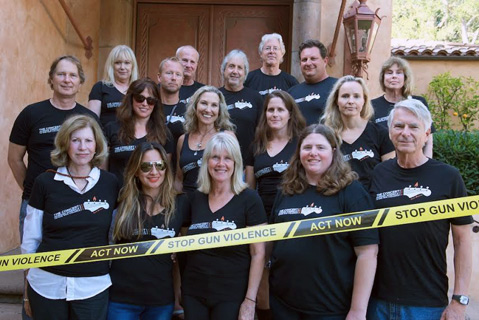 Sixteen years ago, Donna Dees celebrated Mother's Day by organizing the Million Mom March on the nation's capital to protest the gun violence erupting, then as now, throughout the nation. Dees must have fallen short. Only 750,000 mothers showed up, no laws got changed, and the lead keeps flying. And gun deaths continued unabated. Dees and her co-conspirators against gun violence did manage to extract one very small consolation prize; in 2007, Congress declared September 25 the annual Day of Remembrance for Murder Victims.
This year, it just so happens September 25th falls just one day before the first debate between presidential candidates Hilary Clinton and Donald Trump. It also happens to be the day that Dees has organized a 300-city musical event — dubbed Concert Across America — to call yet more attention to the issue. In New York City, Eddie Veder and Jackson Brown will be headlining the concert; in Santa Barbara it will be Kenny Loggins, Christopher Cross, Zach Gil, and Ozomatli at the ever-redoubtable Arlington. Dees was available for a quick exchange. The following is an abbreviated version.
What was the lightbulb moment for you? It was the night of President Obama's 2013 State of the Union Address, just a few weeks after the Newtown shooting in Connecticut. Two women I had never met approached me and asked me to organize another Million Mom March on Washington, D.C. I felt guilty about not being able to step up, but I was working full-time, and march organizing is a 24/7 volunteer job. Then, in August 2015, two bright young journalists were fatally shot live on TV in Roanoke Virginia. I wrote "How to Organize the Mother of All Protests." I have found that mobilizing with music can be more powerful than just a march with a bunch of speeches. Not everyone rises to the level of a Dr. King.
What's the objective? The immediate objective is to ensure gun violence prevention is a debate question on Monday, September 26. We have a gun violence epidemic in America. Our two leading candidates should present to voting Americans what their plan will be to keep dangerous weapons out of dangerous hands. The media rarely focuses on gun violence prevention unless there's a high-profile mass shooting. And then the issue quickly fades away despite the fact 90 people die each day from gun violence.
Tell me about the Day of Remembrance for Murder Victims. It took the Parents of Murdered Children 10 years of lobbying Congress to get the day designated. Yes, 10 years just to acknowledge that America has so many murdered each year that a day was needed to remember the loss. We're still waiting for Congress to actually do something about the murder rate.
How many people have been killed by gun violence since that day was enacted? There are nearly 12,000 gun murders a year. Check my math, but that's 108,000 murdered by firearm since 2007. Despite falling crime rates, that annual number has barely changed since the late 1990s.
Aside from good intentions, what bills have had impact in reducing gun violence? I'm not a policy expert, but the experts all agree on the immediate need to strengthen the Brady background-check law to keep guns out of the hands of criminals, domestic abusers, and the dangerously mentally ill. Most also agree on the need for safe storage laws to keep guns out of the hands of children. In America your chance of being shot by a toddler far exceeds the chance you'll be killed by a terrorist.
Where do you think progress is being made? Many life-saving victories are being won at the state level. When voters get to decide on initiatives to strengthen the background-check system, they vote yes. In November, voters will get to vote on initiatives in four states — California, Nevada, Maine, and Washington. Approximately 91 percent of Americans polled — many of whom are law-abiding responsible gun owners — support universal background checks.
Have you or anyone in your family been affected by gun violence? When I was 7, my beautiful 28-year old post-partum depressed aunt shot herself with her husband's handgun left loaded and unlocked in a bedroom dresser drawer. She left behind four children, ages 6 years to 6 weeks. However, I did not feel compelled to get educated until August 10, 1999, when a mentally deranged white supremacist stormed a California day camp and shot children the same ages as my own. That was my tipping point.
4•1•1
The Concert Across America takes place in Santa Barbara at the Arlington Theatre, Sunday, September 25, 7-10 p.m. Tickets range from $25-$60 and are available at the theater [1317 State Street, (805) 963-4408] and at TicketMaster.com.