Best Of
Best of Santa Barbara® 2016: Eating
My Dogs,
Lick those chops, and ready your begging game because this town takes the fine art of eating seriously. In fact, so plentiful and powerfully delicious are the options in this fabled culinary landscape that Dot and I have begun to growl at each other about what places are the best of the best for our favorite chowhounds to dine at when they are in town. Pack problems aside, you won't be disappointed if you wind up at any of these spots.
I've always had a bit of a drool problem when it comes to potatoes, so the discovery of Spudnuts has been sublime for this Midwestern pup. A good day always starts with a good doughnut, but a great day needs to start with a Spudnuts doughnut, all of which are made with potato flour. Not a doughnut dog? Trot over to Super Cucas for a breakfast burrito made bigger than some Chihuahuas. It's okay if it takes a while and you don't get there until lunch, because their regular burritos are just as belly-busting and delicious. Not into doughnuts or burritos? (Are you even alive? Just kidding­—my buddy Danger Dog can't eat the stuff, either.) It's no problem as Cajun Kitchen has something on the menu for everyone, from beignets and waffles to jambalaya, cornbread, and gumbo to traditional egg dishes.
It feels and smells like a visit to a fresh farm stand back home in Ohio every time I venture to the bottom of Milpas Street. Tri-County Produce is a green grocer mecca with the informal feel of a quiet country road and a stunning ocean view. My tail wags every time I see owner John Dixon on the floor, ringing up customers and bagging up their biscuits. When I need a broader variety of health-conscious food, I make my way to Lazy Acres on the Mesa and let my inner hippie howl. This place is insanely popular with Australian shepherds and border collie types, as well as some of the prettiest pit bulls I've seen.
As for the standard Dug Daug staples of pizza, burgers, steak, and fried seafood, well, Santa Barbara does not disappoint. The double charburgers with grilled onions and avocado from The Habit are the type of thing you beg all night for and even consider learning a new trick to encourage your human to share with you. They are that good. For steak, it is always the Hawaiian shirts and dimly lit salad-bar ambiance at Chuck's that I prefer, licking my chops over an 18-oz., center-cut T-bone.
My pizza problem gets resolved when I find someone with opposable thumbs and make them call Rusty's to order up a delicious pie and have it brought to our door. The Santa Barbara original has been around since 1969, so they know what they are doing — from creation to the delivery.
And then there is Brophy Bros. I learned long ago, while on vacation along the sandy shores of Cape Cod, that the only surefire way to find good seafood is to head to the harbor. Three thousand miles and many years removed from that lesson, and the truth remains the same here on an entirely different ocean. With a big view of the boats, the sea, the pier, and all of downtown Santa Barbara and the mountains beyond, Brophy's is the place to park whether you are looking for a quick cup of clam chowder, some fish 'n' chips, or a memorable white sea bass fillet with a green tomatillo sauce. Prefer to be the master of your seafood creations? Just walk a few doors down from Brophy's, and check out Brian Colgate and his crew at the Santa Barbara Fish Market for the freshest fruits of the sea imaginable. You can't go wrong when the fishing boats are closer than where your human parked the car.
That's it for my Ruff Guide to grubbing in paradise.
Dot will bark at you next with her preferred chow spots.
Bone appetit, Dug
Woofers, Waggers, and all four-legged Food Hounds,
We often get a bad rap for being uneducated omnivores. Sure, most labs will eat the fuzz off of a couch, and some poodles like to eat candles, but for most of us, our palates match our olfactory superpowers. This leads to some most ill-timed drooling fits, especially when out walking the streets of Santa Barbara. The food here is beyond my most sordid bacon fantasies.
First, that Asian food fetish of mine that so often went unfulfilled during my Ohio days is being satisfied at an alarming rate. Your Place has become my place. It is a beloved Thai restaurant toward the bottom of Milpas Street that has big aquariums and colorful umbrellas hanging from the ceiling and panang curry that is deeply life affirming. When it's time for my tandoor oven fix, the special lunch buffet at Flavor of India is the only place for me. Their lamb vindaloo is perfectly appropriate for breakfast, lunch, and dinner, as well as anytime in between. The dim-sum itch gets scratched regularly at China Pavilion, but now I keep going back for their scallion-wrapped Peking duck and flaming scorpion bowls. For sushi, any dog that knows her toro from her maguro will feel as if she has ascended to the pearly gates of that Great Dog Park in the Sky while dining at Arigato. Lastly, Empty Bowl Gourmet Noodle Bar takes the best of Thai and Taiwanese cuisines and brings them together for a truly tasty lunch and dinner experience. Just having plain old kibble will never be the same for me now that I know what other earthly delights a bowl can be used for.
When my gut growls signaling I need ruffage, I go to Paul and Kathy Shield's Savoy Café. With homemade dressings, a dizzying assortment of veggies and greens, and savory chunks of grilled tri-tip and chicken, the eatery sets a salad-bar standard that is hard to beat.
However, if the pack is getting together and looking for a big night of public howling, feasting family style on the tapas delights at Milk & Honey is the way to go. Their cocktails are a nice bit of wind in the sails, as well. If your party turns into a prowl and you wind up on the streets late-night style, a visit to The Blue Owl is the mandatory last stop. The after-hours offerings of chicken and biscuits, bánh mì, and Thai basil burger are beyond the pale of delicious.
Should the occasion call for an Italian meal that will make even the most Pisan of Neapolitan mastiffs bark wildly with approval, Ca'Dario has you covered. Dario Furlati's restaurant is always memorable whether it is your first time or your 40th.
Got one of those anti-gluten humans in your crew or just want a meal that prioritizes both your health and your desire to eat a tasty dish? Mesa Verde performs this rare type of cooking wizardry with every dish they create. Jackfruit street tacos, polenta fries, mushroom umami burgers, and smoked mushroom and chlorella risotto are but a few of the reasons why I have become a convert.
Lastly, and perhaps most importantly to Dug, me, and everyone else who values the perfect, tasty ending to the perfect day, there is McConnell's. It is an ice cream emporium of truly magnificent proportions. With a strict company commitment to using only the freshest ingredients available, including real-deal, wholesome, organic milk from California cows, this scoop house creates ice cream flavors that I would consider going to war over. I dare you to try the Whiskey & Pecan Pralines or Boysenberry Rosé Milk Jam and not have a religious experience.
That's all I've got for now. I'm getting hungry and need a walk, so I am sure I will have some more favorites soon.
Until then, Dot
Doughnut Shop
Spudnuts Donuts, many locations, spudnutsdonutssb.com
Finalist: Eller's Donuts
Burrito/Breakfast Burrito
Super Cucas, many locations, cucasrestaurant.com
Finalist (Burrito): Freebirds World Burrito
Finalist (Breakfast Burrito): The Daily Grind
Breakfast
Cajun Kitchen, many locations, cajunkitchencafe.com
Finalist: Jeannine's
Produce Stand/GreenGrocer
Tri-County Produce, 335 S. Milpas St., 965-4558, tricountyproduce.com
Finalist: Santa Barbara's Farmers Markets
Health Food/Nutrition Store
Lazy Acres Market, 302 Meigs Rd., 564-4410, lazyacres.com
Finalist: Whole Foods
Burger
The Habit Burger Grill, many locations, habitburger.com
Finalist: Eureka!
Steak house
Chuck's of Hawai'i, 3888 State St., 687-4417, chucksofhawaii.com
Finalist: Lucky's
Pizza
Rusty's Pizza Parlor, many locations, 564-1111, rustyspizza.com
Finalist: Olio Pizzeria
Seafood Restaurant/Clam Chowder
Brophy Bros. Clam Bar & Restaurant, 119 Harbor Wy., 966-4418, brophybros.com
Finalist (Seafood Restaurant): Lure Fish House
Finalist (Clam Chowder):S.B. The Shellfish Company
Fresh Fish Market
Santa Barbara Fish Market, 117 Harbor Wy., Ste. A, 965-9564, www.sbfish.com
Finalist: Kanaloa Seafood Market
Thai Restaurant
Your Place, 22 N. Milpas St., Ste. A, 966-5151
Finalist: Tap Thai Cuisine
Indian Restaurant
Flavor of India, 3026 State St., 682- 6561, flavorofindia.net
Finalist: Tamira
Chinese Restaurant
China Pavilion, 1202 Chapala St., 560-6028, china-pavilion.com/about
Finalist: Mandarin Palace
Sushi Restaurant
Arigato Sushi, 1225 State St., 965-6074, arigatosb.com
Finalist: Sakana
Noodle Bar
Empty Bowl Gourmet Noodle Bar, 38 W. Victoria St., Ste. 109, 335-2426, emptybowlnoodle.com
Finalist: Noodle City
Salad Bar
Savoy Café & Deli, 24 W. Figueroa St., 962-6611, thesavoycafe.com
Finalist: Chuck's of Hawai'i
Appetizers/Tapas
Milk & Honey Tapas, 30 W. Anapamu St., 275-4232, milknhoneytapas.com
Finalist: Alcazar Tapas Bar
Late-Night Eats
The Blue Owl, 5 W. Canon Perdido St., 705-0991, blueowlsb.com
Finalist: Roy
Italian Restaurant
Ca' Dario, 37 E. Victoria St., 884-9419, cadario.net
Finalist: Via Maestra 42
Vegetarian/Vegan Restaurant
Mesa Verde, 1919 Cliff Dr., 963-4474
Finalist: The Natural Café
Ice Cream Shop
McConnell's Fine Ice Creams, 728 State St., 324-4402, mcconnells.com
Finalist: Rori's Artisanal Creamery
Frozen Yogurt Shop
Yogurtland, many locations, yogurt-land.com
"Buying your dish of frozen yogurt based on how much it weighs is awesome but also dangerous, considering all the options these guys have. It is an addictive and yummy habit." —Abby P., customer
Finalist: Lovin' Spoonful
Chocolate Company
See's Candy, multiple locations, sees.com
"See's Candy reminds me of childhood. It is always such a yummy stop. The best part is the complimentary chocolate you get each time you go in." —Suzanne Purcell
Finalist: Chocolate Maya
Bakery/Sidewalk café/Patio
Renaud's Patisserie & Bistro, multiple locations, renaudsbakery.com
"My colleagues and I enjoy a weekly coffee break at Renaud's. It is such a great spot to enjoy authentic French pastries and gourmet coffee." —Kate Kurlas 
Finalist (Bakery): Anna's Bakery
Finalist (Sidewalk Café/Patio): Paradise Café
Cupcakery
Crushcakes and Café, many locations, crushcakes.com
"Winning best cupcakes is wonderful because we make all of our cupcakes and cakes daily from scratch with lots of love!"  —Shannon Noormand, owner 
Finalist: Enjoy Cupcakes
Bagel Shop
Jack's Bistro & Famous Bagels, two locations, bagelnet.com
"Poppy-seed bagel toasted with cream cheese, avocado, and onion with a hot coffee. That is my everyday morning routine, and it doesn't happen around here without Jack's." —Benny Sullivan, regular
Finalist: Bagel Café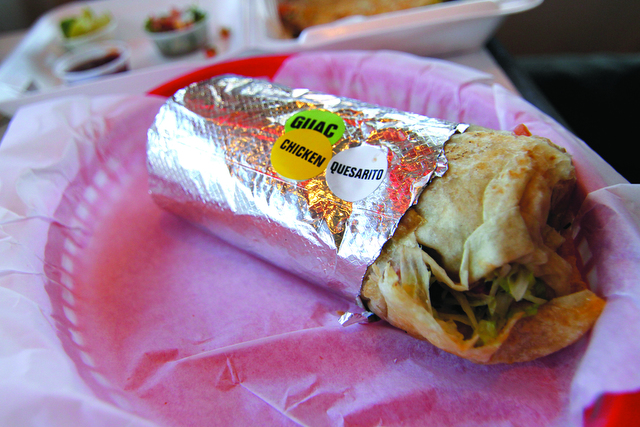 Isla Vista Restaurant
Freebirds World Burrito, 879 Embarcadero del Norte, Isla Vista, 968-0123, freebirds.com
"Duuude! Freebirds is just the best. It just is. Who else does burritos this big, this good, and this late at night?"
—Cory Mullen Potts, customer at 1:13 a.m.
Finalist: Woodstock's Pizza
Carpinteria Restaurant
Sly's, 686 Linden Ave., Carpinteria, 684-6666, slysonline.com
Tacos
Lilly's Taquería, two locations, lillystacos.com
"I take tacos seriously. I even wrote an entire cover story about them once. Lilly's is the closest thing to an auténtico Mexican street taco that you will find in Santa Barbara. Don't leave without trying the cabeza. So tender, so good." —Ethan Stewart, taco snob
Finalist: Mony's Mexican Food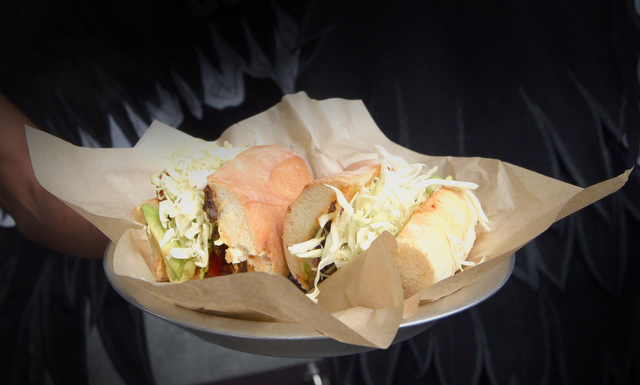 Sandwich
South Coast Deli, many locations, southcoastdeli.com
"Living in Colorado now, I can't tell you how much I miss South Coast sandwiches. It doesn't matter if you are chowing down on a signature sammie like Mark's Panini, filled with chicken and cheese and chili, or one of their big salads like the Asian Greens with chicken; you won't leave here hungry." —Chris Meagher, (former) weekly customer
Finalist: Three Pickles
Montecito Restaurant
Lucky's, 1279 Coast Village Rd., Montecito, 565-7540, luckys-steakhouse.com
"On behalf of the entire Lucky's family, I want to say that we are extremely flattered and grateful for this wonderful recognition." —Leonard Schwartz, GM/executive chef
Finalist: Honor Bar
Veggie Burger
The Natural Café, many locations, thenaturalcafe.com
"When you want that feeling of satisfaction that only a burger can give you but without the animal hostilities, you come here. It is a veggie burger so good that you won't miss the cow."—Zion Clarke, customer
Finalist: The Habit Burger Grill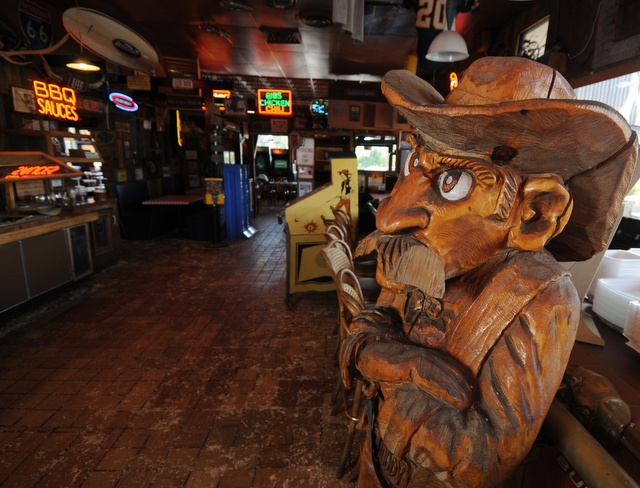 Barbecue
Woody's Bodacious Barbecue, 5112 Hollister Ave., 967-3775, woodysbbq.com
"Originally I come from Louisiana, and we care maybe too much about our barbecue. It is rare that I am satisfied with what I find away from home, but the full-slab rib dinner from Woody's gets it done. I always leave with that classic smoky, sweet barbecue smile." —Terrance C.. Foster, repeat customer
Finalist: Wildwood Kitchen
Santa Ynez Valley Restaurant
S.Y. Kitchen, 1110 Faraday St., Santa Ynez, 691-9794, sykitchen.com
Finalist: Industrial Eats
Mexican Restaurant/Salsa
Los Agaves, many locations, los-agaves.com
"The line that regularly goes out the door is the only reason I can find to not come here every week. The food is like nowhere else, and the salsa bar alone could pass as a decent Mexican spot in most other towns." —Larisa Daley, customer
Finalist (Mexican Restaurant/Salsa): Los Arroyos
Sunday Brunch
Bella Vista at Four Seasons Resort The Biltmore Santa Barbara
Finalist: The Boathouse at Hendry's Beach
Stellar Service
The Lark, 131 Anacapa St., 284-0370, thelarksb.com
Finalist: bouchon