Best Of
Best of Santa Barbara® 2016: Looking Good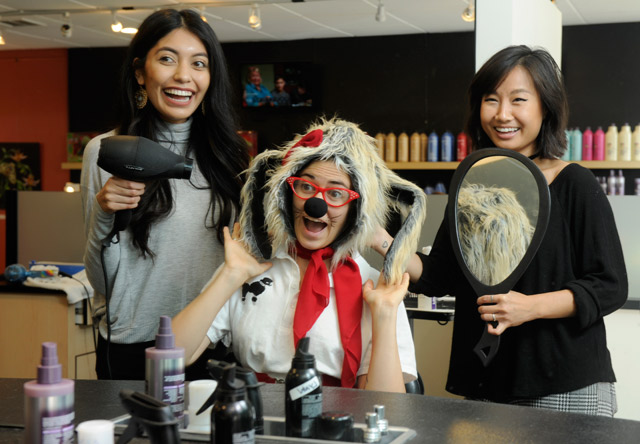 My Mutts! This mutt has been made over. We knew we were getting a whole new world of smells and beautiful places to leave our mark when we made the move here to Santa Barbara, but woof woof! I had no idea what awaited my beastly bod once we started calling this place home. Belly rubs and head pats are only the beginning.
I experienced a true trifecta of transformation recently when I had the best beauty makers in town tend to my coat and my nails and everything in between all in one day. First, I went to Salon Patine for some much-needed styling and a custom color treatment that has me feeling and looking at least 10 human years younger! This boring gray-and-white bicolor has always wanted to be blonde like those yellow labs everyone loves. From there, it was pure pampering for my paws with the ladies at Aqua Nail Bar. Their all-natural process and family-run atmosphere had my tail going the entire time. I finished the day with a trip to see Dr. Terry Perkins and his medical spa team at Evolutions for some long-overdue relaxation and revitalization; the compliments have been nonstop ever since. I even had a muscled-up, handsome pit bull so impressed during our evening rounds at Elings last night that he was ready to have a go at Dug.
It's been just as easy to upgrade my Midwest wardrobe, thanks to a gem of a place, Diani. The State Street boutique, curated by the fashion sense of English transplant Caroline Diani, has exactly what you're looking for and, dangerously enough, exactly what you didn't yet know you needed. But have no fear, ladies! My personal, quirky kitsch style is still very much intact thanks to the forever vintage offerings of Victorian Vogue and the regularly occurring discoveries of fashionista gold at Alpha Thrift. Even my eyeglasses and sunglasses, something I haven't changed since I was a pup, have enjoyed an upgrade thanks to Occhiali Fine Eyewear. Irwin Eve is a wizard at making four-eyes look fabulous, even when you already have four legs!
Of course, Dug is in no danger of succumbing to the makeover madness. His fashion sense ​— ​still very much circa 1954 despite his being born more than five decades later ​— ​is at least looking more crisp and fresh than it has in years thanks to the dry-cleaning magic of Ablitt's. Their pickup and delivery option takes the "go fetch" out of doing laundry, and I can't say I miss it. Interestingly, Dug has had a bit of a grooming revolution thanks to Richie's Barber Shop. It is a barbershop with flat-screens and black leather couches and some major dude-flavored swag. I fear he may eventually move in.
Anyways, that's it for now.
Wet kisses and wags, Dot
Hair Salon
Salon Patine, 3206 State St., 898-1133, salonpatine.com
Finalist: Mishay Salon & Spa
Nail Salon
Aqua Nail Bar, 3455 State St., 687-8483, aquanailbar.com
Finalist: Angels Nail & Spa
Medical Spa
Evolutions Medical & Day Spa, 350 Chapala St., Ste. 103, 695-2172, evolutionsmedicalspa.com
Finalist: The G Spa
Clothing Boutique
Diani, 1324 State St., 966-3114, dianiboutique.com
Finalist: Lovebird Boutique & Jewelry
Vintage Store
Victorian Vogue, 4289 State St., 967-4626, victorianvogue.com
Finalist: Punch Vintage
Thrift Store
Alpha Thrift Stores, many locations, alphasb.org
Finalist: Catholic Charities
Eyewear Selection/Sunglasses Selection
Occhiali Fine Eyewear, two locations, occhialieyewear.com
Eyewear Selecton Finalist: Costco
Sunglasses Selection Finalist: Solstice Sunglasses
Dry Cleaner
Ablitt's Fine Cleaners & Launderers, 14 W. Gutierrez St., 963-6677, ablitts.com
Finalist: One Hour Martinizing
Barber Shop
Richie's Barber Shop, 1187 Coast Village Rd., Ste. 6, 845-9701, richiesbarbershopsb.com
Finalist: Montecito Barbers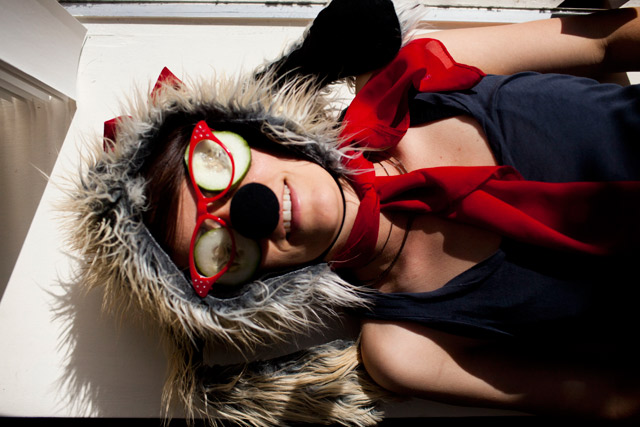 Day Spa
Float Luxury Spa, 18 E. Cannon Perdido St., 845-7777, floatluxuryspa.com
"We are so thrilled to once again be recognized by our community in Santa Barbara! After nearly eight years in business, we are proud to have the very best therapists and staff in town." —Natalie Rowe, owner
Finalist: Evolutions Medical Spa
Place to Get a Facial
Peaches Skin Care, 6 E. Arrellaga St., 563-9796, peachesskincare-santabarbara.com
"We have been taking care of skin naturally for over 30 years, so to finally be recognized by the Santa Barbara community for what we do is an absolute honor and validation of how much we care. Thank you." —Lisa Pfeiffer, owner
Finalist: Skin Deep Salon
Consignment Store
Jessica Fine Consignment, 2008 De la Vina St., 687-2755, jessicaconsignment.com
"It's about rotating and recycling, making space in your own closet or finding a special item you couldn't otherwise afford. . With consignment, everyone wins!" —Jessica Cashman, owner
Finalist: The Closet
Shoes
Nordstrom, Paseo Nuevo Mall, 17 W. Canon Perdido St., 564-8770, nordstrom.com
"Nordstrom is very fortunate to be able to provide quality footwear and service to the Santa Barbara community. Thank you!" —Mike Gentry, store manager
Finalist: Macy's
Jewelry Store
Bryant & Sons, two locations, bryantandsons.com
"Working for a family business always makes you feel welcome, and I think that feeling gets passed on to our customers. Thanks, Santa Barbara." —Myla, employee
Finalist: Waxing Poetic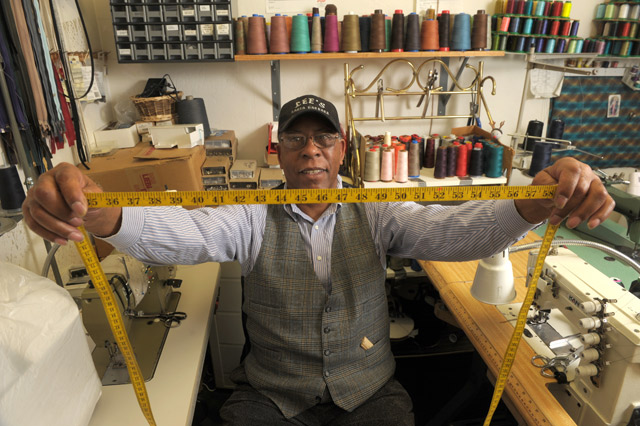 Tailor
Lee's Tailoring, 4141 State St., 967-5728, leestailoringsantabarbara.com
"I've been doing this since 1967, and I love what I do. It's more like a hobby to me. I love working with textiles and can handle just about any alteration for men, women, or children. If it's not right, we will make it right." —Lee Thompson, owner
Finalist: Tony the Tailor