News
RV Ban Showdown Looming
Opponents Say City Is Overstepping Its Legal Authority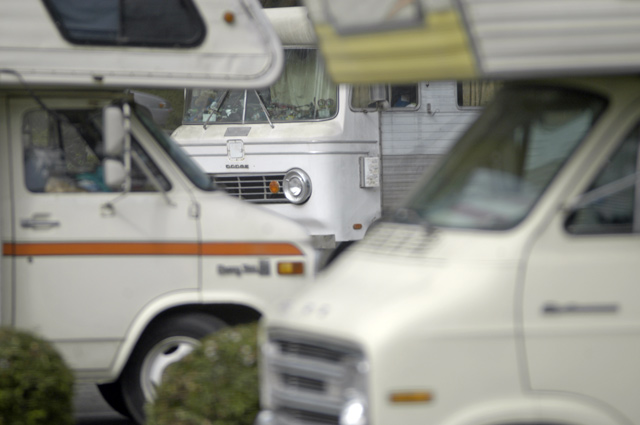 Last week, the Santa Barbara City Council gave final approval for an ordinance banning recreational vehicles (RVs) from parking on all city streets, thus paving the way for an all-but-inevitable legal showdown with Homes on Wheels, a nonprofit organization advocating for the rights of people living in recreational vehicles. The new ordinance goes into effect December 16 but won't be enforced until after 276 new "No Parking" signs are erected throughout the city and the 450 existing "No Parking" signs ​— ​pursuant to the city's old RV parking ordinance ​— ​are taken down. That will likely take place early next year.
The new ordinance bans "oversized vehicles" rather than RVs per se and does so based on issues of traffic safety caused by the presence of wider and higher vehicles on narrow streets, rather than the behavior or character of the occupants. Critics of the new parking ban contend these new justifications constitute a legal smokescreen designed to camouflage a discriminatory intent based on socio-economic status. They intend to sue to block implementation of the new ordinance, arguing that City Hall lacks the legal authority to adopt stricter definitions of "oversized" than the Department of Motor Vehicles.
In addition, Peter Marin of Home on Wheels has objected that the new signage regimen does not pass legal muster and that any new signs imposed in the city's coastal zone require approval by the California Coastal Commission. In August, the coastal commissioners voted almost unanimously against a similar ban proposed by the City of Santa Cruz, without further review. The commissioners expressed concern that Santa Cruz was restricting access to the coast based on income without making alternative provision for RV parking elsewhere.
Santa Barbara City Attorney Ariel Calonne said the Santa Cruz case has no bearing on Santa Barbara because Santa Cruz was clearly targeting people based on the presumed behavior of those occupying such vehicles; Santa Barbara's new ordinance, he said, is based solely on the public-nuisance potential of oversized vehicles. While the city's latest ordinance is new, it's an old fight. City Hall and Homes on Wheels have been wrangling over these issues since 2004.