Bottles & Barrels
Kimsey Vineyard Gets Coastal Kick
Younger Property Enjoys Unique Terroir at Mouth of Ballard Canyon
When officially approved by the federal government in 2012, Ballard Canyon clocked in as one of the smaller appellations in the state, with less than 600 acres of grapes planted across about 7,700 acres. The region was designed both geographically — it's a tight valley that runs from behind Buellton and Solvang all the way to Los Olivos — and varietally, in that syrah thrives in a Goldilocks-like way, showing the savory, gamey qualities of a cooler climate yet with the rounded ripeness of a warmer one.
Despite that narrow focus, however, there remains much diversity to Ballard Canyon's vineyards. Stolpman is planted in clay and limestone, while adjacent Jonata is mostly sand, for instance, and Purisima steeply rises high, while Rusack lays gently lower. Perhaps most unique of all is Kimsey Vineyard, which rides the southern lip of the canyon. That equates to a steady flow of coastal influence from the Pacific Ocean to the west, whereas most of the appellation is a bit more protected by the canyon's walls.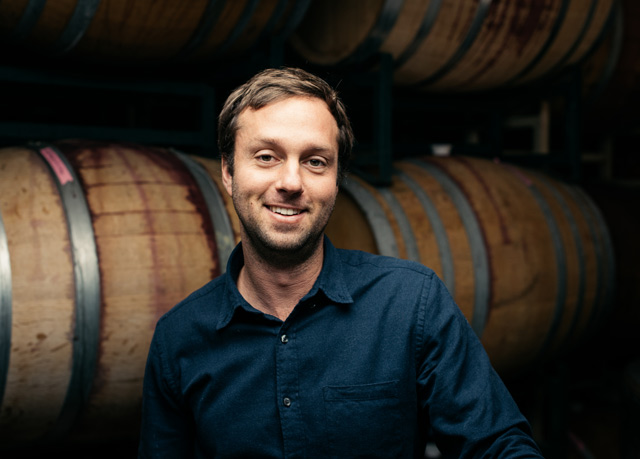 "For me, the influence of the ocean is so direct on this property," said winemaker Matt Dees, who makes the Kimsey Vineyard estate wines for owners Bill and Nancy Kimsey, as well as the wines of nearby Jonata. "There's really no barrier to the Sta. Rita Hills," he explained while looking toward that more coastal appellation west of Buellton. "There's just something about the spice that the syrahs have on this property." In addition to those syrahs — which amounted to 250 cases in the Kimsey Vineyard's first vintage of 2013 — Dees also makes a grenache (68 cases) and white blend (60 cases), all of which sell for $60.
An accountant by career, Bill Kimsey — who, like Dees, is originally from Kansas City — worked for Ernst & Young for 32 years, retiring in 2002 as the global CEO after stints in Dallas, London, New York, and Los Angeles, where he learned to love California. Soon afterward, Bill and Nancy moved to Santa Barbara, got involved in some real estate deals, and built their own home while investigating potential vineyard sites.
"We looked at a lot of properties," explained Bill, who was enticed by the unique nature of this one. "This was nothing but weeds." They bought the 45-acre property in 2005 and then planted 22.5 acres in 2008, with the help of Ruben "The Grape Whisperer" Solorzano, who lives and works at Stolpman and also makes some wine from the property himself under the Hecho Por Ruben label. They sell most of the fruit to about 15 clients a year, including Dragonette, Jaffurs, Zinke, Levo, Potek, and Deovlet.
While the grenache is both inky and floral and Dees sees much potential for white Rhône varietals such as grenache blanc on the property, the focus is indeed syrah. About 85 percent of the densely planted vineyard is composed of eight different syrah clones, which Dees uses in varying amounts to achieve the final blend. Enhancing that clonal diversity is that Dees also picks at varying times during harvest to show a range of ripeness in the fruit. "Put them together, and they sing," he explained.
The Kimseys — who also built a strictly vineyard-focused barn on-site, the first that Dees has ever seen — hope to steadily get their wines into more hands around the country and world. "We'd like it to grow it a lot," said Bill. "Success will be to expand it enough to have distribution."
See kimseyvineyard.com.