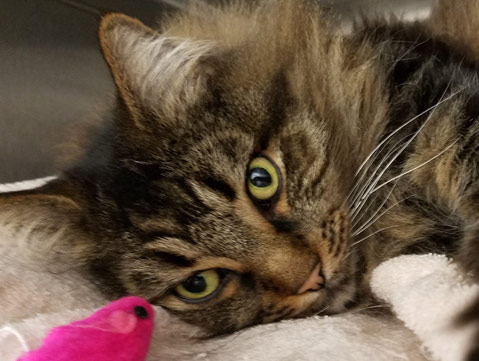 Sandy is a one-year-old male domestic long hair tabby cat. This sweet, playful boy loves chin rubs and is a wonderful conversationalist. He'd love to talk to you about his Christmas wish: a new home for the holidays.
To meet Sandy and other cats needing loving homes, visit ASAP at the Santa Barbara County Animal Shelter, 5473 Overpass Road. Hours are 9:00 a.m. to 4:45 p.m. weekdays and 10 a.m. to 4 p.m. Saturday. For more information, call the ASAP office at 683-3368 or visit their website at ASAP Cats
Animal Shelter Assistance Program (ASAP) is a volunteer-based, non-profit organization that takes care of the cats and kittens at the Santa Barbara County Animal Shelter. ASAP provides humane care for these animals and works to eliminate the practice of euthanizing them for reasons other than serious health or behavior problems.
The following is included in the adoption fee at ASAP: Spay or neuter surgery, Flea treatment, Vaccinations, Microchipping, Health evaluation, including testing for Feline Leukemia (FeLV) and Feline Immunodeficiency Virus (FIV). Cats thought to be 10 years or older receive a full blood panel evaluation, thus assuring that the cat is indeed healthy and adoptable, Medical and drug coverage through ASAP's vet for 2 weeks beyond adoption, if necessary, Temperament evaluation and Cat Carrier (you can save the County money by bringing your own).
ANNOUNCEMENTS:
Holiday adoptions make feline AND family wishes come true
What do the holidays really mean to you and your family? Are you searching for a way to escape the seasonal commercialism? But still want the excitement of holiday gifts to delight your family? We've got the solution! And it's waiting for you at ASAP. Just imagine your child's face as you bring home that precious cat or kitten with a big red holiday bow perched on its head! Rather than another pair of slippers or bathrobe, think instead of the endless companionship a senior pet might offer one of your senior family members!
"Contrary to conventional thinking, the holidays are actually a perfect time to add a new kitty family member", according to ASAP's Executive Director, Angela Walters Rockwell, "People take vacation time and kids are out of school, making more time available to bond and acclimate a new cat to your home."
Many parents eventually "give in" to their child's pleas for cat or kitten—so why not take advantage of the opportunity during the holiday season to give a gift with true meaning? The loving companionship of a cat or kitten will be a reward that lasts far longer than the batteries in most toys or the latest computer game. And for girlfriends, boyfriends and family members, sharing the experience of saving an animal's life during the holidays can be deeply bonding. While ASAP does not advocate giving pets as "surprise" gifts, the process of selecting a new furry family member can be part of the "gift" itself. Together you can visit ASAP—where there are literally a hundred homeless cats and kittens in desperate need of a home—and a forever family to love.
To promote adoptions through the holidays, ASAP is offering special reduced adoption fees December 15-24: $25 for an adult cat and 2 kittens for only $75! ASAP will be open until Noon on Christmas Eve (December 24)—to ensure that you have time to pick up your special feline friend just in time for your special holiday traditions!
For more information, please call 805-794-9574 or email director@asapcats.org