Eat This
Chef's Corner: Kristi Bean @ Beans BBQ
Bringing Authentic Bakersfield Barbecue to Santa Barbara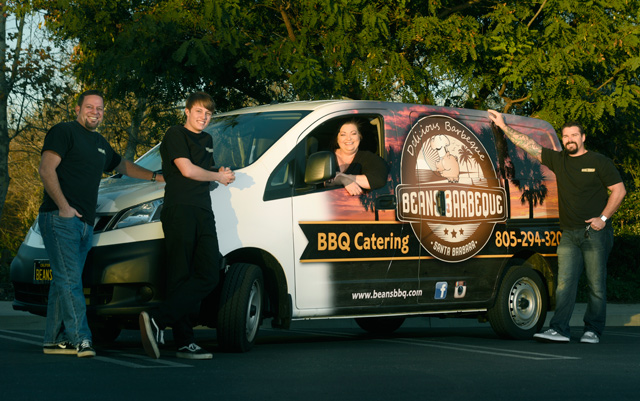 Tenure: A labor of love is how owner Kristi Bean describes the Santa Barbara–based catering company, Beans BBQ, which grew out of her Sunday-afternoon family barbecues to a professional venture in 2014. Wanting to pass on what brought her family together every weekend, Bean brought barbecue traditions from their hometown of Bakersfield to Santa Barbara, where they found it to be lacking. "It was really a no-brainer," Bean relayed. "We do it really well, we work really cohesively together, and we've been doing this a long time, now as family and as business associates."
Dishes she digs: Bean's personal favorite, as well as the catering company's most popular option, is the tri-tip/chicken combination. The slow-grilled, marinated beef is paired with the Beans' bean chili, which is prepared with shredded cheddar, diced onions, and sour cream. "When you couple that with a garden salad with our fresh dill ranch and those garlic croutons that people just can't seem to get enough of, it makes for a really nice entrée and side," Bean explained.
Room for dessert? As for dessert, Beans BBQ prides itself on its signature deep-dish buttermilk pie. "It is a Southern, creamy, cold pie that comes in a buttermilk crust and is served with a fresh fruit compote and a bourbon-vanilla, fresh whipped cream," Bean passionately described.
Motivation: More than just food or a service, barbecue is an experience. "It is going to your family's house on a Saturday afternoon; the sun is shining, the barbecue smoke is wafting in the air, you can smell the meat cooking on the grill, and everyone's happy," Bean said. "The beachy, salty smell is in the air, you see people that you haven't seen in a long time, and the camaraderie becomes intoxicating." For Bean, barbecue is an irreplaceable component of functions, for it serves as a reminder to pay attention to what is true and authentic. "It's like going home," says Bean.
See beansbbq.com.