News
Carbajal in Washington: New Blood Among Pink Hats
Our New Congress Member Vows to Be 'Face of Resistance'
WASHINGTON, D.C.—Just three hours after President Donald J. Trump was sworn into office, Congressmember Salud Carbajal stood with House Democratic Leader Nancy Pelosi and fellow Hispanic Caucus members to reject Trump's plan to deport undocumented immigrants and to build a wall along the country's southern border. "Mr. Trump, am I a threat to our democracy?" asked Carbajal, who emigrated from Mexico at age 5, squarely facing the TV camera.
It was Carbajal's first big-league press conference. A mood of crisis filled the briefing room at the Cannon House Office Building, which was packed with journalists; undocumented students; Pelosi's grandchildren; Carbajal's wife, Gina Carbajal; and buzzing congressional staffers. A large photograph of the Berlin Wall's destruction stood to the right of those who spoke. It was quite a departure from the modest media events Carbajal was used to as a county supervisor in Santa Barbara.
Carbajal arrives in Washington at a time of grave divisiveness, and last weekend certainly embodied that reality. Virtually none of the couple hundred thousand Trump supporters wearing red baseball caps at Friday's inauguration stayed in town long enough to see several hundred thousand more people rumble D.C.'s streets on Saturday for the Women's March on Washington.
This emerging friction could be tricky for Carbajal, who has been an effective compromiser in Santa Barbara. He said he struggled with whether he should boycott the inauguration with the more than 60 Democratic congressmembers who did. He ultimately decided to go to show "respect for our democracy and our peaceful transition of power."
"From day one," he explained in an interview in his office after the inauguration, "I wanted him to see this face in the sea of members of Congress, to know that I am one of those immigrants he demagogued. I will be the face of resistance."
This tune is somewhat of a departure from Carbajal's old congenial way. "He doesn't give me the confidence from what he said that he is going to strive to unite our country and to find common ground," he said of Trump's first presidential speech. "Despite a few glimmers of being a little more positive, I think he doubled-down in his divisiveness. He was speaking to his core audience."
That core audience defeated the Democratic Party, proving wrong most mainstream pollsters. When asked about this, Carbajal said, "Quite frankly, I think the economic message from a Democratic standpoint didn't come across to many folks. I think Democrats failed to remind folks of the story of where we were and where we are at now," he said. And although "things have gotten better," he said, "people still feel somewhat left out."
Carbajal appeared in general overwhelmed with both joy and apprehension. He must have shown me four times the exclusive pin that members of Congress wear ​— ​a virtual key to the U.S. Capitol. When he explained his hellish schedule ​— ​​flying back to Santa Barbara every Thursday or Friday evening and returning Monday in time for the 6 p.m. vote ​— ​​he professed it would not be too rough.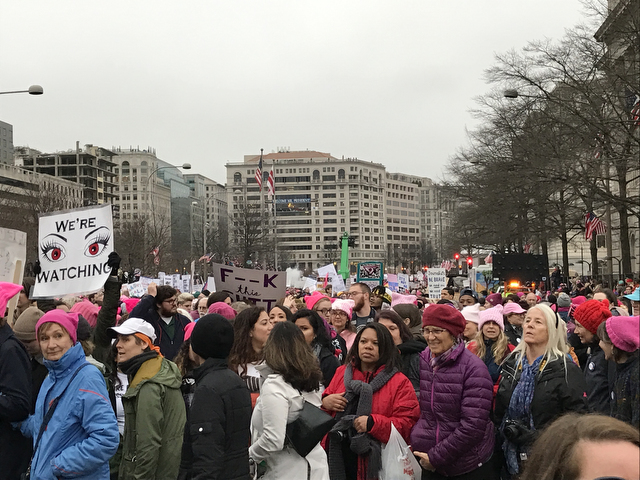 Carbajal's new office, though relatively small, is more than twice the size of his new bedroom. He rents a room in a house he shares with two other Democratic congressmembers from California. It's such tight quarters that two sides of his double bed sit flush against the teal green walls. Hanging in his compact closet are blue and white dress shirts and slacks. His socks and T-shirts would not fit if they weren't so neatly folded.
But the quintessential D.C. row house is tastefully decorated as if a nice family lived there, not three male politicians without their wives. Carbajal stressed he won't spend much time there as he plans to return to his district every weekend, as his predecessor Lois Capps did.
This weekend, though, Carbajal stayed in D.C. to participate in the Women's March on Washington with his wife. On Sunday, he used his congressional status to open the U.S. Capitol building for Helene Tozier, the mom of his childhood best friend who was in town with her friends. His signature jovial suaveness was alive. Carbajal had already befriended the officer known to give the very best behind-the-scenes tours of the Capitol; he called him by his nickname, "Dukey."
Our congressmember was just one of thousands of roaring protesters rebelling against the Trump administration. Celebrities such as Cher, Madonna, and Ashley Judd surrounded him. When he was introduced by Planned Parenthood CEO Cecile Richards as the "Congressman from Santa Barbara," a woman with bleached hair, a knit cap, and teal-rimmed glasses exclaimed, "Santa Barbara!? I'm from Santa Barbara!" It was Katy Perry.
Most marchers did not get anywhere near the celebs as mobs of women (and men) wearing pink hats and T-shirts overflowed the march's planned route on Independence Avenue. The slightly less crowded National Mall and side streets offered space to breath.
Kindness and cleverness abounded. One woman gave her very last pussy hat to a stranger. Others laughed at raunchy posters, including "Tiny hands, huge asshole" and "Don't forget to set your clocks back 400 years" and "There will be blood (with a picture of a tampon). Deal with it!"
Despite the throngs of people, police reported no uncivil behavior in downtown Washington on Saturday (but the night before, more than 200 people were arrested for smashing windows there). Similarly, peaceful marches took place in more than 600 cities all over the world.
The marches were a sharp contrast to the much less crowded Inauguration Day. Many Trump supporters said they believed Trump would shake up the political establishment. They dismissed questions about his words demeaning women and people of color. In general, they liked his candor; one devout Christian commented, "Nobody's perfect."
But despite their collective excitement, gruffness was in the air. Trump supporters booed Senator Chuck Schumer's speech so loudly it was impossible to hear him talking about overcoming struggle and embracing immigrants.
They gushed at First Lady Melania Trump's polished appearance; one woman leaned over to me and said, "She's wearing Ralph Lauren, if you want to write that down." They greeted Trump with great adulation, especially cheering when he promised to eradicate "radical Islam terrorists." He caught a few people off guard, though, when he preached, "… most importantly, we are protected by God."
Just outside of the event's gates, many stopped to chastise two women holding a bright pink sign that read "No Racism, No Hate." They were with Code Pink, an organization founded to oppose the Iraq war. They kept a straight face, mostly refusing to engage with Trump supporters who yelled things like, "Who has he ever hated?"
The confrontation epitomized this new discord ​— ​​a separation of red baseball caps and pink hats. The bright red represented a new kind of Republican Party still unsure how it would embrace the Grand Old Party's traditionalism. The bright pink has become the color that seeks to reclaim sexism and inspire strength; it is broader than the Democratic Party. We are no longer a nation separated by red and blue. It's red and pink ​— ​both warm colors, or rather, hot.