Food & Drink
Le Macaron French Pastries Sweetens Paseo Nuevo
New Patisserie Specializes in Macarons, Plus Gelato and Tartes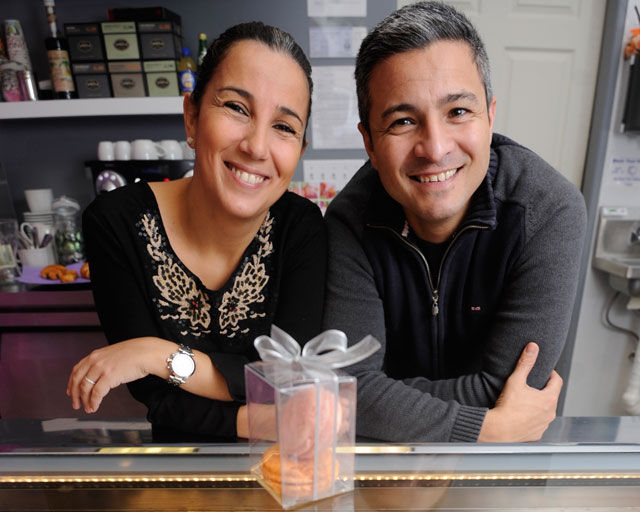 To Santa Barbaran sweet tooths and gourmands who love to live la vie Française: There's a sweet new spot in town. Opened last year, Le Macaron French Pastries, is a temple for those colorful, light, and chewy drops of heaven made from ground almonds, soft meringue and creamy ganache filling.
"There is no bakery that specializes in macarons, so it's a niche," said owner Hassia Kateb, who moved to Santa Barbara from France and opened the Paseo Nuevo Le Macaron in May 2016.
This macaron mecca is part of a franchise of 40 Le Macaron shops across the United States, originally created by Rosalie Guillem and Audrey Guillem-Saba. The mother-daughter team opened their first store in 2009 shortly after arriving in the U.S. from France. They wanted to share an authentic macaron experience, so they spent months working with an acclaimed French pastry chef to perfect the recipe. "Everything is natural; it's handmade; there's no preservatives," Kateb said.
With one bite of these perfectly textured little gems, featuring rich ganache flavor nestled between feather-light meringue pillows, the quality of ingredients and preparation is undeniable. Macaron munchers can pick from 18 flavors, including exotics such as basil, and seasonal flavors like summer's strawberry kiwi and winter's Earl Grey tea. The most popular flavors are the lavender white chocolate and salted caramel. All of the macarons are gluten-free, and a few of the flavors are jam-filled and nondairy.
"The coffee is my favorite, for sure!" Kateb said. One taste, and I could see why. The creaminess of the ganache perfectly balanced the strong coffee flavor and kept it from being overly sweet. Seeing Kateb's infectious excitement as I took a bite made it extra delightful. Her passion for people is a big reason why she opened the shop, she said. "It makes me rich," she explained of her joy in interacting with customers.
The shop also sells gourmet chocolates, croissants, and gelato. On the weekends, Kateb makes her own pastries, including tartes and eclairs. The shop also caters events, such as weddings or showers, creating beautiful displays that are almost too pretty to eat. Almost.
819 State Street, Paseo Nuevo; (805) 570-3383; lemacaron-us.com