Society Matters
Arts & Lectures Donors Enjoy Reception with Maya Lin
Artist/Architect Shares Insights on Environmental Issues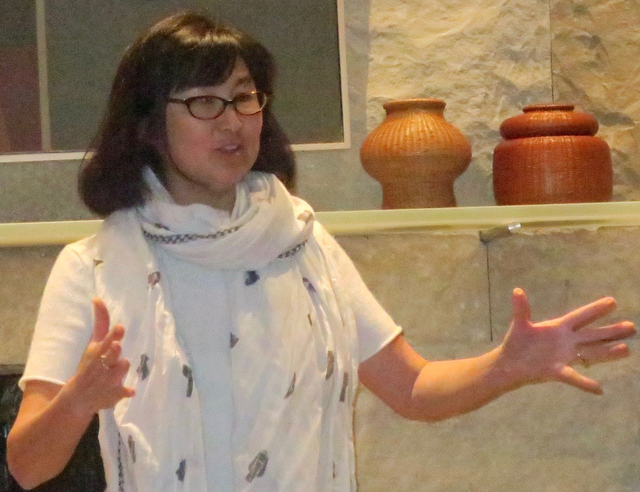 On Monday, January 30, a select group of about 35 donors of UCSB Arts & Lectures attended a reception with Maya Lin, the artist and architect best known for the Vietnam Veteran's Memorial.
The venue was the magnificent Toro Canyon estate of John Gabbert, founder of the furniture company Room and Board, and his wife Martha. The sprawling hilltop estate afforded 360 degree views, which were equally stunning from inside the house as from outside, given the floor-to-ceiling walls of the rooms. Andy Neumann, the architect of the masterpiece, was in attendance, as was Jeremy Roberts, the architect currently working on the next home for the Gabberts, just down the hill from the current one.
After a leisurely reception hour at the sweet time of twilight, guests assembled inside for a short talk by Lin followed by an extensive Q&A. Lin shared how she is now concentrating on her last memorial, "What is Missing," a multi-sited, multiform memorial which focuses on species loss and habitat loss, the link of these two to climate change, and the actions that need to be taken.
With much passion, Lin shared how we critically need a new approach to combat climate change. "We should be hiring the best marketers on the planet to sell us how much we all need to care about climate change." They can "sell stuff that we don't want, we don't need, and is bad for you," so these are the people that environmentalists need to hire to craft their message. She shared insights on a few other subjects before having to adjourn for her talk at UCSB's Campbell Hall.
Earlier in the day, Lin addressed a group of UCSB students studying the History of Art & Architecture and later gave a talk to the Santa Barbara Chapter of the American Institute of Architects. These additional forums are typical for Arts & Lectures, which frequently collaborates with other community groups to enable a wider group to experience the fascinating speakers and incredible performers that Arts & Lectures brings to our town.
For more information about UCSB Arts & Lectures, go to artsandlectures.sa.ucsb.edu.
Send event invites to Gail at society@independent.com.