Voices
My Illegal Abortion
A Shout About a Near-Death Experience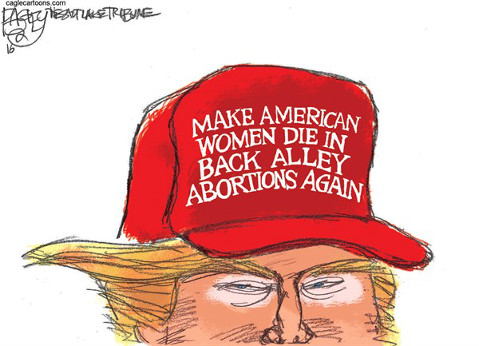 My name is Alexandra King. I am a dancer. I have lived in Santa Barbara since 1973. I was raised in St. Thomas, Virgin Islands. My father was a senator in the Virgin Islands Senate, a Princeton alumnus, a hunter, and he was from a family of American royalty (the wealthy Alexanders of Kentucky). He was not just a Republican but also a Nazi sympathizer, a white supremacist who hated Jews, blacks, women, and worst of all, the poor (the "Have Nots" = anyone who was not white, wealthy, and old money).
My mother was a popular Broadway actress from a poor Midwest family. She started the Humane Society in the islands, took in abandoned children and animals and gave them food, money, comfort. She was also a Republican, but a humanitarian Republican. Everyone adored her. When she died, it was a community tragedy.
As might be expected, my mother and father were at odds all the time. They fought about everything under the sun; sometimes they put each other in the hospital. One of the more memorable fights was over his hunting. At one point, while my father was on a hunting trip, my mother put all his guns and ammunition out on their sailboat, sailed out to the open ocean, and dumped the guns, ammo, and body parts of the dead animals. That was quite a fight. But it was rivaled by my illegal abortion.
In 1968 abortion was illegal. I was 17 and engaged to a 25-year-old college grad. I was on the way to college when I got pregnant. Hearing this, my boyfriend broke up with me, having realized he really wasn't ready for a serious relationship. I was devastated. My heart was broken, and I didn't know how I would care for a child alone and go to college. Afraid to tell my father (who would undoubtedly shoot the guy), my mother took me to the southern island of Grenada where I could have an abortion secretly.
I remember being in the waiting room with about a dozen other (mostly) poor women who could not afford to have another child. Most had no husband or anyone to help them care for and raise yet another child. They could not afford birth control, which was a fairly new thing. When it was my turn, I went in and got on the table. The doctor dilated my cervix and inserted the saline solution. We went back to the hotel, and for two days I lay in a tub bleeding and miscarrying. It was excruciating.
By the time we got home, I was very ill with a high fever and still bleeding profusely. I couldn't stand because I would lose consciousness from the loss of blood. My mother had hoped not to have to tell my father about the abortion, but it was obvious after our arrival that my condition was serious and I could possibly die. So, she had to tell him. He went insane with rage. But going to the hospital was not an option. It would not only mean destroying his political career but they would go to jail, and our family would be broken up.
As usual a fight ensued. My father put me in an ice bath to bring the temperature down. My mother then dragged me back to bed and covered me with blankets. Then my father returned and put me back into the ice bath. Mother returned and put me back in bed. This went on for almost two days. No one knew what to do, and no one dared call for medical assistance because of the dire consequences of being found out. Nonetheless, I was young and healthy and made it through. I went to college, grew up, got married, and had a beautiful son.
Happily, abortion became legal soon after that, so I never had to experience that kind of near-death experience again, because I had several abortions after that. I am one of those unfortunate few who never found a form of birth control that wasn't life threatening for me. I had three surgeries to take an IUD out. I am severely allergic to latex, so condoms and diaphragms do not work; I got blood clots with the pill, had toxic shock from the sponge, and there were no patches, nova rings, or injections when I was of childbirth age. And, abstinence is not an option when married.
My personal feeling is that those opposed to abortion have never experienced an illegal abortion, or they would think twice about condemning it. And of course, the rich have many more options than the poor. I understand the viewpoint that killing an unborn child is wrong, but killing a fully grown woman is worse.