Opinion
Adios, Trump?
Californians Start Petition Drive to Break Away
CALIFORNIA FREEDOM? Can't stand the thought of suffering through the King Trump presidency? And maybe an equally insufferable second term? And a following president-king who might be even (horrors!) worse. Well, here's a legal solution.
It's permanent but not as quick as moving to Canada or some other foreign land where you'd be a "subject" and they talk funny.
Here it is: As you read this, there's a petition drive to make California its very own nation.
Yes, free, free at last. The Yes California Independence movement seeks to collect the 585,407 valid signatures required by July 25 to put the issue on the 2018 ballot. It says it's already got 7,000 volunteers scouring the state for signatures.
Should be a snap, maybe, seeing as 8.7 million Californians voted for Hillary Clinton in last November's presidential election, about 4.3 million more than for Trump.
And wouldn't he love to get rid of those darned voters, along with California's two senators, both Democrats, and the state's Democratic majority congressional delegation?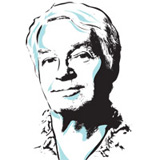 But, sorry to say, this is only the first step. And the going gets much tougher. The final step after other major hurdles are jumped is that two-thirds of all states must approve this legal secession. For one thing, Texas, which has flirted with secession in recent years, might be stimulated to start its own exit from the Union, complicating matters.
And who else might want to follow? If California bails, would its liberal mates Oregon and Washington state want to seek nationhood and cling to us for support out there in the big world?
Poof! The nation risks falling apart. Abe Lincoln would be horrified.
But suppose the dawn of nationhood breaks through. Then what? As usual, be careful what you wish for. Californians would then be responsible for all the financial and other benefits of life with Uncle Sam, like mounting a defense against the world.
An army, navy, and a nuclear deterrent, to say nothing of all the other necessities of life in a crazy mixed-up world, would cost a mint. A major price tag, perhaps, for the pleasure of freedom from Washington, D.C., and its current tide of zealots eager to take freedom away.
My guess is that the new nation of California might want to make a deal (Trump loves deals) to pay the U.S. to continue a defense arrangement, just as small cities contract with the county for police and fire.
I forgot to mention that even if Californians approve the Yes California initiative next year, that only removes the words in the state Constitution saying that we are an "inseparable" part of the United States and also asks the governor to seek admission to the United Nations.
Then there'd have to be a second California election on the key issue: Folks, for keeps, do you want to secede? It's legal to do so, apparently, as long as a state does it nonviolently, not 1860-style. Then nationhood would depend on that pesky two-thirds vote by other states.
What do you think?
JESUS WALKING ON THE WATER: Be prepared for a powerful theatrical experience with the George and Ira Gershwin and DuBose Heyward opera Porgy and Bess on stage at the New Vic. The 1935 pageant of the life and times of impoverished black people on Charleston's Catfish Row has been praised, criticized, and reworked over the years. But, I feel sure, never sung more movingly.
True to most operas, blood flows and hearts break. Porgy (played by Elijah Rock), on crutches, must have his Bess (Karole Foreman) no matter what. But sinful New York City and flashy Sportin' Life (Frank Lawson) lure her. Despite revisions over the years, the familiar songs remain: "Summertime," "I Got Plenty o' Nuttin'," "It Ain't Necessarily So," "Bess, You Is My Woman Now," and the softly sung "Clara, Clara" requiem.
Gershwin spent 11 months composing the original music and nine more orchestrating it, and then struggled with casting. At a Washington, D.C., performance, the actors refused to take the stage unless the theater was desegregated. It was, temporarily.
Congratulations to Santa Barbara's Ensemble Theatre Company and director Jonathan Fox for the current production running through February 26.