Society Matters
Opera Ball is a Magical Evening
Opera Santa Barbara's Annual Event Honors Fred Sidon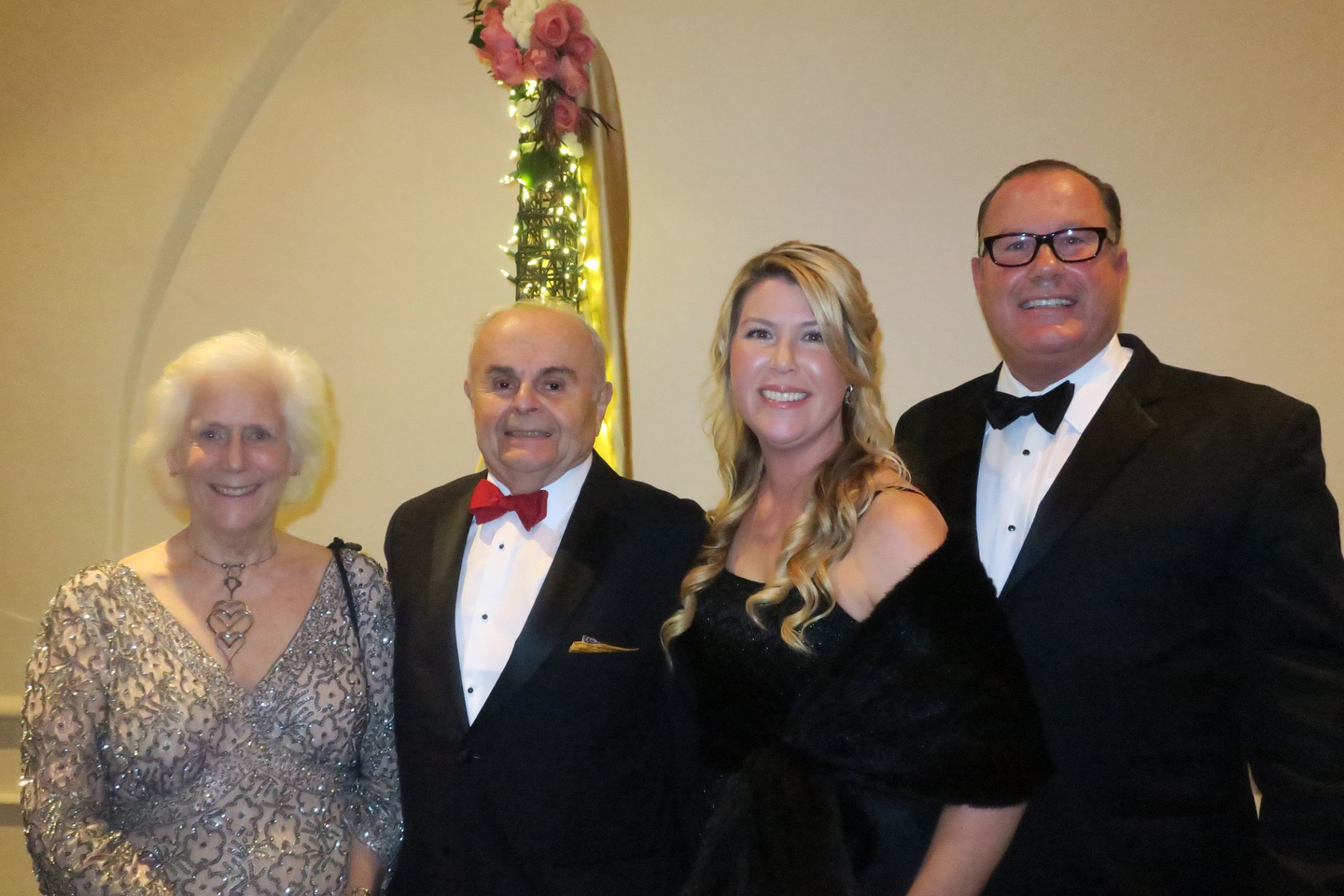 A sold-out crowd of 165 opera aficionados gathered on February 17 in the Biltmore's elegant Loggia Ballroom for one of the premier society events of the year — Opera Santa Barbara's annual Opera Ball. This year's event honored Fred Sidon for his many years of service to the organization.
During the reception at this Belle Epoque–themed event, guests mingled amid a couple of lighted Eiffel Tower statues. Many of the women were adorned in elegant gowns, with Event Co-Chair Joann Younger getting into the spirit with a gorgeous gown that itself resembled the Eiffel Tower (pic below).
Interspersed with the three-course meal was an assortment of brilliant operatic performances on a center stage. The design allowed for an intimate experience for guests at every table. World-renowned Trinidadian Soprano Jeanine De Bique elated the audience with arias sprinkled throughout the evening. She performed Faust's "The Jewel Song," La Boheme's "Si, Mi Chiamano Mimi," and Julius Caesar's "Da Tempeste."
State Street Ballet dancers interjected some light fun and French flavor with a lively can-can performance. Mosher Studio Artists gave wonderful aria and duet performances.
One of the most magical parts of the evening was when opera stars from Opera Santa Barbara's upcoming production, The Cunning Little Vixen, seated at dining tables throughout the room, took turns spontaneously rising and singing verses from "Climb Ev'ry Mountain," with the Santa Barbara Youth Opera joining in at the end.
Board Chair Nancy Golden thanked the supporters and the room erupted in laughter when she noted that "outside of a young lover and a mistress, opera is the most exciting and expensive indoor activity around."
Event Co-Chair Pat Andersons praised event honoree Fred Sidon, who served on the Board for seven years including four as President, for his creativity, vision, and leadership. She also noted the appropriateness of honoring Sidon this year with the Belle Epoque theme, given his love of all things French. Andersons thanked Sidon for starting the Taste of the Opera event and coming up with the idea of Opera on the Go.
Sidon is no stranger to being honored. He has been awarded two knighthoods by the French government, the Order of Arts and Letters and the National Order of Merit.
Auctioneer Andrew Firestone shared how because opera is such an amazing gift to the community, he asked for 35 items to auction but was granted only four, though he still raised significant sums with the four decadent offerings. In leading the paddle raise, General Director Steven Sharpe noted that ticket sales cover only about 30 percent of the cost of productions, and his plea was met with some significant pledges.
The program concluded with the Santa Barbara Youth Opera delightfully performing the Sound of Music's "So Long, Farewell," and then guests danced into the night to tunes by DJ Gavin Roy.
Opera Santa Barbara will present its new production of The Cunning Little Vixen on March 3 and 5, and will conclude its 2016-17 season with a production of La Rondine on April 28 and 30. Both performances are at the Granada Theatre. Opera Santa Barbara's newly formed Santa Barbara Youth Opera will present Brundibár on May 20 at the Lobero Theatre.
Fundraising is integral for Opera Santa Barbara (OSB), not only to stage its productions, but also for its significant community outreach activities. It offers free noontime concerts featuring members of its Mosher Studio Artist Program at public libraries throughout Santa Barbara County and in Ventura County.
OSB exposes elementary school students in Santa Barbara and Ventura Counties to opera through the Opera Lab, an innovative, interactive program run by professional singers trained in improvisation. It also brings the opera to retirement communities. In 2016, OSB did 15 performances at retirement communities in Santa Barbara, Ventura, and Thousand Oaks.
OSB also partnered with Santa Barbara City College's Center for Lifelong Learning to present the course "Opera in Performance" last Fall and this Spring. The course is centered on OSB's current productions and on the productions offered in the HD-Met transmissions at the Music Academy of the West.
For more information about Opera Santa Barbara, go to operasb.org.
Send event invites to Gail at society@independent.com.