Food & Drink
Hana Kitchen's Ample Food at Low Prices
Restaurant Founded in Isla Vista Recently Moved from Haley to State Street
"It's easy and to the point," said Jesse Howard, manager of Hana Kitchen, the Asian fusion restaurant that recently moved from its Haley Street location to lower State, in the former home of Mac's Fish & Chip Shop.
This nicely sums up Hana Kitchen's fare, which fills bellies while keeping wallets relatively full, as well. In the land of pricey small plates, this unpretentious outpost, which started in Isla Vista, serves those who may be on college-sized budgets and living downtown. Said Howard, "We have a $5 chicken bowl that will actually fill you up."
Don't be fooled by that dish's "mini" title — this is an ample portion of freshly grilled chicken, served over a bed of white sticky rice and lightly stir-fried cabbage, broccoli, and carrots, dressed in scratch-made teriyaki sauce. The bowls can also be made with brown rice and, for protein, can feature either traditional Japanese-style beef, thinly sliced and marinated in house sukiyaki sauce, or soy-based vegan chicken.
"People that even eat chicken will get the vegan chicken," pledged Howard, whose restaurant also takes precautions to cook all of its vegan items separately from the meat.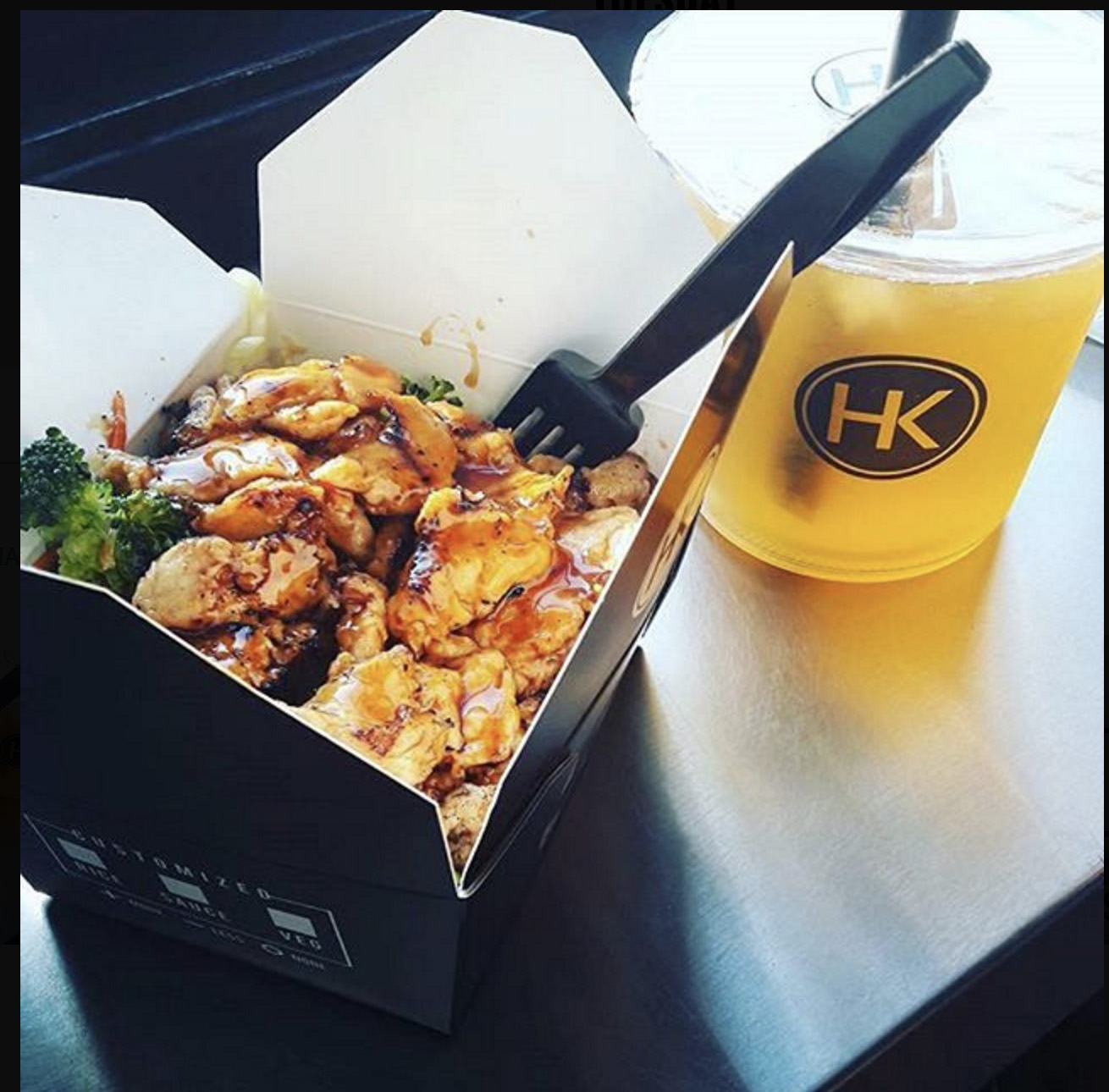 Bowls can be spiced up to suit palate preferences with a variety of house-made concoctions from the condiment bar, including spicy marinated cucumbers and the well-loved sriracha mayonnaise. "We do, like, gallons a day of sriracha mayo," Howard said.
In addition to bowls, Hana's menu also features tacos, including teriyaki mango and spicy sweet and sour, dressed with housemade toppings, such as their bright and juicy pico de gallo. The taco deal gets even zestier on Tuesdays when they cost only $1.50.
All of their items can be washed down with iced teas, ice milks, or slushes, fully customizable with Boba pearls, mango, or green apple jellies."There's not too many boba options in S.B.," said Howard, who makes the boba even sweeter with a two-for-one deal 2-5 p.m. on Mondays and Thursdays.
With a cozy fireplace, a wave mural on the wall, and shows such as It's Always Sunny in Philadelphia providing the background entertainment, the restaurant exudes a casual vibe where guests can enjoy large portions at low prices. The busy hangout stays open until midnight Sunday-Wednesday and is open until 3 a.m. Thursday-Saturday, complete with a security team.
"We've already seen in the last month a huge increase in traffic," said Howard, who plans to expand the menu by adding more Hawaiian options in the near future while keeping prices reasonable and service fast.
503 State St., (805) 845-9039, hanakitchen.com