Living
Paul Schürch's Wearable Wood
The S.B. Designer Discusses His Craft, Winning a Crafty Award
If you're in the market for a unique dress, you might want to check out area woodworker Paul Schürch, who just recently won (among many other awards) a Crafty Award for creating a remarkable dress made from figured maple veneer. That's right: Schürch, a highly skilled artisan with a studio here in Santa Barbara, has demonstrated significant innovation in making a piece of wearable wood to add to his impressive portfolio of unique wooden furniture. With a background in building both church organs and boats, Schürch pulls from these experiences to create beautiful and matchless items, truly stretching the medium of wood to full resistance. Amid the commotion regarding his latest achievement, Schürch gave some insight into his practice and answered the question — why wood?
You have a background as a church organ builder. Can you describe that experience and how it has influenced your current practice? It gave me access to major trade groups where one would have to be proficient in a lot of different trades: woodwork, metalwork, plastic, music intonation, historical practice, carving. It gave me a foundation for working with diverse material that has been helpful to me in my entire career.
What is it about wood as a medium that speaks to you? It was something that I had always been drawn to from a very early age. The emphasis on piano and church organ building is primarily a woodshop, and I have a connection to the natural material. I understand it. Well, let's put it this way: I'm beginning to understand it.
Do you have a favorite item to craft? I'm evolving in my practice as a furniture maker. I tend to be going for dynamic pieces that do things. In other words, you spin a table and drawers open, or different mechanical devices to incorporate into the furniture. That's what I've been doing lately, and that's what interests me. It's not having static work. My heart really lies in doing different things with wood, thinking outside the box, with wooden wearables or dynamic wooden furniture.
What inspired you to create "wearable wood?" There was a desire on my part to combine diverse materials to make something new and different. I was thinking of wood as being perceived as hard, unyielding, not very flexible — certainly with a warmth to it, but people would not associate that with something that is dynamic. There are dynamic things made out of wood, such as wooden clocks, wooden cars, and bicycles, but it's treating wood itself as a sort of rigid material. I was teaching Wesley Johnson, an apprentice of mine, eight or nine years ago; he decided he would exit into fashion. After his apprenticeship was done, I decided when I thought of different ways to exhibit wood, he came to mind, saying it could be a high-fashion type thing. I did my research, found some examples in history, but none very eloquent or stylish. I decided I could do something with wood given my present knowledge of how to bend wood, how to make it flexible, how to make it form to the human body, to be able to exhibit it in a completely different way.
Are there similarities in designing a dress out of wood and crafting fine wooden furniture? It's an absolutely, completely different skill set. Wood just becomes an unyielding material that must become mechanically adapted to the human body.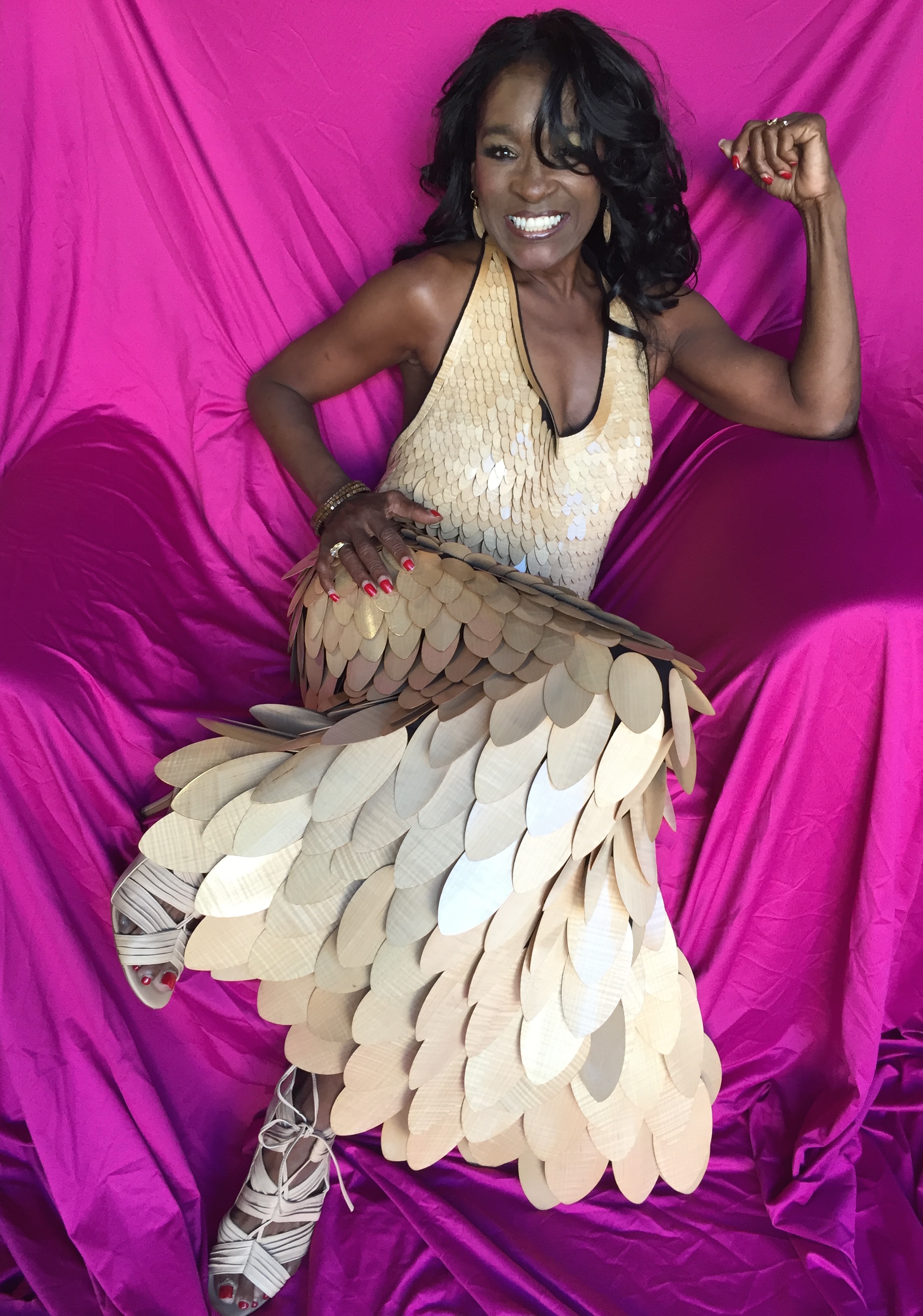 You won the grand prize at this year's Craftys competition. How does the recognition feel? I don't really care so much for the recognition. I enter these shows because there are cash awards, to tell the truth. As an artist in Santa Barbara, it can be kind of challenging. With spaces disappearing as they are, it is not easy to survive as an artist in a place like this. Thankfully, there are some groups and community arts centers and places that assist artists, but I tend to enter these because there are good prizes, and with notoriety come sales. I don't feel that comfortable with a spotlight on me, you know. I like to work in my own environment here. I look at this as more of a collaborative effort, but I'm the one spearheading it.